Internal Medicine
7-Night Alaska Cruise Conference
Round-trip Seattle, Washington
June 30 - July 7, 2017
14 AMA PRA Category 1 Credit(s)™
14 Contact Hours
6 Hours of Pharmacology for NPs

Course Fees:
$895 for Physicians, Attorneys, Psychologists, Doctors of Pharmacy & Dentists
$695 for Physician Assistants, Nurse Practitioners
$495 Nurses, Residents, Students & Others
BIAS FREE CME - No Commercial Support was provided for this CME activity.
Course Fee Cancellation Policy:
30 days from sailing-None; 7-29 days-50%; Less than 7 days-100%
IMPORTANT NOTE: All conferees, their families, and guests must book their cruise within the University at Sea® meeting group through University at Sea® at 800-926-3775 or by registering online. This ensures our company can provide conference services and complimentary social amenities to all meeting participants and their guests. Thank you for your cooperation.
Faculty
Jeffrey M. Kagan, MD, CMD
; Assistant Clinical Professor of Medicine, University of Connecticut School of Medicine, Farmington, Connecticut
Dr. Kagan earned two Bachelors' Degrees: Biology, and Health Sciences, a Masters' Degree in Physiology, and his M.D. degree. Prior to medical school he was a Certified Physician Assistant. He completed his residency in Primary Care Internal Medicine. He is board certified by the American Board of Internal Medicine as well a second board certification in Hospice and Palliative Care Medicine. He is also a Certified Medical Director (CMD) for Long Term Care by AMDA. Dr. Kagan is an Assistant Professor of Clinical Medicine at the University of Connecticut School of Medicine. He currently teaches medical students, internal medicine residents and geriatric fellows.
Dr. Kagan has is frequently called upon by his peers regarding the Business Aspects and Practice Management of Medicine, and is a member of the Editorial Board of Medical Economics. He has done consulting for attorneys, insurance, pharmaceutical and wealth management companies. In addition to his busy private primary care practice, Dr. Kagan is currently the medical director of a skilled nursing facility, a hospice agency, and a home health agency. He is a Professional Director with HAVEN, an agency that advocates and monitors impaired health professionals.
Dr. Kagan's special interests include: Diving Medicine, Business Aspects of Practice, Medical Legal Cases and Risk Management. His hobbies include: Bicycling, Boating, Scuba diving, Golf and Skiing.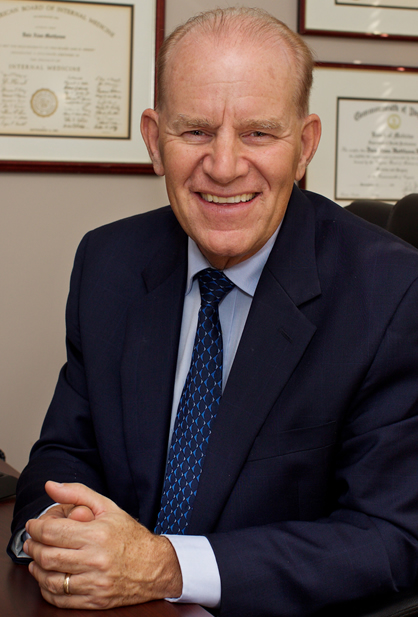 Dale A. Matthews, MD, FACP
Dr. Matthews practices general internal medicine in Washington, DC and is a member of the clinical faculty at Georgetown University School of Medicine. He conducts research and lectures nationally and internationally on the doctor-patient relationship and the psychological and spiritual dimensions of medicine, including the role of faith, religion, and prayer in clinical care and healing. He is the author of The Faith Factor: Proof of the Healing Power of Prayer (Viking, 1998).
Dr. Matthews is a cum laude graduate of Princeton University (AB, 1976), where he majored in Romance Languages and Literatures with a special concentration in European Civilization. He graduated from Duke University School of Medicine in 1980, and completed his internship and residency in internal medicine at the University of Connecticut in Farmington in 1983. In the same year, he was named as a Robert Wood Johnson Foundation Clinical Scholar at Yale University School of Medicine. At Yale, he studied clinical epidemiology and began his research career by examining patients' perceptions of physician performance in the hospital and outpatient setting.
Our staff can assist you with all your travel arrangements.
Target Audience
Physicians, Physician Assistants, Nurses, Nurse Practitioners
Program Purpose / Objectives
Osteoporosis:

Upon completion of the lecture the attendee will be familiar with the diagnostic evaluation and treatment of at risk populations for Osteoporosis with the goal being the primary prevention of fractures.

Dementia:

Upon completion of the lecture the attendee will be able to recognize presentations of early Dementia, the use of a computer application for mental status evaluation, the staging of Dementias, as well as how different Dementia syndromes compare and are treated.

Choosing Wisely®:

Upon completion of the lecture the attendee will have become familiar with the Choosing Wiselyģ program and its benefits in eliminating unnecessary tests and procedures while saving health care dollars and reducing potential patient harm.

Case Studies in Primary Care:

Upon completion of the lecture the attendee will consider atypical presentations of illness and participate in an academic discussion based on some unique case presentations.

Some Common Outpatient Presentations in Primary Care:

Upon completion of the lecture the attendee will be able to better describe the evaluation and treatment of Plantar Fasciitis, Rotator Cuff, Low Back Pain, and Anemia from a primary care perspective.

Palliative Care and Hospice:

Upon completion the attendee will understand the care of patients who are not appropriate for aggressive management but not on Hospice. The attendee will also be able to identify barriers to patients getting on Hospice, understand the Medicare guidelines, and the basics of Hospice.

Impaired Health Care Provider:

Upon completion the attendee will be able to recognize impaired health care providers and be familiar with the resources available for evaluation, rehabilitation and return to practice if appropriate.

Health Promotion: Encouraging a Healthy Body, Mind, and Spirit

Assess the patientís current state of physical, psychological, and spiritual health
Assess the patientís current state of physical, psychological, and spiritual health
Discuss an individualized health-promotion strategy for the patient

Screening Tests in Primary Care: Applying the Latest Guidelines

Describe the necessary characteristics of an effective screening test
Determine an individualized program of screening tests for the patient, based on age, gender, and medical status
Discuss the controversies regarding the usage and appropriate screening interval for common screening tests (e.g., Pap smear, mammography, colonoscopy, PSA)

Headache: Management of Migraine, Tension-Type and Cluster Headaches

Explain the classification of headaches.
Discuss the appropriate use of brain imaging in evaluating patients with headache.
Describe the appropriate use of abortive and preventive medications in the treatment of migraine, tension-type and cluster headaches.

Male Sexual Disorders: Treatment of Hypogonadism, Erectile, and Ejaculatory Dysfunction

Elicit a thorough, non-judgmental sexual history
Describe appropriate laboratory and radiologic testing in the evaluation of male sexual problems
Discuss the effects, risks, and benefits of testosterone replacement and medications to improve the patientís erectile and ejaculatory function

Hypertension: "What Goes Up Must Come Down!"

Describe the appropriate measurement and classification of hypertension.
Discuss the laboratory testing and imaging needed to diagnose the most common causes of secondary hypertension.
Describe the major classes of anti-hypertensive treatment and discuss the suitable type of patient likely to benefit from each class of medication.

Enhancing Clinician-Patient Communication: Becoming a Healer

Distinguish the technical, biomedical aspects of clinicianís role from the personal and psychosocial aspects of care
Describe specific attitudes and values needed to create a healing environment with patients
Apply techniques for establishing and maintaining rapport with patients and enhancing clinician-patient communication

The Faith Factor: Practicing Spiritually-Sensitive Care

Elicit a spiritual history in an ethically-appropriate manner
Analyze the physiologic, psychological, social, and lifestyle effects of religious beliefs upon health outcomes
Describe the spectrum of possible interventions available for addressing patientsí spiritual needs
Conference Sessions generally take place on days at sea (as itinerary allows), giving you plenty of time to enjoy your meals, evenings and ports of call with your companion, family and friends.
Questions? Call us at 800-422-0711.
We can assist you with all your travel arrangements. We'd be happy to help you plan your flights, hotels or tours before and/or after your cruise conference.

Cruise Itinerary
| DATE | PORT OF CALL | ARRIVE | DEPART |
| --- | --- | --- | --- |
| Fri Jun 30 | Seattle, Washington | - | 4:00 pm |
| Sat Jul 01 | At Sea - Cruising | - | - |
| Sun Jul 02 | Ketchikan, Alaska | 7:00 am | 4:00 pm |
| Mon Jul 03 | Tracy Arm Fjord, Alaska - Scenic Cruising | 6:00 am | 10:00 am |
| Mon Jul 03 | Juneau, Alaska | 1:30 pm | 10:00 pm |
| Tue Jul 04 | Skagway, Alaska | 7:00 am | 6:00 pm |
| Tue Jul 04 | The Inside Passage - Scenic cruising | 6:30 am | 10:30 pm |
| Wed Jul 05 | At Sea - Cruising | - | - |
| Thu Jul 06 | Victoria, Canada | 5:30 pm | 11:59 pm |
| Fri Jul 07 | Seattle, Washington | 7:00 am | - |
EXCLUSIVE SHORE EXCURSIONS
Please note that our shore excursions are operated separately and
independently of those offered by the cruise line.
¬©2016 - University at Sea¬ģ