Pediatric Dentistry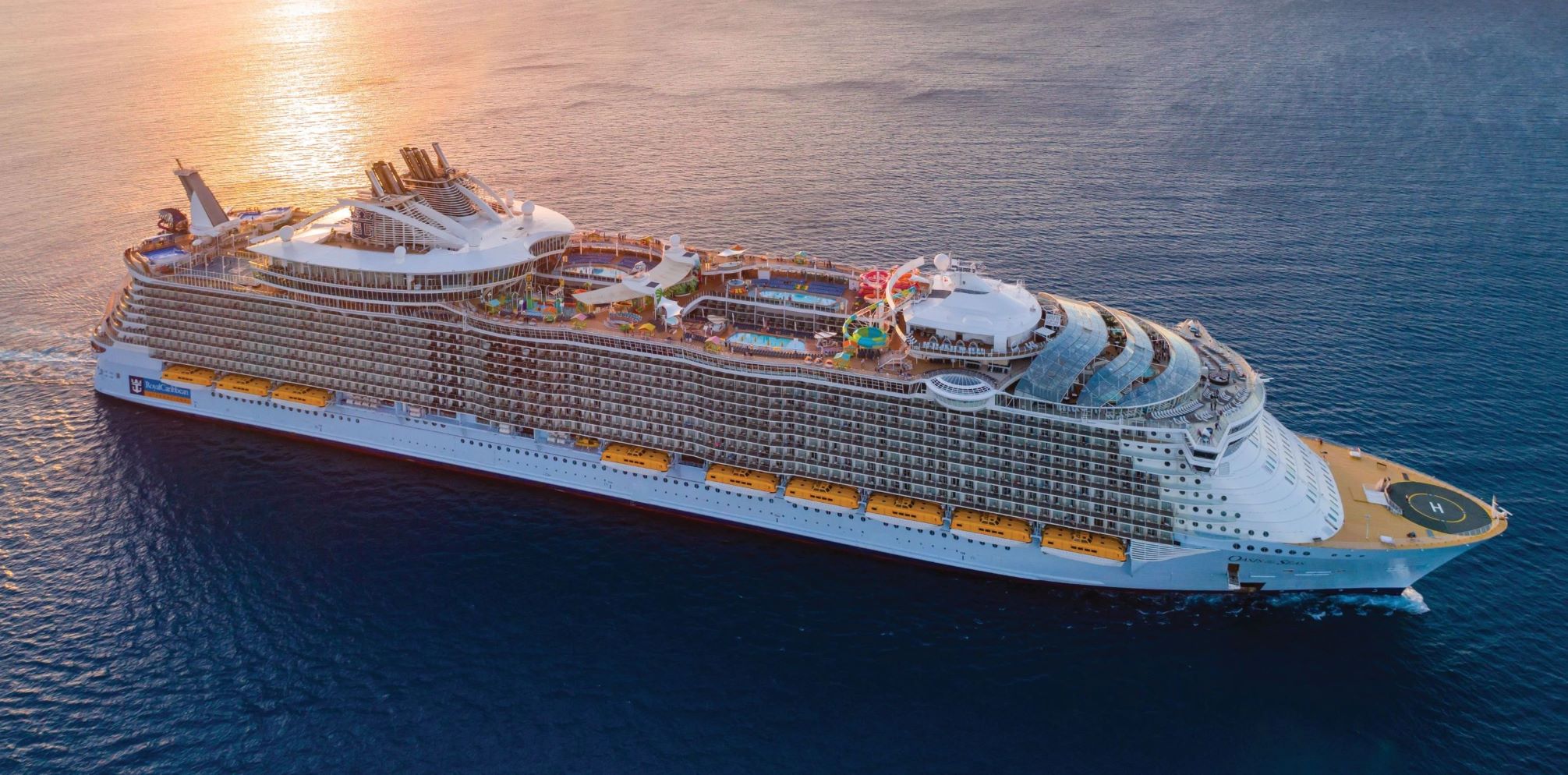 7-Night Western Mediterranean Cruise
Round-trip Barcelona, Spain

July 28 - August 04, 2019
Dental
12 CE Credits
Dentists - $795; all others $650

IMPORTANT NOTE: All conferees, their families, and guests must book their cruise within the University at Sea® meeting group through University at Sea® at 800-926-3775 or by registering online. This ensures our company can provide conference services and complimentary social amenities to all meeting participants and their guests. Thank you for your cooperation.
Faculty
Gregory L. Psaltis, DDS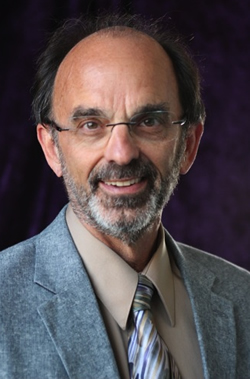 Certified in Pediatric Dentistry
Courtesy Staff at the University of Washington, School of Dentistry

Keynote speaker at AAPD Meeting, 2008
Gordon Christensen Speaker Recognition Award, Chicago Midwinter Meeting, 2014 Dr. Greg Psaltis has been a pediatric dentist for 43 years, most of which have been in private practice in Olympia, Washington. His varied career has included 23 years as a speaker, both nationally and internationally.

He is currently involved with two volunteer clinics in Mexico that he developed. Each provides comprehensive care for the indigent and medically compromised children of the Los Cabos and Zihuatanejo areas. He has published in several dental journals and was given the Gordon Christensen Speaker Award for excellence in professional presentations.
Mary Ellen Psaltis, Bachelor in Philosophy, BPh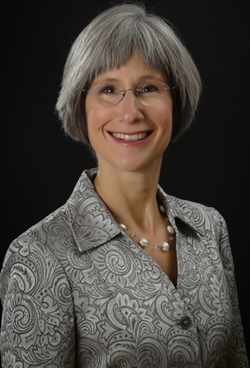 Certified Nutrition & Wellness Consultant
Certified Senior Nutrition Specialist Mary Ellen's professional writing about food and lifestyles has spanned over thirty years. Her interactions with chefs, farmers, and restaurateurs led to greater involvement in nutrition education and teaching.

Mary Ellen speaks nationally on creating optimal nutrition and making thoughtful life choices. Her local classes focus on supporting people along their healthful life journeys. She accompanies Greg on their Mexican mission trips as a dental assistant.
Our staff can assist you with all your travel arrangements.
Target Audience
Dentists, Pediatric Dentists, Auxiliary Staff
Program Purpose / Objectives
Bites, Bytes and Bites
This program will span a variety of topics, ranging from pediatric preventive and interceptive orthodontics (Bite #1), to issues with parental demands based on their internet "education" (Byte #2) to nutritional guidance for a healthier life (Bite #3). The final section will include a session about no bites, namely managing the behavior in the pediatric dental setting. The specifics on the courses are:

Pediatric Preventive and Interceptive Orthodontics:
This course will include a discussion of space maintenance, oral habits and simple corrections of crossbites and other developmental issues. It is not intended as a comprehensive orthodontic program, but will emphasize pediatric procedures.

I was on the Internet Last Night
With this particular issue becoming greater all the time, the focus here will be on how it has arisen, grown and become, at times, a headache for practitioners. Specific strategies for dealing with various issues will be included.

Food as Your Farm-acy
Daily food choices create the foundation for your overall health and ultimately the health of your practice. We will cover eating plans, food strategies, hidden influences, sugar awareness and current topics. We will look at the food we can eat (or not) and identify action steps, both large and small, that add up a lifetime of well-being.

Getting Past "Uh-oh," "No" and Helicopters
Behavior management in the pediatric dental setting is key to success in both the technical and the social aspects of dental care for children. This session will include videos to illustrate points about managing oneself, the child and the parents.

Conference Sessions generally take place on days at sea (as itinerary allows), giving you plenty of time to enjoy your meals, evenings and ports of call with your companion, family and friends.

Questions? Call us at 800-422-0711.
We can assist you with all your travel arrangements. We'd be happy to help you plan your flights, hotels or tours before and/or after your cruise conference.

Cruise Itinerary
DATE
PORT OF CALL
ARRIVE
DEPART
Sun Jul 28
Barcelona, Spain

-
6:00 pm
Mon Jul 29
Palma de Mallorca, Balearic Islands, Spain

8:00 am
4:00 pm
Tue Jul 30
Marseille, France

9:00 am
6:00 pm
Wed Jul 31
La Spezia, Italy

8:30 am
8:30 pm
Thu Aug 01
Rome (Civitavecchia), Italy

7:00 am
8:00 pm
Fri Aug 02
Naples, Italy

7:00 am
6:30 pm
Sat Aug 03

*

At Sea - Cruising

-
-
Sun Aug 04
Barcelona, Spain

5:00 am
-
*
Tentative course schedule, actual class times may differ.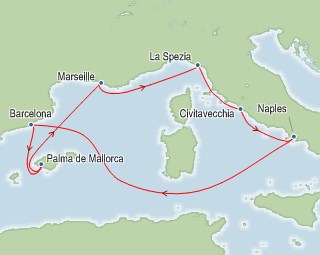 Ports of Call
Barcelona, Spain -
Barcelona is a one of the world's great cities. Stroll down her tree-lined boulevards, the magnificent Passeig de Gràcia or the more touristed Las Ramblas. On the Passeig, shop a serious fashion district while marveling at examples of Mordenisme architecture, seemingly sculpted from the stuff of dreams (Gaudi's masterpiece of a family home, Casa Batlló is well worth a visit). If a trip on the Passeig hasn't convinced you of Gaudi's genius, a visit to La Sagrada Familia Cathedral will do the trick; this fantastic, soaring marvel will live on in your memory long after you've returned.
Not far from the Passeig and just north of Las Ramblas, the Gothic Quarter (the Barri Gotic) provides an abundance of shopping opportunities for all tastes, and a bit of European history to boot - check out the tranquil Cathedral of Barcelona. To see a bit of local life a visit to a food market is a quick, fun detour: try Santa Caterina near the Cathedral or Mercado de La Boqueria, right off of Las Ramblas.
Barcelona's food is also a highlight: stop into a tapas bar and try a variety of delicacies. "Standard" restaurants of every style are available, too. And, there's music, too! Visit an underground jazz club or the magnificent Palau de la Música Catalana; or stop by the Palau Dalmases for a stunning, flamenco performance (it's near the Picasso museum). Did we mention art? One of the largest collections of Picasso's art is found at the Museau Picasso, and a great collection of contemporary, figurative (i.e not abstract) painting and sculpture is housed at the European Museum of Modern Art just around the corner.
It's probably clear by now that you really can't get it all done in a day (even if all means "just the must-sees"). So, stay for a day or three in the Gothic Quarter or near Plaça de Catalunya and really get a feel for what makes Barcelona such a wonderful place. Partly it's the result of the "accidents" of its history and present: as the regional capital of Spain's prosperous Catalunya region, Barcelona has a "flavor" that is a bit of a mix between Spanish and French (it's located quite close to the French border). Yes, you can practice your Spanish here - it attracts Spaniards from throughout the country - but you'll also see and hear Catalan with it's own charm. You won't regret you time here.
Palma de Mallorca, Balearic Islands, Spain - Floating gemlike off Spain's Mediterranean Riviera, these islands offer you pearls, pottery and perfectly sublime sandy beaches. Visit Valldemosa, where George Sand and Frederic Chopin spent a romantic winter in 1838.
Marseille, France - Marseille offers an unexpected view of a mosaic of buildings and National Heritage Sites from the terraces of Notre-Dame de la Garde Basilica that towers above and watches over the city.

Alongside the port the towers of Saint Victor Abbey house crypts that already existed when Christianity was introduced into Provence. The columns of the Palais de la Bourse, the noble facades of the Prefecture and the fountains of the Palais Longchamp are part of the triumphant architecture from the 19th Century that is scattered throughout the city and that gave Marseille renewed splendour.

In the old quarter the houses are built on the sunny slopes ; the clock in the Accoules Bell tower, which was the old Sauveterre tower, still marks the hours of life around the Town Hall, while beyond the dome of the Vieille Charite hospice, Pierre Puget's masterpiece, stands out against the sky. The small streets of the Panier quarter lie a little further on.
La Spezia, Italy - In Florence view the timeless treasures: the lofty Duomo, Giotto's bell tower, Michelangelo's David, the Uffizi Gallery, Ponte Vecchio over the Arno. In Pisa, see the famous Tower, still standing, if crookedly, after 650 years.

Or, you could stay closer to port and visit Cinque Terre ("The Five Cities") coast, a UNESCO World Heritage Site, and one of Italy's greatest jewels. These five small villages dotting the coast are free of car traffic and are reached only by a railway, hiking trails, or a pedestrian ferry. Small, winding paths connect many of the villages, and a light amount of hiking will afford you some spectacular views of cliffs, coastline, and stone terraces.
Rome (Civitavecchia), Italy - Rome, Italy's capital, is a sprawling, cosmopolitan city with nearly 3,000 years of globally influential art, architecture and culture on display. Ancient ruins such as the Forum and the Colosseum evoke the power of the former Roman Empire. Vatican City, headquarters of the Roman Catholic Church, has St. Peter's Basilica and the Vatican Museums, which house masterpieces such as Michelangelo's Sistine Chapel frescoes.
Naples, Italy - Capital of Southern Italy, the largest city of Campania, Naples is the third most populated city in Italy (after Rome and Milan), with over a million inhabitants, and is the most important industrial center and trading port for the South. Naples itself can provide a day's fun and entertainment, if its somewhat rundown appearance doesn't dissuade you. Or, join a tour of incredible Pompeii, frozen in time since A.D. 79 when Mt. Vesuvius brought an end to that then-thriving city. Or, take a quick ferry across the bay to the flowery Isle of Capri. Or, (yes, there's more) visit fabulous Sorrento, vacation spot for the well to do.
At Sea - Cruising - Cruising
Our staff can assist you with all your travel arrangements.
Questions? Call us at 800-422-0711.
We can assist you with all your travel arrangements. We'd be happy to help you plan your flights, hotels or tours before and/or after your cruise conference.
©2016 - University at Sea®