PLEASE NOTE: THIS IS NOT A CURRENTLY ACTIVE PROGRAM.
You may have found this page in error or been referred to this page via an outdated link. If you did come to this page from a link posted on another website, you may wish to alert the person responsible for the link that the program is labeled as inactive on our site. You are also welcome to e-mail us and report this message.
Between Body and Mind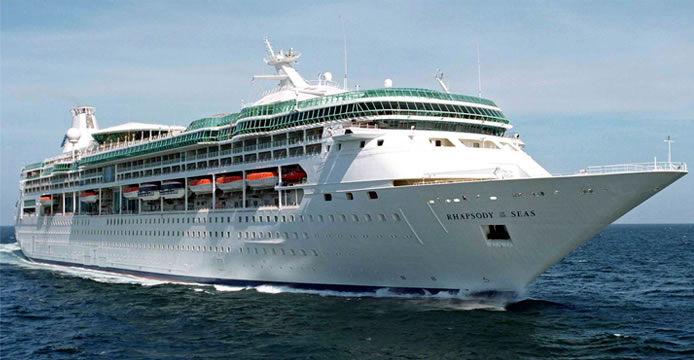 7-Night Greece & Croatia Cruise Conference
Round-trip Venice, Italy

May 18 - 25, 2019
IMPORTANT NOTE: All conferees, their families, and guests must book their cruise within the University at Sea® meeting group through University at Sea® at 800-926-3775 or by registering online. This ensures our company can provide conference services and complimentary social amenities to all meeting participants and their guests. Thank you for your cooperation.
Faculty
Dr. Howard Shuman, MB. ChB (Cape Town)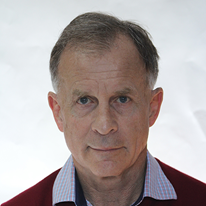 Specialist in Family Medicine and Homeopath
Dr. Shuman has specialized in family medicine in London, England and Israel and is licensed as a specialist in family medicine by the Ministry of Health. Served as a doctor in the Israel Air Force. He has been working as a specialist in family medicine for 35 years and has been managing a homeopathy clinic for 20 years.

He has participated in monthly and yearly professional medicine courses in family medicine and in various other fields such as trauma, neurology, cardiology, geriatrics, child development and ADD, sports medicine, acupuncture and more.

For several years he has served as a professional mentor for specialists in family medicine. He is a member of the Royal College of General Practitioners (RCGP) in England.
He specialized in homeopathy in professional courses at the Royal Hospital of Homeopathy, London, courses in the French method with Dr. Michel Bouko Levy and Classical Homeopathy with Dr. Paul Herscu. He is in the process of being registered as a Certified Homeopath in London, England.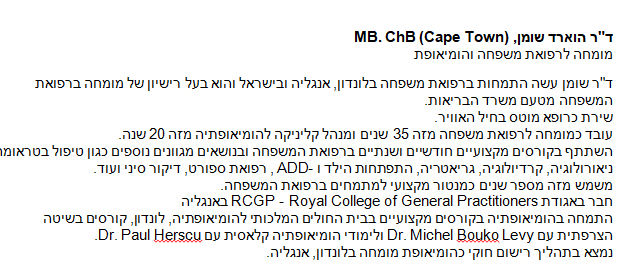 Dorit Yaakobi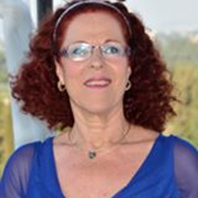 Group facilitator and workshops for spiritual awareness and communication, meditations, guided imagery, meditative writing, astrology and numerology
Dorit is certified as a group facilitator for parents and children, youth and couples on behalf of the Adler Institute and the Ministry of Education. Group facilitator for the development and application of spiritual awareness and communication, astrological, numerological and communicative. She specializes in Avatar courses, sound yoga, diary design, Bach flowers, aromatic oils, card reading and teratology, Indian philosophy and a variety of courses in healing such as Reiki, Theta Healing and more.

In her work, Dorit combines a variety of tools that she has learned and developed to reveal the physical and spiritual skills of each one of us. Dorit engages in personal and interpersonal counseling on issues of awareness, personal development (physical and spiritual), self- empowerment, parents and children, relationships, professional guidance and more.


Sarah Barkai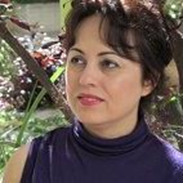 An expert in skin and emotional treatments. Sara has developed 'The Barkai Method' for skin therapy. She is a Master and Certified Trainer by the International NLP organization.
Sarah Barkai is a director of the clinic for skin treatments for 32 years. For the past decade, the clinic has also integrated holistic therapy, including NLP, neuro-linguistic programming. Sara guides groups and teaches courses for body and mind therapists, using this unique approach. NLP is a short-term method for achieving goals and represents neuro-linguistic programming. Neuro refers to your neurology; Linguistic refers to language; Programming refers to how the neural language functions. In other words, NLP learning is diagnosing and customizing personal care for your personality!

After an internship in this field, Sarah developed a unique method - 'The Barkai Method' for skin and emotional treatments. This method teaches patients how to relieve skin condition by raising awareness of the stressors that affect us in our daily life. Sarah has also specialized in the treatment of cancer patients, traumas, eating disorders, ADHD, Theta Healing, Access Bars, the scientific truth in skin care, oncology and more.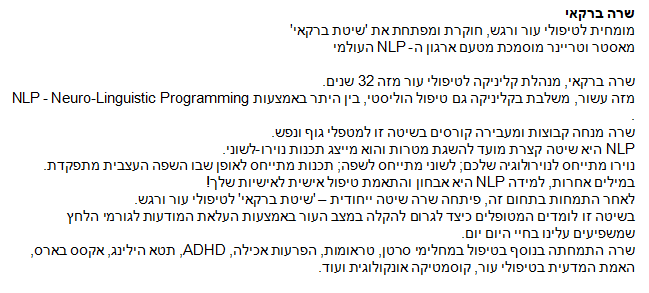 Questions regarding conference organization, please email Orna Shuman at marketing@ornashuman.com Or call: +972-50-7316153 .
Our staff can assist you with all your travel arrangements.
Target Audience
Professional Therapists and interested parties
Program Purpose / Objectives
Between Body and Mind - From the known to the Unknown...
A unique and new concept to professional therapists and interested parties: holiday & study in one package!
7 night cruise onboard Royal Caribbean's Rhapsody of the Seas visiting enchanting Venice, including stops at Dubrovnik, Croatia, Kotor, Montenegro, Santorini and Katokolon in Greece.
Full board, entertainment, swimming pools, variety of restaurants and sports activities.
2 days of professional lectures in the fields of Homeopathy, channeling, NLP and other body & soul issues
Welcome on board - cocktail reception
Registration is until February 10 2019 and is depended on 40 passengers.
Conference Sessions generally take place on days at sea (as itinerary allows), giving you plenty of time to enjoy your meals, evenings and ports of call with your companion, family and friends.
Questions? Call us at 800-422-0711.
We can assist you with all your travel arrangements. We'd be happy to help you plan your flights, hotels or tours before and/or after your cruise conference.

Cruise Itinerary
DATE
PORT OF CALL
ARRIVE
DEPART
Sat May 18
Venice, Italy

-
5:00 pm
Sun May 19
Dubrovnik, Croatia

11:00 am
7:00 pm
Mon May 20
Kotor, Montenegro

7:00 am
5:00 pm
Tue May 21

*

At Sea - Cruising

-
-
Wed May 22
Santorini, Greece

7:00 am
5:00 pm
Thu May 23
Katakolon, Greece

9:00 am
5:00 pm
Fri May 24

*

At Sea - Cruising

-
-
Sat May 25
Venice, Italy

6:45 am
-
*
Tentative course schedule, actual class times may differ.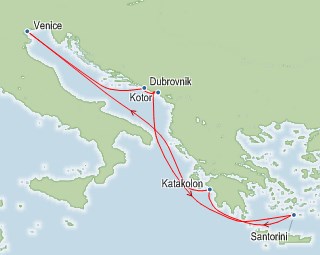 Ports of Call
Venice, Italy - Venice is possibly the most romantic place you'll ever visit. It seems almost redundant to describe the charms of Venice. The cafes of St. Mark's Square, Palazzo-lined canals plied by gondolas, the elegant Doge's Palace, the Bridge of Sighs and the Church of San Giorgio Maggiore: Venice is one impossibly beautiful sight after next. A great collection of Renaissance era art is housed at Gallerie dell'Accademia. Or, if you prefer modern art, Venice is home to the Peggy Guggenheim Collection. And, if you want to enjoy a truly special meal while here, visit one of the excellent restaurants of the Associazione dei Ristoranti della Buona Accoglienza.

Still not sure how you'll entertain yourself? Here's the New York Times' take on how to get the most out of your time in Venice (published June 12, 2014) 36 Hours in Venice
Pre and Post-Cruise Hotel Packages in Venice
Dubrovnik, Croatia - This ancient city is set on a peninsula and surrounded by a 1,000 year old protective wall. Said to be one of the prettiest spots in the world, it is as if you stepped back in time.
Kotor, Montenegro - Though small, this city is vibrant and shining and its people are happy to share their city with all who come.
At Sea - Cruising - Cruising
Santorini, Greece - The view from the top of Santorini is breathtaking. The harbor below is said to be the site of the lost city of Atlantis! Visit the ruins of Akrotiri and discover a recently unearthed Minoan town which was extinguished by a volcanic cataclysm in 1500 B.C.
Katakolon, Greece - Explore the site of the very first Olympic Games! Ancient Olympia is a short drive from Katakolon to see where the sacred flame is still lit every Olympic year. Wonder at the ruins of the awesome Temple of Zeus.
Our staff can assist you with all your travel arrangements.
Questions? Call us at 800-422-0711.
We can assist you with all your travel arrangements. We'd be happy to help you plan your flights, hotels or tours before and/or after your cruise conference.
EXCLUSIVE SHORE EXCURSIONS
Please note that our shore excursions are operated separately and
independently of those offered by the cruise line.
©2016 - University at Sea®