University at Sea®
5700 4th Street North
St. Petersburg, FL 33703
E-Mail Us
Office Hours
Monday - Friday
9:00am - 5:00pm EST
Saturday
10:00am - 2:00pm EST

Current Topics in Stress and Mental Health in Adolescents, Men, Women and the Clinicians Who Treat Them
7-Night Eastern Caribbean Cruise Conference
Round-trip Ft. Lauderdale, Florida
August 18 - 25, 2018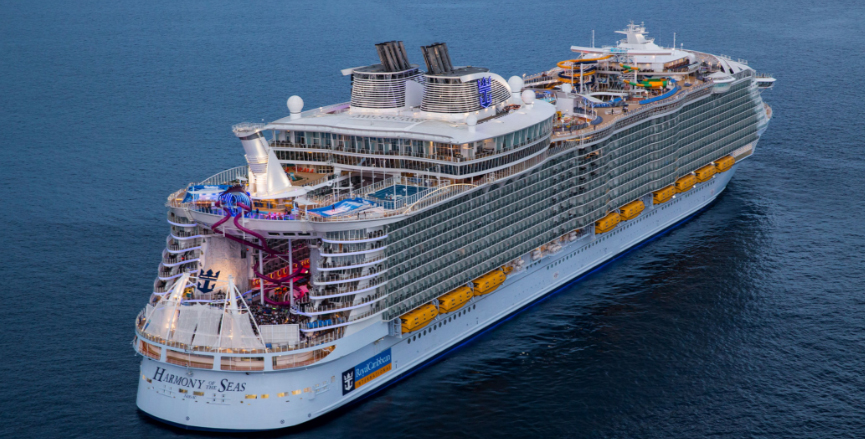 14 CE Credits for Psychologists
14 ASWB ACE Credits
14.0 AMA PRA Category 1 Credits™
14 ACPE Credits
14.0 Contact Hours


Course Fees
Target Audience
Nurses, Nurse PractitionersNurses, Nurse Practitioners Psychologists, Social WorkersPhysicians, Physician Assistants, Nurses, Nurse Practitioners, Pharmacists
Program Purpose / Objectives
Topics:
Physiological and Psychological effects of Stress and The Mind/Body Connection for Patients and Staff

Describe the Physiological and Psychosocial effects of stress and demonstrate knowledge of how the relaxation response impacts the mind and body

Managing Patient Expectations and Improving the Patient Experience

Identify techniques to improve overall patient care.

Management of Difficult Patients

Apply techniques to manage difficult patients encountered in clinical practices.

Psychological Aspects of Delivering Good and Bad News to Patients

Develop and improve clinician skills in discussing good and bad news with patients.

Physician (staff) burnout and the role of the Mental Health Professional in Education and Support of the Medical Staff

Utilize specific educational strategies and training techniques to help reduce practitioner stress, prevent burnout, and improve overall patient care.

Counseling Interventions-What Really Works

Describe the most effective counseling interventions.

Didactic and Experiential learning of Mind/Body techniques

Identify and practice at least three relaxation techniques to reduce stress

Depression

Identify specified subtypes of clinical depression
Appraise the differential diagnosis as well as related risk and determine appropriate treatment options.

Bipolar Disorder

Cite the epidemiology and subtypes of bipolar illness, weigh distinguishing clinical features, and identify potential risks as well as benefits of effective treatments.

Mood Disorders & the Peri-Partum

Discuss mood disorders related to the peri-partum as well as the role of psychotropic medication during pregnancy, delivery and post-partum.

Anxiety Disorder

Describe the features of anxiety and trauma related disorders and evaluate the various roles of potential interventions.

Mental Illnesses in Youth

Explain concepts related to the origins of mental illness
Describe features of key mental illnesses in youth and analyze biopsychosocial approaches to treatment.

Substance use disorders

Summarize the addiction crisis and current substance use disorders
Review co-occurring psychiatric illnesses
Learn to approach these conditions using screening and motivational interviewing.

Case Presentations

Review a series of clinical cases which highlight and underscore key clinical concepts presented during the conference.
Conference Sessions generally take place on days at sea (as itinerary allows), giving you plenty of time to enjoy your meals, evenings and ports of call with your companion, family and friends.
IMPORTANT NOTE: All conferees, their families, and guests must book their cruise within the University at Sea® meeting group through University at Sea® at 800-926-3775 or by registering online. This ensures our company can provide conference services and complimentary social amenities to all meeting participants and their guests. Thank you for your cooperation.
Faculty
Elizabeth A. Grill, PsyD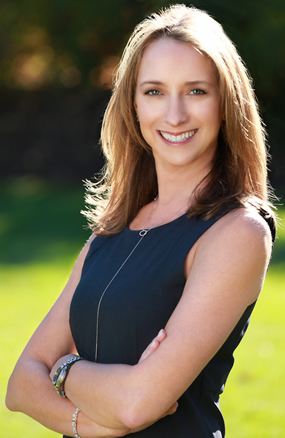 Associate Professor of Psychology
The Center for Reproductive Medicine & Infertility
Weill Medical College of Cornell University
New York, New York Dr. Elizabeth Grill is Director of Psychological Services at the Center for Reproductive Medicine and is Associate Professor of Psychology in the Departments of Obstetrics and Gynecology, Reproductive Medicine, and Psychiatry at Weill Medical College of Cornell University.

She is also an Assistant Attending Psychologist at New York-Presbyterian Hospital. Dr. Grill is experienced as a counseling psychologist and medical researcher with a special focus on stress and the mind/body connection, the emotional aspects of infertility, IVF treatment, third party reproduction, oncofertility, fertility preservation, and sexual dysfunction.

She served as Chair of the Mental Health Professional Group and served two terms on the Content Review Committee of the American Society for Reproductive Medicine.

Dr. Grill sits on several professional boards and is an editorial reviewer for peer reviewed journals. She is the author of numerous articles and book chapters, has lectured worldwide to patient and medical audiences and has participated in media interviews related to the emotional aspects of reproductive medicine.

Karl Gregory Sieg, MD, FAPA, MRO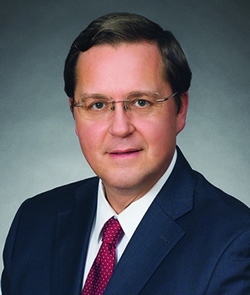 Medical Director of Behavioral Health
Professor of Psychiatry
University of Central Florida College of Medicine
Orlando, Florida Dr. Sieg received his medical degree and completed his residencies at the University of Kansas School of Medicine in Kansas City, Kansas. He is currently board certified in Addiction Psychiatry, Adult Psychiatry, Child & Adolescent Psychiatry, Geriatric Psychiatry and Forensic Psychiatry.

He is also a board-certified Medical Review Officer. Serving as Medical Director of Behavioral Health, Dr. Sieg has over 35 years of experience in practice having worked in a variety of settings including outpatient, community mental health & managed care as well as private, public & state psychiatric hospitals and addiction treatment programs. He has authored numerous scientific articles and also had past involvement in clinical psychopharmacology research.

Dr. Sieg maintains memberships with the American Psychiatric Association, the Florida Psychiatric Association, the American Academy of Psychiatry & the Law, and the American Medical Association. He currently practices and resides in the Orlando, Florida metropolitan area.
Our staff can assist you with all your travel arrangements.
Questions? Call us at 800-422-0711.
We can assist you with all your travel arrangements. We'd be happy to help you plan your flights, hotels or tours before and/or after your cruise conference.

Cruise Itinerary
DATE
PORT OF CALL
ARRIVE
DEPART
Sat Aug 18
Ft. Lauderdale, Florida

-
4:00 pm
Sun Aug 19
Nassau, Bahamas

7:00 am
2:00 pm
Mon Aug 20

*

At Sea - Cruising

-
-
Tue Aug 21
Charlotte Amalie, St. Thomas, U.S.V.I.

10:00 am
6:00 pm
Wed Aug 22
Basseterre, St. Kitts

7:00 am
4:00 pm
Thu Aug 23

*

At Sea - Cruising

-
-
Fri Aug 24

*

At Sea - Cruising

-
-
Sat Aug 25
Ft. Lauderdale, Florida

6:15 am
-
*
Tentative course schedule, actual class times may differ.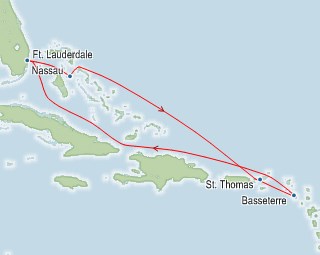 Ports of Call
Ft. Lauderdale, Florida - There is an abundance of things to see and do in the Ft. Lauderdale area: visit the newly redesigned Ft. Lauderdale Beach and cafes, stroll the historic Riverwalk, shop the luxurious stores on Las Olas Boulevard or adventure to the Everglades for an intriguing air boat excursion.
Nassau, Bahamas - The captivating capital of the 700 Bahamian islands. Attractions include forts to explore, coral reefs to snorkel and a fascinating straw market to shop
At Sea - Cruising - Cruising
Charlotte Amalie, St. Thomas, U.S.V.I. - Named after a Danish Queen, Charlotte Amalie has one of the most breathtaking deepwater harbors in the world. The key sights of Charlotte Amalie are located within the town centre, making it easy to combine sightseeing with St. Thomas' fantastic shopping opportunities. Eighteenth century architecture provides the perfect backdrop for walking tours and shopping here in the "Duty Free Capital of the World." For a dose of history, visit Emancipation Park, the American-Caribbean History Museum, or Bluebeard the pirate's castle at Magen's Bay. If tropical bliss is what you're after, head to any of Charlotte Amalie's pristine beaches, where the warm water, white sands and palm trees will lull you into deep relaxation!
Basseterre, St. Kitts - The island England zealously defended from Brimstone Hill, the "Gibraltar of the West Indies." In Basseterre, a mini-London, there's Piccadilly Circus to shop and a gingerbread version of Big Ben by which to check the hour.
Our staff can assist you with all your travel arrangements.
Questions? Call us at 800-422-0711.
We can assist you with all your travel arrangements. We'd be happy to help you plan your flights, hotels or tours before and/or after your cruise conference.
SHORE EXCURSIONS
Please note that our shore excursions are operated separately and
independently of those offered by the cruise line.
©2019 - University at Sea®