University at Sea®
5700 4th Street North
St. Petersburg, FL 33703
E-Mail Us
Office Hours
Monday - Friday
9:00am - 5:00pm EST
Saturday
10:00am - 2:00pm EST

Comprehensive Dermatology, Allergy, and Immunology Update for the PCP, Emphasizing Diagnostic and
Therapeutic Tips and Tricks
13-Night Singapore and Hong Kong Cruise Conference
from Singapore, Singapore to Hong Kong, China April 26 - May 09, 2019

21.0 AMA PRA Category 1 Credit(s)™
21 ACPE Credits
11 Hours of Pharmacology for NPs
21.0 Contact Hours


Course Fees
Target Audience
Nurses, Nurse PractitionersNurses, Nurse PractitionersPhysicians, Physician Assistants, Nurses, Nurse Practitioners, Pharmacists
Program Purpose / Objectives
Topics:
Urticaria
Angioedema
Atopic Dermatitis
Pruritus
Drug Allergy
Food Allergy
Irritable Bowel Syndrome
Indoor Allergies
Sinusitis
Headaches
Auto inflammatory Syndromes
Approach to Dermatologic Diagnosis

Apply approaches to dermatologic diagnosis to your practice
Dunbar M. Brodell RT, Helms SE. 2 Dermatology: XVI Approach to the diagnosis of skin disease. In: Nabel, EG, editor. ACP medicine [loose-leaf]. Hamilton (ON): Decker Intellectual Properties; 2013

Superficial Fungal infections and the KOH Prep

Determine when to perform a KOH Preparation
Utilize a step-by-step method to perform the optimal KOH preparation

Distinguishing scabies from other pruritic conditions

Determine when to perform a Scabies Preparation
Utilize a step-by-step method to perform the optimal Scabies preparation

Moles: Benign vs Malignant

Distinguish benign vs malignant pigmented skin lesions

Non-Melanoma skin cancer: Diagnosis and Treatment

Distinguish benign vs malignant non-pigmented skin lesions

Basic Dermatologic Procedures including Tips and Tricks

Perform common simple dermatologic procedures
Incorporate tips and tricks to make procedures as quick, efficient, effective, and reproducible as possible

Advanced Dermatologic Procedures

Manage patients with appropriate referral for more complex procedures

Mississippi Nigeria Education and Mentoring Exchange (MNEME)-Enugu, Nigeria

Recognize the amazing educational, research and teaching opportunities available in the underdeveloped world

Interactice Sessions I and II
Ask The Professor

Learn diagnosis in dermatology through rapid-fire Socratic case-based interactive sessions that make learning fun and enhance recall
Conference Sessions generally take place on days at sea (as itinerary allows), giving you plenty of time to enjoy your meals, evenings and ports of call with your companion, family and friends.
IMPORTANT NOTE: All conferees, their families, and guests must book their cruise within the University at Sea® meeting group through University at Sea® at 800-926-3775 or by registering online. This ensures our company can provide conference services and complimentary social amenities to all meeting participants and their guests. Thank you for your cooperation.
Faculty
Roger W. Fox, M.D. FAAAAI, FACP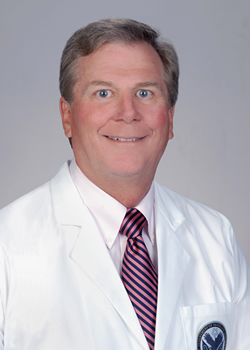 Professor of Medicine and Pediatrics
Division of Allergy and Immunology
University of South Florida
Morsani College of Medicine
Tampa, FL After receiving his medical degree at St. Louis University School of Medicine, he completed his 3 years of Internal Medicine and 2 years in Allergy and Immunology at the University of South Florida in Tampa. He joined the faculty at USF in the Division of Allergy and Immunology. He was recognized for his 30 years of service to USF College of Medicine and to the Tampa VA Department of Medicine. He is a Fellow in the American College of Physicians and the American Academy of Allergy, Asthma and Immunology. He has been elected as The Best Doctors in America for the past decade. He serves as the Director of A/I Fellow Training, and he has trained 75 Allergy/Immunology Fellows. He has an extensive list of contributions in the literature, and presentations at local, national and international meetings. He has been on various boards including the Hillsborough County Medical Association and Florida Allergy Asthma and Immunology Society and many committees in the Academy of Allergy, Asthma and Immunology.
Robert T. Brodell, MD , FAAD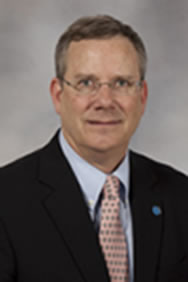 Professor and Chair
Department of Dermatology
Professor
Department of Pathology
University of Mississippi Medical Center.
Instructor in Dermatology
University of Rochester School of Medicine and Dentistry Robert T. Brodell, MD is tenured Professor and Chair of the Department of Dermatology and Professor in the Department of Pathology at the University of Mississippi Medical Center. He worked with a dedicated team of faculty to found the Department of Dermatology and establish a residency training program in dermatology in 2012. It currently boasts 11 resident physicians; fellowship trainees in dermatopathology and Mohs Surgery; 10 faculty; 5 nurse practitioners; and, sees patients in 5 offices. All of this was designed to improve the access to dermatologic care in a state that has half the number of dermatologists per capita average in the United States.

Dr. Bob is a graduate of Washington and Jefferson College ('75) and the University of Rochester School of Medicine and Dentistry ('79) . Following two years of internal medicine residency at Strong Memorial Hospital in Rochester, New York, he completed his dermatology residency and dermatopathology fellowship at Barnes Hospital in St Louis, Missouri. He is a master mason (1974).

For 27 years, Dr Bob was the director of Skin Pathology Services, Inc and served in a solo clinical practice of dermatology in his hometown of Warren, Ohio. He worked in the building where he and his wife, Linda P. Brodell, MD (Ophthalmology), lived and raised 5 children. During this time he served as chair of the Northeastern Ohio Medical University (NEOMED) Dermatology section where he was elected to the master teacher guild. He also served as Chair of the Midwest Congress of Dermatological Societies (1995-1999).

Known for his passion for teaching, Dr Bob has performed 1,750 lectures and directed 45 symposia at local, regional, and national venues. He has 389 publications, 41 poster presentations, and has written two books: The Diagnosis and Treatment of Warts: An Evidence Based Approach (2003) and Tips and Tricks in Procedural Dermatology (2019). He has reviewed articles for 32 journals and served on the editorial board of 3 journals. Dr Bob is Editor-in-chief of Practice Update: Dermatology (Elsevier) a weekly digital abstracting service (2013-present) He has participated in 42 multi-center clinical trials. An avid mentor, over 100 of his medical students are now dermatologists.

Dr. Bob served as President of the Ohio Dermatological Association (2002) ; member of the American Board of Dermatology (ABD) (2003-12) and served as the ABD President (2011-12); and, the Sulzberger Institute for Dermatologic Education (1998–2001). He is a member of the American Dermatological Association (2007), an organization of national leaders in dermatology and serves as its secretary-treasurer (2017-present). He served on the Board of Directors, American Academy of Dermatology (2012-16); Board of Directors of the Noah Worcester Dermatological Society (2017-19); and, the dermatology Residency Review Committee (RRC) of the Accreditation Council of Graduate Medical Education (ACGME) (2012-19).

An avid supporter of the American Cancer Society (ACS), he has been an ACS Relay For Life volunteer since 1992; served as President and Chief Medical Officer, Ohio Division, Inc. American
Our staff can assist you with all your travel arrangements.
Questions? Call us at 800-422-0711.
We can assist you with all your travel arrangements. We'd be happy to help you plan your flights, hotels or tours before and/or after your cruise conference.

Cruise Itinerary
DATE
PORT OF CALL
ARRIVE
DEPART
Fri Apr 26
Singapore, Singapore

-
-
Sat Apr 27
Singapore, Singapore

-
5:00 pm
Sun Apr 28

*

At Sea - Cruising

-
-
Mon Apr 29
Koh Samui, Thailand

8:00 am
4:00 pm
Tue Apr 30
Bangkok (Laem Chabang), Thailand

7:00 am
6:00 pm
Tue Apr 30
Visa Requirement

-
-
Wed May 01
Sihanoukville, Cambodia

10:00 am
11:00 pm
Thu May 02

*

At Sea - Cruising

-
-
Fri May 03
Ho Chi Minh City, Vietnam

8:30 am
-
Sat May 04
Ho Chi Minh City, Vietnam

-
3:00 pm
Sun May 05

*

At Sea - Cruising

-
-
Mon May 06
Chan May, Vietnam

8:00 am
8:00 pm
Tue May 07

*

At Sea - Cruising

-
-
Wed May 08
Hong Kong, China

8:30 am
-
Thu May 09
Hong Kong, China

-
-
*
Tentative course schedule, actual class times may differ.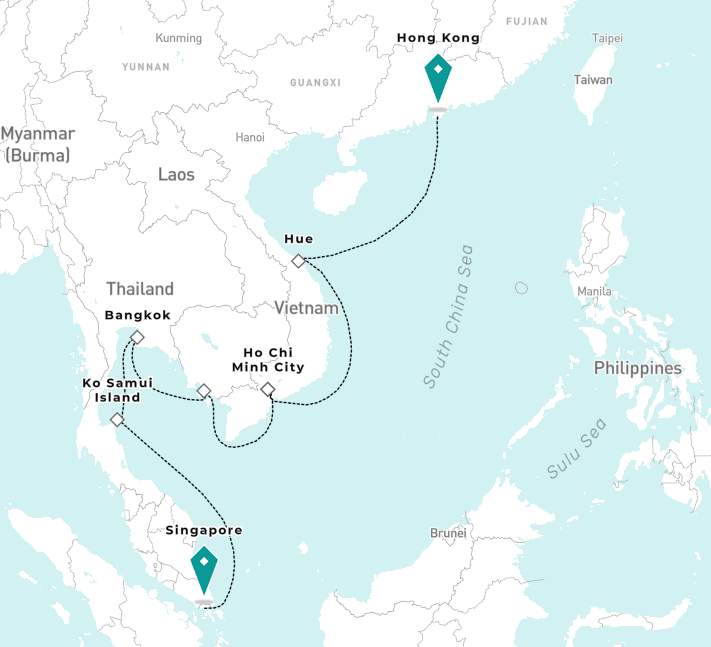 Ports of Call
Singapore, Singapore - It's an island city-state, a World War II battleground, a global economic superstar, and a crossroads of the world. Cruise to Singapore with Holland America Line and in the space of a few hours you can relax in a Chinese teahouse, purchase a colorful sari in Little India and visit the gold-domed Sultan Mosque.
At Sea - Cruising - Cruising
Koh Samui, Thailand - Looking at the water, the palms, and the plants, you might think the color green was invented on Koh Samui, and then reinvented. Everywhere you look are shades of celadon, smaragdine, and viridian. Located in the Gulf of Thailand about 400 miles south of Bangkok, Koh Samui is an island of towering coconut trees, generous sun, and powdery white beaches. Cruise visitors will enjoy the Big Buddha, an important symbol for the locals, the Na Muang waterfall, and the beaches. Chaweng is the island's high-energy beach. Lamai is less busy. Maenam is quiet, and closest to port.
Bangkok (Laem Chabang), Thailand - Once a small Khmer trading center, Bangkok has grown into one of the world's most populous and cosmopolitan cities. Bustling streets and markets stand side by side with serene golden temples and glitzy nightclubs. Explore the architectural marvel of the Grand Palace. Discover Bangkok's largest Buddha at Wat Pho and shop the spectacular Damnoen Saduak Floating Market.
Sihanoukville, Cambodia - Known for its white sand beaches, warm Gulf of Thailand waters, and laid back atmosphere, Sihanoukville is a premiere beach lovers' destination. Built in the late 1950s, the town is much newer and more cosmopolitan than most Cambodian provincial cities. Spend the day exploring miles of unspoiled beaches or chose one and swim, snorkel or simply relax under a beach umbrella.
Ho Chi Minh City, Vietnam - Ho Chi Minh is Vietnam's largest and most famous city and is surrounded by rivers and canals. During the 14th century this city was known as Prey Nokor and was nothing more than a trading post. Slowly it grew into a small town, similar to the nearby traditional Cambodian villages. By the 18th century, the Lords of Hue, under the Nguyens, had established control of the trade in Prey Nokor and renamed the city Saigon. From 1833 until 1836, the tight control of the Nguyen leadership provoked a strong uprising, leading to great destruction and massacre until the intervention of the French in 1859. During the Vietnam War, Saigon's population nearly tripled and the city grew uncontrollably. In 1975, at the end of the war, North Vietnam had defeated South Vietnam after 30 years of battle. The new communist regime changed the official name of the city of Saigon to Ho Chi Minh and began to rebuild its economic and social structure.
Chan May, Vietnam - In Chan May, Crystal Cruises will dock closer to Hue, allowing you to see this important imperial city at a more relaxed pace. Indeed, Hue (pronounced "hway") merits a full-day excursion. Having served as the Vietnamese capital from 1802 to 1945, the city was home to thirteen emperors of the Nguyen Dynasty. Its three walled enclosures, built concentrically around one another, are collectively called the Citadel-an appropriate name, given that the emperor and his family lived within the Forbidden Purple City, located at the Citadel's center. The term "Forbidden" is appropriate too, as the Royal Palace resembles Beijing's Forbidden City.
Hong Kong, China - From Victoria Peak, the Hong Kong metropolis is all primary colors and neon, commerce and capitalism. Yet just beyond the highrises are the Fragrant Harbour, Stanley Market, and mainland old China, complete with rice paddies and coolie hats.
Our staff can assist you with all your travel arrangements.
Questions? Call us at 800-422-0711.
We can assist you with all your travel arrangements. We'd be happy to help you plan your flights, hotels or tours before and/or after your cruise conference.
SHORE EXCURSIONS
Please note that our shore excursions are operated separately and
independently of those offered by the cruise line.
©2019 - University at Sea®