University at Sea®
5700 4th Street North
St. Petersburg, FL 33703
E-Mail Us
Office Hours
Monday - Friday
9:00am - 5:00pm EST
Saturday
10:00am - 2:00pm EST

Topics in Family Medicine and Primary Care
10-Night Italy & Greek Isles Cruise Conference
Round-trip Rome (Civitavecchia), Italy
August 31 - September 10, 2018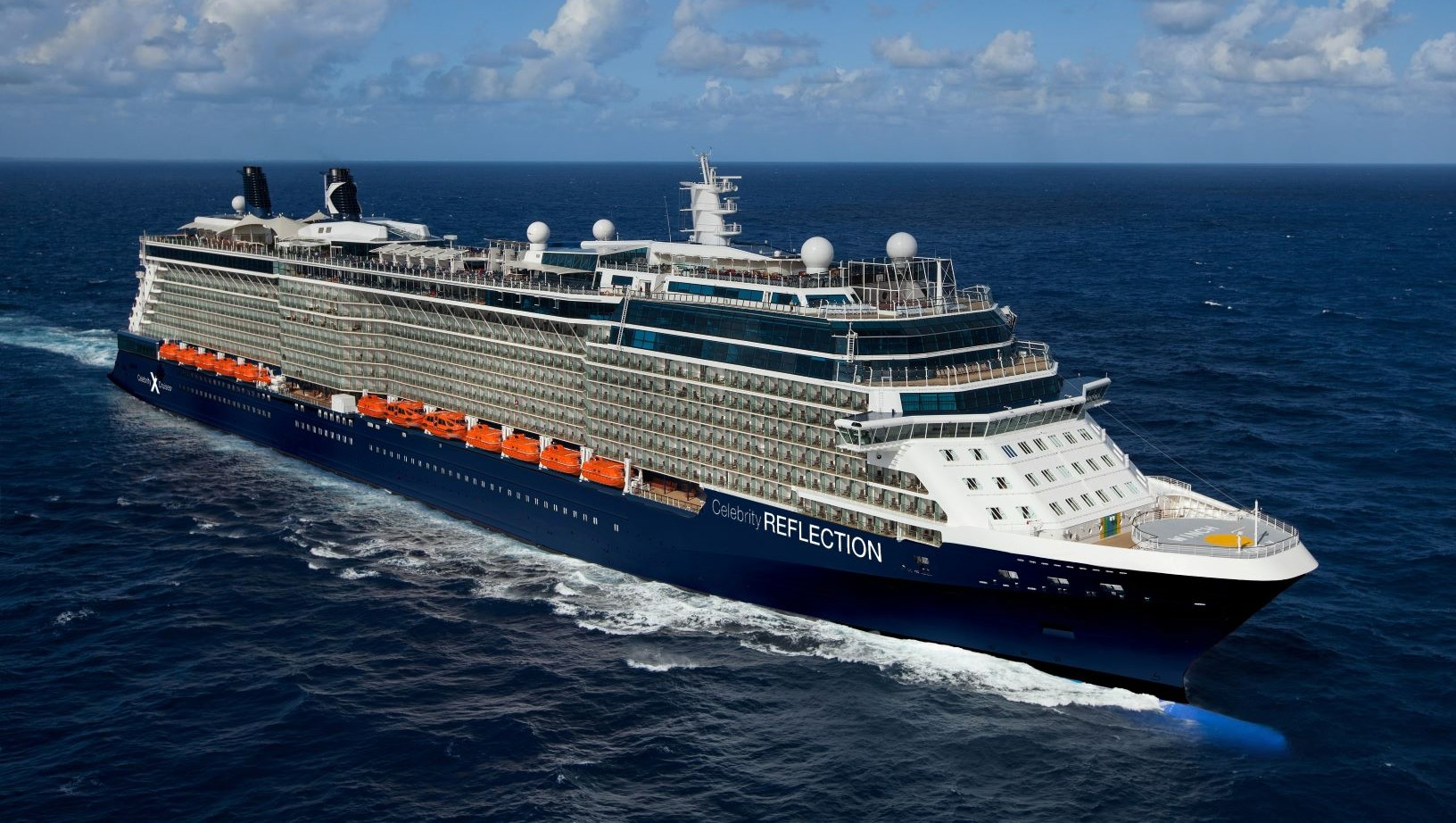 14.0 AMA PRA Category 1 Credits™
14 ACPE Credits
14.0 Contact Hours


Course Fees
Target Audience
Nurses, Nurse PractitionersNurses, Nurse PractitionersPhysicians, Physician Assistants, Nurses, Nurse Practitioners, Pharmacists
Program Purpose / Objectives
Topics:
Optimizing Results through Teamwork

Apply the characteristics of successful teams and tools to build teamwork and improve outcomes
Describe how teamwork can improve chronic disease metrics
List and explain stages of team formation

Preparing Your Patients for a Successful Transition to their Golden Years

Improve the wellness of the elder patients seen
Address preventive measures for elder patients
Provide appropriate medication management for the elderly
Improve communication strategies in discussing advance directives with patients

Medical Error Reduction: Optimizing Outcomes and Patient Safety

Discuss types of medical errors that can result in increased morbidity and mortality
Minimize potential cognitive error risks to result in improved outcomes and patient safety
Explain how diagnosis momentum can result in medical errors

Travel Medicine: Prevention Goes International

Discuss the scope of US travelers abroad
Assess appropriately the medical risk to the traveler
List commonly needed Immunizations for travelers
Implement helpful travel preventative treatments
Utilize travel medicine related website resources

Optimizing Patient Safety - Appropriate Opioid Prescribing

Appropriately evaluate a patient for Chronic Pain
Utilize general guidelines for prescribing Controlled Substances / Opioids, including the new CDC guidelines
Implement the use of multiple modalities in managing chronic pain
Explain the added risks when prescribing opioids in excess of 100 mg Morphine Equivalent Dosing (MED)
Implement strategies to improve patient safety and compliance with guidelines in prescribing opioids and other Controlled Substances

Health Promotion: Encouraging a Healthy Body, Mind, and Spirit

Assess the patient's current state of physical, psychological, and spiritual health.
Analyze the patient's current dietary and exercise practices.
Discuss an individualized health-promotion strategy for each patient.

"Oh, My Aching Head!": Evaluation and Treatment of Migraine, Tension-Type, and Cluster Headaches

Discuss the appropriate use of brain imaging in evaluating patients with headache.
Describe the appropriate use of abortive and preventive medications in the treatment of migraine.
Describe the distinguishing clinical characteristics of tension-type and cluster headaches.

Male Sexual Disorders: Hypogonadism, Erectile, and Ejaculatory Dysfunction

Elicit a through, non-judgmental sexual history.
Describe appropriate laboratory and radiologic testing in the evaluation of male sexual problems.
Discuss the effects, risks, and benefits of testosterone replacement therapy.

"I'm Sick and Tired of Being Tired!": Approach to Chronic Fatigue

Describe the exclusion and inclusion criteria for chronic fatigue syndrome and distinguish this syndrome from other types of chronic fatigue
Elicit and address the diagnostic beliefs of patients regarding the etiology of their fatigue
Apply specific principles of cognitive-behavioral therapy and graded exercise therapy in the treatment of patients with chronic fatigue

Hypertension: "What Goes Up Must Come Down"

Describe the appropriate measurement and classification of hypertension.
Discuss the laboratory testing and imaging needed to diagnose the most common causes of secondary hypertension.
Describe the major classes of anti-hypertensive treatment and discuss the particular type of patient likely to benefit from each class of medication.

Enhancing Clinician-Patient

Distinguish the technical , biomedical aspects of the clinician's role from the personal and psychosocial aspects of care.
Describe specific attitudes and values needed to create a healing environment with patients.
Apply techniques for establishing and maintaining rapport with patients and enhancing clinician-patient communication.

The Faith Factor: Practicing Spiritually-Sensitive Care

Elicit a spiritual history in an ethically-appropriate manner.
Analyze the physiologic, psychological, social, and lifestyle effects of religious beliefs upon health outcomes.
Describe the spectrum of possible interventions available for addressing patients" spiritual needs.
Conference Sessions generally take place on days at sea (as itinerary allows), giving you plenty of time to enjoy your meals, evenings and ports of call with your companion, family and friends.
IMPORTANT NOTE: All conferees, their families, and guests must book their cruise within the University at Sea® meeting group through University at Sea® at 800-926-3775 or by registering online. This ensures our company can provide conference services and complimentary social amenities to all meeting participants and their guests. Thank you for your cooperation.
Faculty
Tim Munzing, MD, FAAFP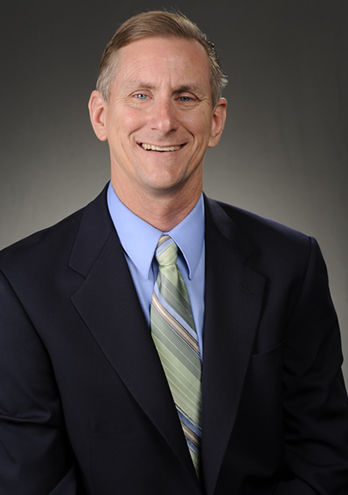 Family Medicine Residency Program Director
Kaiser Permanente Orange County Family Medicine Residency Program
Santa Ana, California Dr. Timothy Munzing has been a family physician with Kaiser Permanente in Orange County, California for the past 33-1/2 years, over 30 years as the founding Program Director of the KP-OC Family Medicine Residency Program. Dr. Munzing serves on the national ACGME Family Medicine Review Committee, responsible for the accreditation of over 600 Family Medicine residency programs. He has had a clinical practice for over three decades and has taught hundreds of Family Medicine residents and thousands of medical students. Dr. Munzing was the recipient of the 2017 National Family Medicine Outstanding Residency Program Director of the Year Award and the 2017 California Academy of Family Physicians Hero of Family Medicine Award. He holds the appointment of full Clinical Professor at the University of California, Irvine College of Medicine and Professor at the developing Kaiser Permanente School of Medicine, opening Summer 2020.

Dr. Munzing is a leading national expert on appropriate (legal vs. illegal) Opioid and Controlled Substance Prescribing, recently receiving a major national Medical Director's Award by the National Health Care Anti-Fraud Association. He has served as a medical expert reviewer for the DEA, FBI, and Medical Board of California for 15 years, having reviewed over 200 cases (100+ criminal) in over sixteen states across the United States.

Dr. Munzing published a peer reviewed article entitled "Guide to Appropriate Opioid Prescribing for Noncancer Pain" in May 2017 in the Permanente Journal, which is now being used nationally by physicians, law enforcement, and prosecutors. Dr. Munzing has lectured on the subject to thousands of physicians and healthcare providers, law enforcement (DEA, FBI, other state and federal law enforcement), and prosecutors across the United States.
Dale A. Matthews, MD, FACP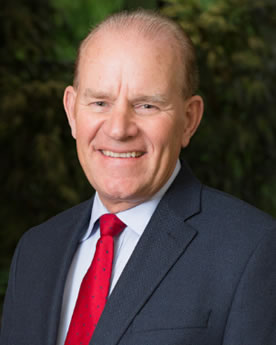 Dr. Matthews practices general internal medicine in Reston, Virginia with Executive Healthcare Services. He conducts research and lectures nationally and internationally on the doctor-patient relationship and the psychological and spiritual dimensions of medicine, including the role of faith, religion, and prayer in clinical care and healing. He has served in the Departments of Medicine at three medical schools (Yale University, University of Connecticut, and Georgetown University) and has lectured at over 30 medical schools in the United States. He also teaches continuing medical education courses for the Continuing Medical Education, Inc. University at Sea program. He is the author of The Faith Factor: Proof of the Healing Power of Prayer (Viking, 1998).

Dr. Matthews is a cum laude graduate of Princeton University (AB, 1976), at which he majored in Romance Languages and Literatures with a special concentration in European Civilization. He was graduated from Duke University School of Medicine in 1980, and completed his internship and residency in internal medicine at the University of Connecticut in Farmington in 1983. In the same year, he was named as a Robert Wood Johnson Foundation Clinical Scholar at Yale University School of Medicine. At Yale, he studied clinical epidemiology and began his research career by examining patients' perceptions of physician performance in the hospital and outpatient setting.

He joined the faculty of the University of Connecticut School of Medicine in Farmington, CT in 1985 as an Assistant Professor of Medicine. He was a co-founder of the Connecticut Chronic Fatigue Study, one of the first major longitudinal studies of this perplexing condition. In 1989, he was named the George Morris Piersol Teaching and Research Scholar of the American College of Physicians.

In 1991, he accepted a position as Chief of Internal Medicine at the Minirth-Meier and Byrd Clinic in Arlington, VA. This position offered him an opportunity to integrate his religious faith with his skills in internal medicine and psychiatry and to develop his research interest in the spiritual aspects of medicine.

In 1993, he joined the faculty of Georgetown University School of Medicine in the Division of General Internal Medicine, where he continued to expand his clinical, teaching, and research interests. In the same year, he was named as a Fellow of the American College of Physicians. In 1997, he received an Exemplary Paper in Humility Theology Award from the John Templeton Foundation. From 1999 to 2012, he practiced general internal medicine in Washington, DC.

In 2012, he moved his medical practice to McLean, Virginia and joined the Primary Care division of the Virginia Hospital Center Physician Group. He has received the Vitals Patients' Choice Awards yearly from 2008-14 and Most Compassionate Doctor.

recognition from 2012-4. He has been named a Washington, DC-Baltimore-Northern Virginia Super Doctor yearly from 2011-13.

Dr. Matthews is also the author of a four-volume research work (The Faith Factor: An Annotated Bibliography of Clinical Research on Spiritual Subjects), three documentaries (Body, Mind, and Spirit, Shall We Pray?, and Healing Hands), a annotated, videotaped lecture on religion and medicine (The Faith Factor: Is Religion Good for Your Health?), a teaching videotape on the doctor-patient relationship (Bedside Manners), and over 65 peer-reviewed scientific articles, book chapters, and other publications.

He has been a member of several national advisory boards and committees, including the National Board of Medical Examiners, the Humility Theology Information Center of the John Templeton Foundation, the Diagnostic and Statistical Manual-Primary Care Version of the American Psychiatric Association, and the Bayer Institute on Health Care Communication. He was the director of the Physical Health Panel for the Scientific Progress in Spiritual Research project of the National Institute for Healthcare Research.. He has served on review boards for over a dozen professional journals and was the founding editor of Faith and Medicine Connection. He is a member of the Christian Medical and Dental Society and the American College of Physicians.

Dr. Matthews has been featured in numerous national newspapers and magazines, including the New York Times Sunday Magazine, Washington Post Magazine, USA Today Weekend, Hartford Courant Sunday Magazine, Los Angeles Times, Christian Science Monitor, Newsweek, Reader's Digest, Prevention, Guideposts, Good Housekeeping, McCall's, and Christianity Today. He has appeared on many national television and radio programs, including the Oprah Winfrey Show, Larry King Live, Good Morning America, CBS This Morning, CBS Evening News, NBC Nightly News, Fox Evening News, CNN Early Prime Time, 700 Club, One-on-One with John MacLaughlin, and National Public Radio (The Diane Rehm Show and All Things Considered).
He lives in McLean, Virginia with his wife, Demetra, a certified public accountant. He has two adult children: Karen Goodman (married to Robert Goodman), and Louis Matthews (married to Michelle Matthews) and two grandchildren (Sophia Goodman and James Matthews). He enjoys family and church activities, Bible study and teaching, golf, baseball, piano, songwriting, singing, ballroom dancing, travel, and photography.
Our staff can assist you with all your travel arrangements.
Questions? Call us at 800-422-0711.
We can assist you with all your travel arrangements. We'd be happy to help you plan your flights, hotels or tours before and/or after your cruise conference.

Cruise Itinerary
DATE
PORT OF CALL
ARRIVE
DEPART
Fri Aug 31
Rome (Civitavecchia), Italy

-
5:00 pm
Sat Sep 01
Messina, Sicily

10:00 am
7:00 pm
Sun Sep 02
Valletta, Malta

8:00 am
6:00 pm
Mon Sep 03

*

At Sea - Cruising

-
-
Tue Sep 04
Mykonos, Greece

7:00 am
6:00 pm
Wed Sep 05
Rhodes, Greece

7:30 am
6:00 pm
Thu Sep 06
Santorini, Greece

7:00 am
6:00 pm
Fri Sep 07
Athens (Piraeus), Greece

6:00 am
6:00 pm
Sat Sep 08

*

At Sea - Cruising

-
-
Sun Sep 09
Naples, Italy

7:00 am
6:30 pm
Mon Sep 10
Rome (Civitavecchia), Italy

5:00 am
-
*
Tentative course schedule, actual class times may differ.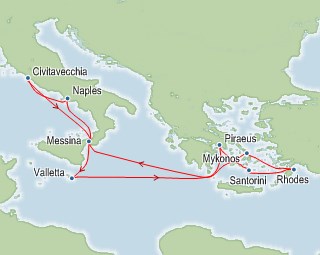 Ports of Call
Rome (Civitavecchia), Italy - Rome, Italy's capital, is a sprawling, cosmopolitan city with nearly 3,000 years of globally influential art, architecture and culture on display. Ancient ruins such as the Forum and the Colosseum evoke the power of the former Roman Empire. Vatican City, headquarters of the Roman Catholic Church, has St. Peter's Basilica and the Vatican Museums, which house masterpieces such as Michelangelo's Sistine Chapel frescoes.
Messina, Sicily - A beautiful sheltered harbor is your gateway to Taormina, a small town at heart despite its major tourist attraction: the sublime Teatro Greco, offering panoramic views of the coastline and snow-capped Mt. Etna.
Valletta, Malta - Tiny Malta abounds in forts and temples. In Valletta, wander through the ornate Grand Master's Palace of the Knights of St. John. Within the thick walls of Medina, the Silent City (no cars), visit the serene Baroque cathedral.
At Sea - Cruising - Cruising
Mykonos, Greece - For pure Mediterranean pizzazz, Mykonos can't be beat. Designer boutiques and beautifully bronzed Greek gods and goddesses lie on Mykonos' beaches. And Mykonos' famous five white churches look down on it all in oblivious serenity.
Rhodes, Greece - The crusader Knights of St. John made Rhodes their headquarters. Explore the massive fortress of the Palace of Grand Masters, and peer into tiny rooms of the Inns which once housed the knights. See where the towering Colossus of Rhodes once stood -- it could be seen for miles at sea!
Santorini, Greece - The view from the top of Santorini is breathtaking. The harbor below is said to be the site of the lost city of Atlantis! Visit the ruins of Akrotiri and discover a recently unearthed Minoan town which was extinguished by a volcanic cataclysm in 1500 B.C.
Athens (Piraeus), Greece - You'll climb the Acropolis, the site of ancient Athens, crowned by the immortal Parthenon. Its chiseled columns were raised by Pericles, Athens's great general. Rest your running shoes in the temple of Nike. A little shopping and souvlaki in the Plaka and you're practically an (ancient) Athenian!
Naples, Italy - Capital of Southern Italy, the largest city of Campania, Naples is the third most populated city in Italy (after Rome and Milan), with over a million inhabitants, and is the most important industrial center and trading port for the South. Naples itself can provide a day's fun and entertainment, if its somewhat rundown appearance doesn't dissuade you. Or, join a tour of incredible Pompeii, frozen in time since A.D. 79 when Mt. Vesuvius brought an end to that then-thriving city. Or, take a quick ferry across the bay to the flowery Isle of Capri. Or, (yes, there's more) visit fabulous Sorrento, vacation spot for the well to do.
Our staff can assist you with all your travel arrangements.
Questions? Call us at 800-422-0711.
We can assist you with all your travel arrangements. We'd be happy to help you plan your flights, hotels or tours before and/or after your cruise conference.
SHORE EXCURSIONS
Please note that our shore excursions are operated separately and
independently of those offered by the cruise line.
©2019 - University at Sea®