University at Sea®
5700 4th Street North
St. Petersburg, FL 33703
E-Mail Us
Office Hours
Monday - Friday
9:00am - 5:00pm EST
Saturday
10:00am - 2:00pm EST


Cardiology Essentials and Case Studies
Co-Provided with School of Medicine,
SUNY at Stony Brook
10-Night Dalmatian Coast and Italy Cruise Conference
from Venice, Italy to Rome (Civitavecchia), Italy November 08 - 18, 2019

12.0 AMA PRA Category 1 Credits™
12.0 Contact Hours


Course Fees
Target Audience
Nurses, Nurse PractitionersNurses, Nurse PractitionersInternists, Family Physicians, Physician Assistants
Program Purpose / Objectives
Ideal candidates for this seminar include physicians as well as other health care professionals involved in the daily management of cardiac patients in the office, clinic, or hospital settings.
Topics:
Primary Prevention of Coronary Artery Disease
Secondary Prevention of Coronary Artery Disease
Emerging Risk Factors for Coronary Artery Disease
Women and Heart Disease
Diagnosis & Management of Coronary Heart Disease
New Strategies in the Diagnosis & Treatment of Acute Coronary Syndromes
Diagnosis & Treatment of Acute Myocardial Infarction and its Complications
Advances in the Treatment of Congestive Heart Failure
Interventional Cardiology: Indications, Outcomes & New Frontiers
Changes in Cardiac Surgical Revascularization
EKG Review and Case Studies
Diagnosis and Management of Vavular Heart Disease
Cardiomyopathies & Pericardial Disease
Diagnosis & Treatment of non-Cardiac Vascular Disease
Objectives:
Participants will be invited to share their clinical experiences, concerns, and insights.
Upon completion of the course, participants should be able to:
Define treatment objectives of primary and secondary prevention based on clinical assessment
Recognize non-traditional markers for coronary artery disease risk
Describe differences in prevention, diagnosis, treatment in women
Identify the indication, utility, and findings of non-invasive cardiac testing
Describe the pathophysiology, diagnosis, and management of chronic and unstable coronary artery disease (including myocardial infarction and its complications)
Consider the appropriate use of medical treatment, catheterization, angioplasty and surgical revascularization in the management of coronary artery disease
Interpret basic EKG abnormalities
Recognize and treat common cardiac arrhythmias
Understand the changing objectives of congestive heart failure treatment
Diagnose and treat valvular heart disease, cardiomyopathies, pericardial disease, and non-cardiac vascular disease
Conference Sessions generally take place on days at sea (as itinerary allows), giving you plenty of time to enjoy your meals, evenings and ports of call with your companion, family and friends.
IMPORTANT NOTE: All conferees, their families, and guests must book their cruise within the University at Sea® meeting group through University at Sea® at 800-926-3775 or by registering online. This ensures our company can provide conference services and complimentary social amenities to all meeting participants and their guests. Thank you for your cooperation.
Faculty
William E. Lawson, MD, FACCP, FACC, FSCAI
Professor of Medicine
Director, Heart Center Outcomes Research
Director, Preventive Cardiology
Director, Interventional Cardiology Fellowship Program
Dr. William Lawson graduated from Rutgers Medical School in 1977. Dr. Lawson has been at SUNY, Stony Brook since 1980, where he is currently Professor of Medicine in the Division of Cardiology. At Stony Brook he has acted as Chief of Cardiology, Director of Echocardiography, Non-Invasive, Invasive, and Preventive Cardiology. He is currently Director of Cardiac Outomes Research and Preventive Cardiology. Dr. Lawson is a practicing interventional cardiologist and Director of the Interventional Cardiology fellowship program at Stony Brook.
Dr. Lawson is ABIM certified in Internal Medicine, Cardiovascular Disease, Interventional Cardiology, Advanced Heart Failure & Transplant Cardiology and is a Fellow of the ACC, ACCP, SCAI, ACA. He has broad expertise and interest in the field of cardiovascular disease and is actively involved in the teaching and mentoring of physicians and allied health care professionals at SUNY, Stony Brook.
Our staff can assist you with all your travel arrangements.
Questions? Call us at 800-422-0711.
We can assist you with all your travel arrangements. We'd be happy to help you plan your flights, hotels or tours before and/or after your cruise conference.

Cruise Itinerary
DATE
PORT OF CALL
ARRIVE
DEPART
Fri Nov 08
Venice, Italy

-
-
Sat Nov 09
Venice, Italy

-
6:30 pm
Sun Nov 10
Rijeka, Croatia

7:00 am
6:00 pm
Mon Nov 11
Split, Croatia

8:00 am
6:00 pm
Tue Nov 12
Dubrovnik, Croatia

7:00 am
6:00 pm
Wed Nov 13
Kotor, Montenegro

7:00 am
3:30 pm
Thu Nov 14

*

At Sea - Cruising

-
-
Fri Nov 15
Valletta, Malta

7:00 am
8:00 pm
Sat Nov 16
Catania, Sicily, Italy

7:00 am
5:00 pm
Sun Nov 17
Naples, Italy

8:00 am
6:00 pm
Mon Nov 18
Rome (Civitavecchia), Italy

5:00 am
-
*
Tentative course schedule, actual class times may differ.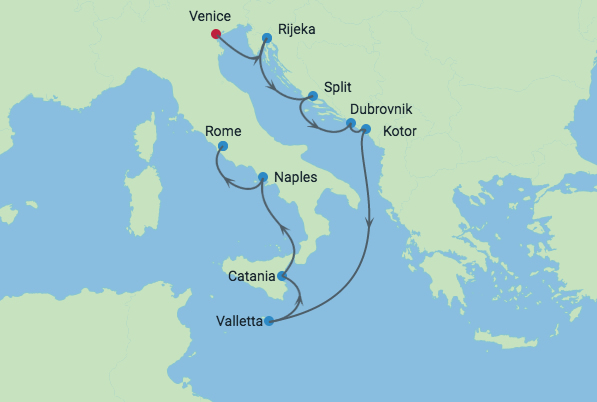 Ports of Call
Venice, Italy - Venice is possibly the most romantic place you'll ever visit. It seems almost redundant to describe the charms of Venice. The cafes of St. Mark's Square, Palazzo-lined canals plied by gondolas, the elegant Doge's Palace, the Bridge of Sighs and the Church of San Giorgio Maggiore: Venice is one impossibly beautiful sight after next. A great collection of Renaissance era art is housed at Gallerie dell'Accademia. Or, if you prefer modern art, Venice is home to the Peggy Guggenheim Collection.
Rijeka, Croatia - Croatia's third-largest city, Rijeka is a bustling blend of gritty 20th-century port and Italianate Habsburg grandeur. Most people speed through en route to the islands or Dalmatia, but those who pause will discover charm, culture, good nightlife, intriguing festivals and Croatia's most colourful carnival.
Split, Croatia - The second largest city in Croatia, Split has many attractions but is best known for the many historical landmarks found within and around the walls of Diocletian's Palace and the 1700-year old harbour beneath it. The Old Town which comprises the palace is in a remarkable state of preservation. In addition, the Split-Dalmatia County has numerous museums, old churches and other archeological sites which make it an important cultural attraction. History, culture, scenic countryside and the sunny weather make Split a sought after destination for vacationers and water sports lovers.
Dubrovnik, Croatia - Thick 16th-century stone walls encase the entire Old Town of Dubrovnik. But there are no boundaries on the endless adventures you'll discover among its orange-roofed ramparts. With a made-for-TV appeal— Game of Thrones was actually filmed here— the city commands your attention with the perfectly preserved Rector's Palace, elaborate Onofrio's Fountain, and baroque St. Blaise's Church, named after the city's patron saint. You can browse museum collections showcasing Croatian artwork, period furniture and shipbuilding traditions. Stand in awe of the Franciscan Monastery library's 30,000 volumes. Or to get your heart pumping, go cliff diving into the sea and kayak crystal blue waters, with the 'Pearl of the Adriatic' shimmering in the distance.
Kotor, Montenegro - Though small, this city is vibrant and shining and its people are happy to share their city with all who come.
At Sea - Cruising - Cruising
Valletta, Malta - Tiny Malta abounds in forts and temples. In Valletta, wander through the ornate Grand Master's Palace of the Knights of St. John. Within the thick walls of Medina, the Silent City (no cars), visit the serene Baroque cathedral.
Catania, Sicily, Italy - Catania is one of the major cities in Sicily and is located on the island's eastern coast between Taormina and Syracuse (see Sicily map). Catania is on a major rail line and has an airport with flights to and from mainland Italy and other European cities. Catania Top Sights: Greek and Roman Archeological Park with remains of an amphitheater, Odeon, Greek acropolis, Roman forum, catacombs, and baths.
Naples, Italy - Capital of Southern Italy, the largest city of Campania, Naples is the third most populated city in Italy (after Rome and Milan), with over a million inhabitants, and is the most important industrial center and trading port for the South. Naples itself can provide a day's fun and entertainment, if its somewhat rundown appearance doesn't dissuade you. Or, join a tour of incredible Pompeii, frozen in time since A.D. 79 when Mt. Vesuvius brought an end to that then-thriving city. Or, take a quick ferry across the bay to the flowery Isle of Capri. Or, (yes, there's more) visit fabulous Sorrento, vacation spot for the well to do.
Rome (Civitavecchia), Italy - Rome, Italy's capital, is a sprawling, cosmopolitan city with nearly 3,000 years of globally influential art, architecture and culture on display. Ancient ruins such as the Forum and the Colosseum evoke the power of the former Roman Empire. Vatican City, headquarters of the Roman Catholic Church, has St. Peter's Basilica and the Vatican Museums, which house masterpieces such as Michelangelo's Sistine Chapel frescoes.
Our staff can assist you with all your travel arrangements.
Questions? Call us at 800-422-0711.
We can assist you with all your travel arrangements. We'd be happy to help you plan your flights, hotels or tours before and/or after your cruise conference.
SHORE EXCURSIONS
Please note that our shore excursions are operated separately and
independently of those offered by the cruise line.
©2019 - University at Sea®