Documentation in the New Age:
A Nurse's Best Defense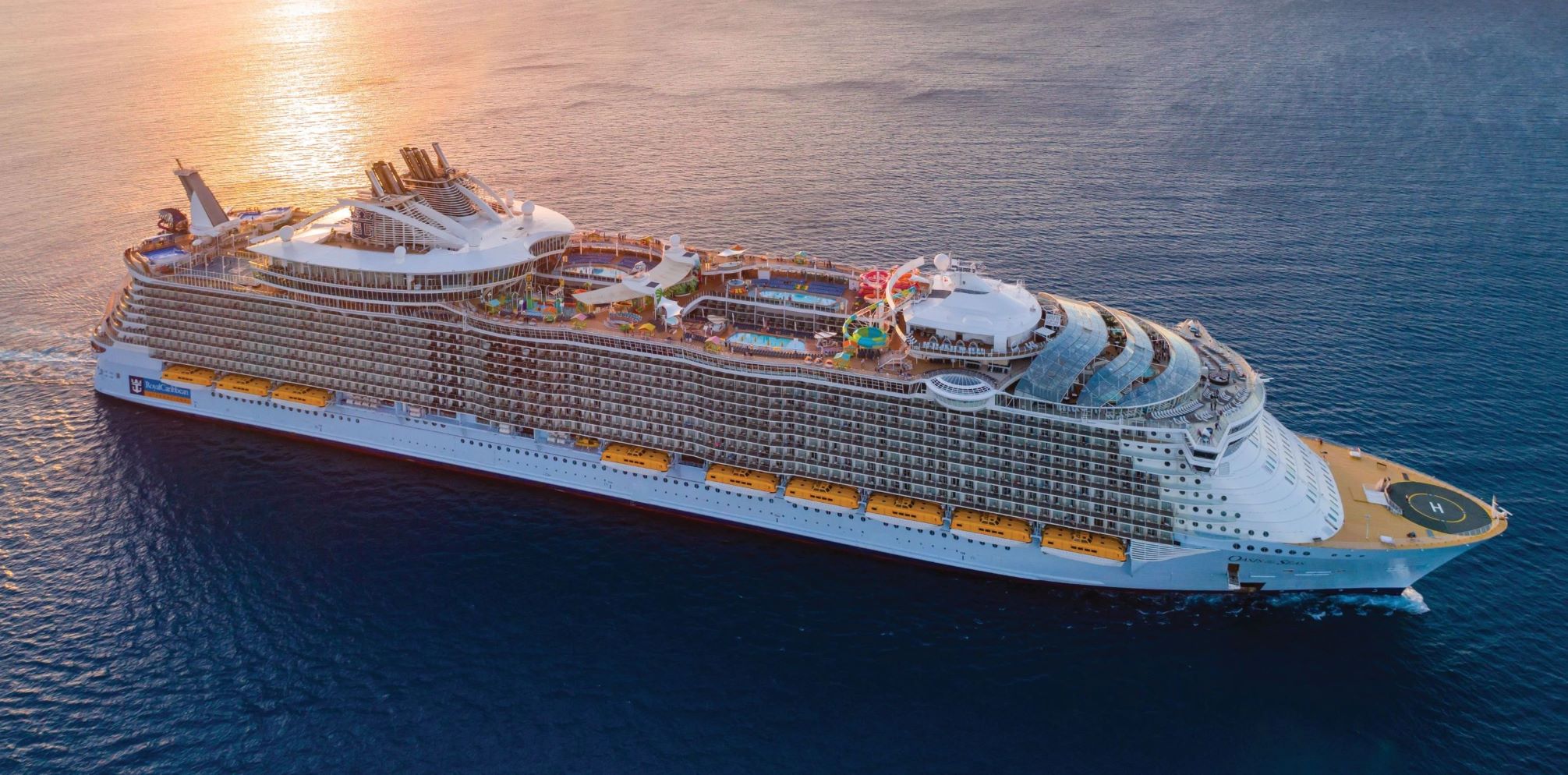 7-Night Western Mediterranean Cruise
Round-trip Barcelona, Spain

May 12 - 19, 2019
Course Fees:
$350 for Physician Assistants
$350 for Nurse Practitioners
Conference Registration Fee : $350

IMPORTANT NOTE: All conferees, their families, and guests must book their cruise within the University at Sea® meeting group through University at Sea® at 800-926-3775 or by registering online. This ensures our company can provide conference services and complimentary social amenities to all meeting participants and their guests. Thank you for your cooperation.
Faculty
Carol Lynn Esposito, Ed.D., JD, MS, RN-BC, NPD
Lucille Contreras Sollazzo, MSN, RN-BC, NPD
Paul Lewis, MD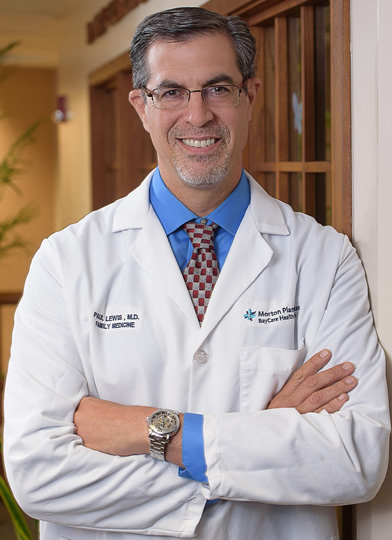 Affiliate Assistant Professor Department of Family Medicine
USF College of Medicine, Tampa, FL
Director of Evidenced Based Medicine & Quality
BayCare Health System,Clearwater, FL
Vice Chairman BayCare Health System CME Committee
Clearwater, FL
Director of Continuing Medical Education
Morton Plant Mease Hospitals, Clearwater, FL
Our staff can assist you with all your travel arrangements.
Target Audience
Nurses, Nurse Practioners
Program Purpose / Objectives
Purpose Statement:
Accurate documentation of patient symptoms, observations, changes in condition, and treatments given is critically important as nurses and healthcare professional practitioners become more concerned about protecting themselves from disciplinary action and legal liability. Documentation in nursing is also an important medico-legal requirement of nursing practice, and an integral part of evidencing the provision of quality and safe care to our patients.
Documentation of patient centered care integrates the concepts that the interprofessional team is able to work together, ensure that each patient's individual needs are clearly communicated to one other, and develop a patient specific plan of care that can be carried out by all practitioners. The law expects nurses to act in the same way that a reasonably prudent nurse, with the same level of training and experience, would act in a similar situation. The medical record, therefore, will be scrutinized line by line and in part to ascertain whether this legal standard is met. As such, an accurate, factual, concise, and individualized medical record is a nurse's best defense. Join us as we analyze and discuss competencies in nursing documentation.
This program is intended for nurses who want to deconstruct and review the structure of progress note and EMR entries and analyze whether the note properly focuses on patient assessment, nursing actions, patient responses, and nursing recommendations. Participants of this program will be afforded the opportunity to analyze case studies, write their own nurses note, and engage in a group evaluation of the nursing record. Additionally, this program will offer nurses the opportunity, through role play and case scenarios, to demonstrate competency and best practices in medical record documentation in nursing specialty practice areas.
Objectives:
Provide a definition of "documentation"
Discuss the purposes of documentation.
Identify three recording systems of nursing care.
Describe the benefits and pitfalls of various systems of nursing documentation.
Identify three regulatory bodies providing directives for documentation.
Identify three appropriate documentation methods.
Identify five legal issues that arise with inappropriate documentation.
Discuss disciplinary actions that employers use to address inappropriate documentation practices
Discuss emerging documentation concerns regarding electronic medical record systems, faxing, and texting.
Compare and contrast competencies in nursing documentation examples.
Examine a wide variety of clinical situations, variables related to patient diversity, patient prioritization issues, legal and ethical considerations.
Discuss evidence based practices that illustrate provision of nursing care in accordance with scope and standards of practice.
Distinguish between appropriate standards of ethical and legal practice interventions.
Recognize documentation practices that create legal and professional risks.
Demonstrate competency and best practices in medical record documentation in nursing specialty practice areas.
Develop a patient specific care plan that illustrates the provision of nursing care in accordance with best practices and standards of practice.
Conference Sessions generally take place on days at sea (as itinerary allows), giving you plenty of time to enjoy your meals, evenings and ports of call with your companion, family and friends.
Questions? Call us at 800-422-0711.
We can assist you with all your travel arrangements. We'd be happy to help you plan your flights, hotels or tours before and/or after your cruise conference.

Cruise Itinerary
DATE
PORT OF CALL
ARRIVE
DEPART
Sun May 12
Barcelona, Spain

-
6:00 pm
Mon May 13
Palma de Mallorca, Balearic Islands, Spain

8:00 am
4:00 pm
Tue May 14
Marseille, France

9:00 am
6:00 pm
Wed May 15
La Spezia, Italy

8:30 am
8:30 pm
Thu May 16
Rome (Civitavecchia), Italy

7:00 am
8:00 pm
Fri May 17
Naples, Italy

7:00 am
6:30 pm
Sat May 18

*

At Sea - Cruising

-
-
Sun May 19
Barcelona, Spain

5:00 am
-
*
Tentative course schedule, actual class times may differ.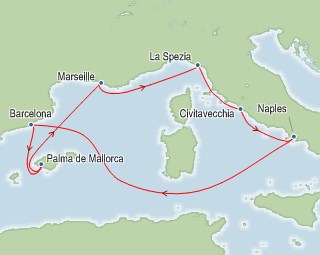 Ports of Call
Barcelona, Spain -
Barcelona is a one of the world's great cities. Stroll down her tree-lined boulevards, the magnificent Passeig de Gràcia or the more touristed Las Ramblas. On the Passeig, shop a serious fashion district while marveling at examples of Mordenisme architecture, seemingly sculpted from the stuff of dreams (Gaudi's masterpiece of a family home, Casa Batlló is well worth a visit). If a trip on the Passeig hasn't convinced you of Gaudi's genius, a visit to La Sagrada Familia Cathedral will do the trick; this fantastic, soaring marvel will live on in your memory long after you've returned.
Not far from the Passeig and just north of Las Ramblas, the Gothic Quarter (the Barri Gotic) provides an abundance of shopping opportunities for all tastes, and a bit of European history to boot - check out the tranquil Cathedral of Barcelona. To see a bit of local life a visit to a food market is a quick, fun detour: try Santa Caterina near the Cathedral or Mercado de La Boqueria, right off of Las Ramblas.
Barcelona's food is also a highlight: stop into a tapas bar and try a variety of delicacies. "Standard" restaurants of every style are available, too. And, there's music, too! Visit an underground jazz club or the magnificent Palau de la Música Catalana; or stop by the Palau Dalmases for a stunning, flamenco performance (it's near the Picasso museum). Did we mention art? One of the largest collections of Picasso's art is found at the Museau Picasso, and a great collection of contemporary, figurative (i.e not abstract) painting and sculpture is housed at the European Museum of Modern Art just around the corner.
It's probably clear by now that you really can't get it all done in a day (even if all means "just the must-sees"). So, stay for a day or three in the Gothic Quarter or near Plaça de Catalunya and really get a feel for what makes Barcelona such a wonderful place. Partly it's the result of the "accidents" of its history and present: as the regional capital of Spain's prosperous Catalunya region, Barcelona has a "flavor" that is a bit of a mix between Spanish and French (it's located quite close to the French border). Yes, you can practice your Spanish here - it attracts Spaniards from throughout the country - but you'll also see and hear Catalan with it's own charm. You won't regret you time here.
Palma de Mallorca, Balearic Islands, Spain - Floating gemlike off Spain's Mediterranean Riviera, Palma offers pearls, pottery and perfectly sublime sandy beaches. The historic district of the city is a great stop for an inexpensive good meal, a visit to a wonderous cathedral (for those seeking peace, consider visiting the quiet of the Saint Francis cathedral rather than its more touristed big brother. Shopping abounds in this european vacation spot as well as a very beautiful, small modern art museum with free entrance. Or take a day excursion to visit charming and quiet Valldemosa, where George Sand and Frederic Chopin spent a romantic winter in 1838.
Marseille, France - Marseille offers an unexpected view of a mosaic of buildings and National Heritage Sites from the terraces of Notre-Dame de la Garde Basilica that towers above and watches over the city.

Alongside the port the towers of Saint Victor Abbey house crypts that already existed when Christianity was introduced into Provence. The columns of the Palais de la Bourse, the noble facades of the Prefecture and the fountains of the Palais Longchamp are part of the triumphant architecture from the 19th Century that is scattered throughout the city and that gave Marseille renewed splendour.

In the old quarter the houses are built on the sunny slopes ; the clock in the Accoules Bell tower, which was the old Sauveterre tower, still marks the hours of life around the Town Hall, while beyond the dome of the Vieille Charite hospice, Pierre Puget's masterpiece, stands out against the sky. The small streets of the Panier quarter lie a little further on.
La Spezia, Italy - La Spezia is a gateway to some of Italy's greatest treasures.

A quite pleasant small city itself, is located on a natural harbor and boasts a beautiful park parallel to its waterfront, substantial shopping, plenty of opportunities for good food, an archaeolgical museum in its historic hilltop fort and a nice contemporary art museum.

A short distance La Spezia and you are on the Cinque Terre ("The Five Cities") coast, a UNESCO World Heritage Site, and one of Italy's great natural jewels. These five small villages dotting the coast are free of car traffic and are reached only by a railway, hiking trails, or a pedestrian ferry. Small, winding paths connect many of the villages, and a light amount of hiking will afford you some spectacular views of cliffs, coastline, and stone terraces.

A little further afield is Pisa, one of the great renaissance cities whose ships dominated trade for decades. It is best known today, of course for it's famous "leaning Tower," from the top of which Galileo Galilei demonstrated that gravity's strength was independant of the weight of a falling object. It stands there still, if somewhat crookedly, after 650 years.

Sill further but worth the trip, is Florence where you can view the timeless treasures from the very height of renaissance achievements: the lofty Duomo, Giotto's gorgeous bell tower, Michelangelo's original David, the Uffizi Gallery, Ponte Vecchio over the Arno.
Rome (Civitavecchia), Italy - Rome, Italy's capital, is a sprawling, cosmopolitan city with nearly 3,000 years of globally influential art, architecture and culture on display. Ancient ruins such as the Forum and the Colosseum evoke the power of the former Roman Empire. Vatican City, headquarters of the Roman Catholic Church, has St. Peter's Basilica and the Vatican Museums, which house masterpieces such as Michelangelo's Sistine Chapel frescoes.
Naples, Italy - Capital of Southern Italy, the largest city of Campania, Naples is the third most populated city in Italy (after Rome and Milan), with over a million inhabitants, and is the most important industrial center and trading port for the South. Naples itself can provide a day's fun and entertainment, if its somewhat rundown appearance doesn't dissuade you. Or, join a tour of incredible Pompeii, frozen in time since A.D. 79 when Mt. Vesuvius brought an end to that then-thriving city. Or, take a quick ferry across the bay to the flowery Isle of Capri. Or, (yes, there's more) visit fabulous Sorrento, vacation spot for the well to do.
At Sea - Cruising - Cruising
Our staff can assist you with all your travel arrangements.
Questions? Call us at 800-422-0711.
We can assist you with all your travel arrangements. We'd be happy to help you plan your flights, hotels or tours before and/or after your cruise conference.
EXCLUSIVE SHORE EXCURSIONS
Please note that our shore excursions are operated separately and
independently of those offered by the cruise line.
©2019 - University at Sea®