University at Sea®
5700 4th Street North
St. Petersburg, FL 33703
E-Mail Us
Office Hours
Monday - Friday
9:00am - 5:00pm EST
Saturday
10:00am - 2:00pm EST

ENHANCE YOUR ALPHA™
Fuel Your Dreams
Your Guide to Creating Alpha at the Intersection of Business and Life©
7-Night Mediterranean Cruise Conference
Round-trip Barcelona, Spain
September 29 - October 06, 2019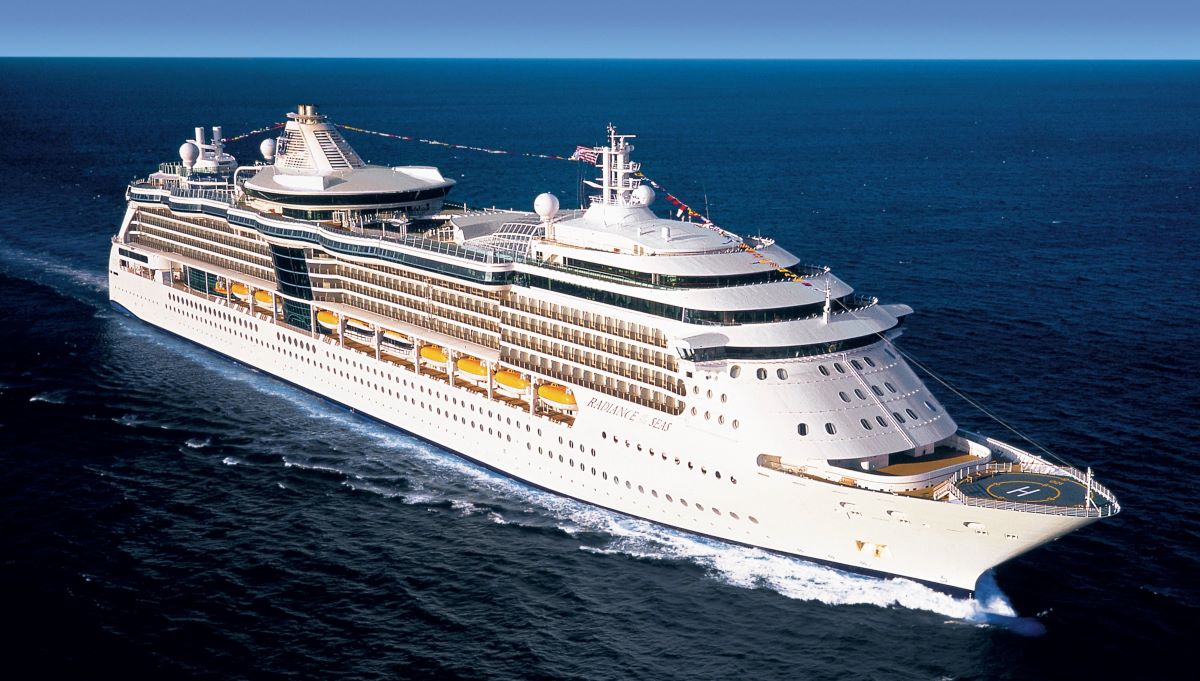 Course Fees
Program Purpose / Objectives
Introduction to the Wealth Alpha™ Concept:

This workshop will take you through the steps necessary to achieve your own definition of success, to create your Wealth Alpha™. Those steps involve a dive into maximizing the value of your business via the Value Builder Freedom Workshop, defining what you want to achieve both personally and professionally: your goal setting. We then explore how the resources and assets you have at your disposal can most efficiently contribute to success.

Wealth Alpha™ is a combination of Business Strategy and Planning, Personal Holistic Financial Planning, and a dive into motivation and long term vision for the future.

You will leave with a workbook containing a personalized action plan for creating your own Wealth Alpha™ and fueling your dreams.

The Value Builder™ - Freedom Workshop
YOU STARTED YOUR BUSINESS FOR THE FREEDOM that comes with running your own company: the freedom to earn what you deserve, and to work for whoever you want, when you want, and from wherever you want. The challenge is that for many business owners the dream remains elusive. You'll learn:
How to recognize when you've fallen into The Owner's Trap and how to pull yourself out;
The 3 attributes of a scalable business model;
The one kind of revenue that can triple the value of your business;
The six forms of sustainable recurring revenue;
The 2 essential elements of your marketing plan you need in order to avoid commoditization;
The 1 question you need to ask customers to predict the likelihood that they will buy again.
GETTING YOUR MBA - MASTERING BUSINESS APPRECIATION
8 KEY THINGS THAT DRIVE THE VALUE OF YOUR BUSINESS
MASTERING THE KEY DRIVERS OF YOUR BUSINESS VALUE
ARE YOU TOO BUSY WORKING IN YOUR BUSINESS TO WORK ON IT?
CREATING YOUR WEALTH ALPHA™ - DEFINING PERSONAL SUCCESS
8 KEY FACTORS THAT DRIVE WEALTH ALPHA™
BRINGING IT ALL TOGETHER
WHAT NOW? ARE YOU LEAVING A LEGACY OR LABOR FOR YOUR HEIRS?
COMMON COSTLY PLANNING MISTAKES
TAKING ACTION: CREATING ALPHA AT THE INTERSECTION OF BUSINESS & LIFE ©
NEXT STEPS - YOUR ACTION PLAN FOR IMPLEMENTATION
Conference Sessions generally take place on days at sea (as itinerary allows), giving you plenty of time to enjoy your meals, evenings and ports of call with your companion, family and friends.
IMPORTANT NOTE: All conferees, their families, and guests must book their cruise within the University at Sea® meeting group through University at Sea® at 800-926-3775 or by registering online. This ensures our company can provide conference services and complimentary social amenities to all meeting participants and their guests. Thank you for your cooperation.
Faculty
Reneé Caputi, MBA, JD, LLM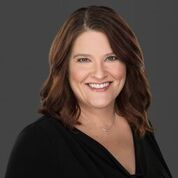 Founder of Enhanced Solutions Advisors, LLC Reneé is a trusted Advisor that provides consultative and advisory wealth planning to Cross-Border and US Entrepreneurs and Families. This includes coordinating the various specialty professionals needed for a tax, estate, or investment plan to ensure the best and most efficient structures and management are in place. She spearheads projects customized to help clients navigate the complex worlds of Income Taxation, Estate Taxation, Asset Protection, Succession Laws, and Family Dynamics. By making information more accessible, decision processes more transparent, and data more trackable she can help you Enhance your Alpha™.

She is a national speaker and educator on the topics of US and International Taxation, Asset Protection, Entrepreneurship, Estate Planning, Wealth Management, Considerations of Cross-Border Investing, and Business Topics like Mergers & Acquisitions, Strategic Management, and Due Diligence. Reneé is also co-founder of Virtus Technology Group, a cloud based decision support tool for Due Diligence in the Private Investment space.

Her international experience has taken her to multiple countries in Europe, Asia, and South America to work with clients on how to properly position themselves with their investments in the United States and throughout the world.

Reneé' is a member of the NY State Bar Association, American Bar Association, Family Office Institute, and supports Envision Broward of the United Way. She holds the NASD Series 7 - General Securities, Series 63 & 65 and Florida Life, Health, & Disability Licenses and is a NY Bar admitted attorney.
Our staff can assist you with all your travel arrangements.
Questions? Call us at 800-422-0711.
We can assist you with all your travel arrangements. We'd be happy to help you plan your flights, hotels or tours before and/or after your cruise conference.

Cruise Itinerary
DATE
PORT OF CALL
ARRIVE
DEPART
Sun Sep 29
Barcelona, Spain

-
5:00 pm
Mon Sep 30
Nice, France

9:00 am
7:00 pm
Tue Oct 01
Portofino, Italy

8:00 am
6:00 pm
Wed Oct 02
Florence (La Spezia), Italy

7:00 am
7:00 pm
Thu Oct 03
Rome (Civitavecchia), Italy

7:00 am
7:00 pm
Fri Oct 04
Amalfi, Italy

8:00 am
6:30 pm
Sat Oct 05

*

At Sea - Cruising

-
-
Sun Oct 06
Barcelona, Spain

6:00 am
-
*
Tentative course schedule, actual class times may differ.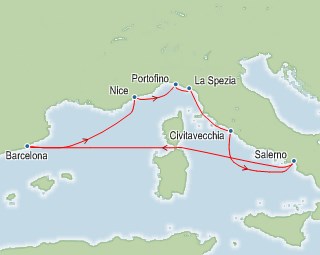 Ports of Call
Barcelona, Spain -
Barcelona is a one of the world's great cities. Stroll down her tree-lined boulevards, the magnificent Passeig de Gràcia or the more touristed Las Ramblas. On the Passeig, shop a serious fashion district while marveling at examples of Mordenisme architecture, seemingly sculpted from the stuff of dreams (Gaudi's masterpiece of a family home, Casa Batlló is well worth a visit). If a trip on the Passeig hasn't convinced you of Gaudi's genius, a visit to La Sagrada Familia Cathedral will do the trick; this fantastic, soaring marvel will live on in your memory long after you've returned.
Not far from the Passeig and just north of Las Ramblas, the Gothic Quarter (the Barri Gotic) provides an abundance of shopping opportunities for all tastes, and a bit of European history to boot - check out the tranquil Cathedral of Barcelona. To see a bit of local life a visit to a food market is a quick, fun detour: try Santa Caterina near the Cathedral or Mercado de La Boqueria, right off of Las Ramblas.
Barcelona's food is also a highlight: stop into a tapas bar and try a variety of delicacies. "Standard" restaurants of every style are available, too. And, there's music, too! Visit an underground jazz club or the magnificent Palau de la Música Catalana; or stop by the Palau Dalmases for a stunning, flamenco performance (it's near the Picasso museum). Did we mention art? One of the largest collections of Picasso's art is found at the Museau Picasso, and a great collection of contemporary, figurative (i.e not abstract) painting and sculpture is housed at the European Museum of Modern Art just around the corner.
It's probably clear by now that you really can't get it all done in a day (even if all means "just the must-sees"). So, stay for a day or three in the Gothic Quarter or near Plaça de Catalunya and really get a feel for what makes Barcelona such a wonderful place. Partly it's the result of the "accidents" of its history and present: as the regional capital of Spain's prosperous Catalunya region, Barcelona has a "flavor" that is a bit of a mix between Spanish and French (it's located quite close to the French border). Yes, you can practice your Spanish here - it attracts Spaniards from throughout the country - but you'll also see and hear Catalan with it's own charm. You won't regret you time here.
Nice, France - Cosmopolitan and chic, sun-drenched and spicy, Nice sparkles as the unofficial capital of the Riviera. Its bustling nightlife, top-notch museums, vibrant arts, and beaches enhance the charm of this Riviera town. Excellent local and regional transportation and a populace accustomed to tourists make Nice a rite of passage travelers young or old.
Portofino, Italy - Portofino, picturesquely situated in a narrow cove at the southeastern tip of a promontory might be the most beautiful place you'll ever see. A tiny port on Italy's northern coast, enchanting Portofino has long been popular with artists, actors and important people thanks to its beautiful setting. Abundantly blessed with agreeable climate and luxuriant vegetation, this "Pearl of the Mediterranean" should have a place on everyone's "bucket list." Fortunately for we in the know, it still remains unspoiled.
Florence (La Spezia), Italy - In Florence view the timeless treasures: the lofty Duomo, Giotto's bell tower, Michelangelo's David, the Uffizi Gallery, Ponte Vecchio over the Arno. In Pisa, see the famous Tower, still standing, if crookedly, after 650 years.
Rome (Civitavecchia), Italy - Rome, Italy's capital, is a sprawling, cosmopolitan city with nearly 3,000 years of globally influential art, architecture and culture on display. Ancient ruins such as the Forum and the Colosseum evoke the power of the former Roman Empire. Vatican City, headquarters of the Roman Catholic Church, has St. Peter's Basilica and the Vatican Museums, which house masterpieces such as Michelangelo's Sistine Chapel frescoes.
Amalfi, Italy - The Amalfi coast has been called the greatest meeting of land and sea on earth. Situated in the Campania region between Sorrento and Salerno, Amalfi is one of the main towns, the other being Positano, on the world famous Amalfi Drive - known as the most romantic drive in Italy. The road is gouged from the side of rocky cliffs plunging into the sea. Erosion has contorted the rocks into mythological shapes and hollowed out fairy grottoes where the air is turquoise and the water an icy blue. During the Middle Ages, Amalfi was an independent maritime state with a population of 50,000. The ship compass was invented here in 1302. Approximately 10 miles away from Amalfi is the village of Ravello. An enchanting village with wonderful views and quiet lanes, Ravello boasts romantic gardens that showcase medieval ruins, and afford magnificent views of the entire Bay of Salerno.
At Sea - Cruising - Cruising
Our staff can assist you with all your travel arrangements.
Questions? Call us at 800-422-0711.
We can assist you with all your travel arrangements. We'd be happy to help you plan your flights, hotels or tours before and/or after your cruise conference.
SHORE EXCURSIONS
Please note that our shore excursions are operated separately and
independently of those offered by the cruise line.
©2019 - University at Sea®