PLEASE NOTE: THIS IS NOT A CURRENTLY ACTIVE PROGRAM.
You may have found this page in error or been referred to this page via an outdated link. If you did come to this page from a link posted on another website, you may wish to alert the person responsible for the link that the program is labeled as inactive on our site. You are also welcome to e-mail us and report this message.

Travel Medicine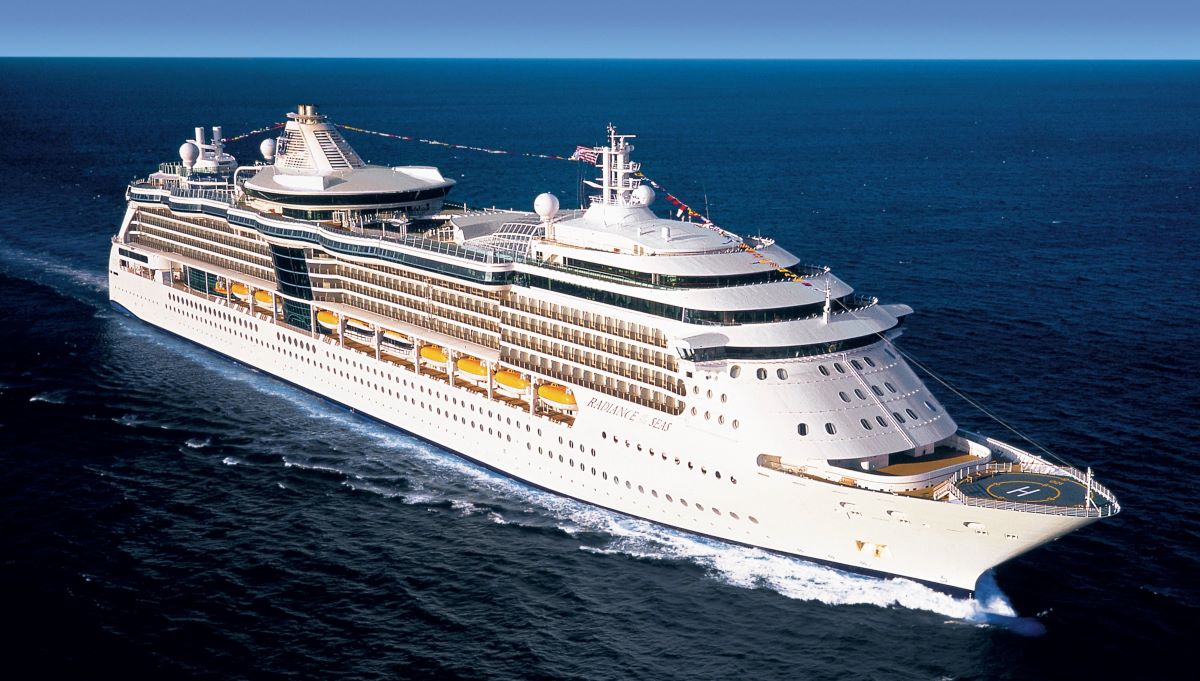 7-Night Mediterranean Cruise Conference
Round-trip Barcelona, Spain

October 27 - November 03, 2019
14.0 Contact Hours

Course Fees:
$350 for Nurses, Residents, Students & Others

IMPORTANT NOTE: All conferees, their families, and guests must book their cruise within the University at Sea® meeting group through University at Sea® at 800-926-3775 or by registering online. This ensures our company can provide conference services and complimentary social amenities to all meeting participants and their guests. Thank you for your cooperation.
Faculty
Cheryl Randolph, RN, MSN, CCRN, CEN, CPEN, TCRN, FNP-BC, FAEN
Cheryl Randolph has been practicing critical care nursing for the past 29-years in ED, PICU, ICU & PACU, attaining national certifications in emergency nursing, pediatric emergency nursing, critical care, and as a family nurse practitioner. In addition, she is a Fellow of the Academy of Emergency Nursing: a select group of 150 ED nurses who have made lasting and significant contributions to ED Nursing. She has taught nursing at both the associate and baccalaureate degree levels, and is now acting as the owner of Paragon Education, committed to superior nursing continuing education.
Cheryl is dedicated to empowering critical care and emergency nurses in their practice and is a nationally-recognized seminar speaker. Her reputation is well deserved for her ability to make nursing education applicable and practical, as well as engaging and entertaining. Her interactive seminars offer diverse educational activities that aim to increase knowledge, expand understanding, refine skills, enhance practice performance and improve the health status of patients.
Cheryl is an innovative educator with the wonderful ability to make complex concepts understandable and clinically applicable. In her seminars, you'll find current, and clinically-relevant information that is presented with individual flair. And you'll laugh, a lot.
Our staff can assist you with all your travel arrangements.
Target Audience
Nurses, Nurse Practitioners
Program Purpose / Objectives
Topics:
Before You Go...
Marine Hazards & Stings
Lightning Injury
Altitude Sickness
Hypothermia & Frostbite
Animal Attacks
Improvised Trauma Care
Traveler's Diarrhea
Spiders & Snakes!
Conference Sessions generally take place on days at sea (as itinerary allows), giving you plenty of time to enjoy your meals, evenings and ports of call with your companion, family and friends.
Questions? Call us at 800-422-0711.
We can assist you with all your travel arrangements. We'd be happy to help you plan your flights, hotels or tours before and/or after your cruise conference.

Cruise Itinerary
DATE
PORT OF CALL
ARRIVE
DEPART
Sun Oct 27
Barcelona, Spain

-
5:00 pm
Mon Oct 28
Nice, France

9:00 am
7:00 pm
Tue Oct 29
Portofino, Italy

8:00 am
6:00 pm
Wed Oct 30
La Spezia, Florence/Pisa Italy

7:00 am
7:00 pm
Thu Oct 31
Rome (Civitavecchia), Italy

7:00 am
7:00 pm
Fri Nov 01
Salerno, Italy (Amalfi Coast)

8:00 am
6:30 pm
Sat Nov 02

*

At Sea - Cruising

-
-
Sun Nov 03
Barcelona, Spain

6:00 am
-
*
Tentative course schedule, actual class times may differ.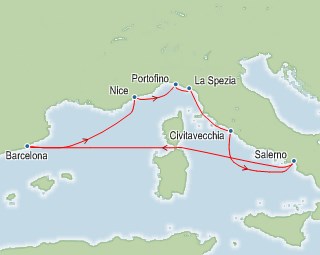 Ports of Call
Barcelona, Spain -
Barcelona is a one of the world's great cities. Stroll down her tree-lined boulevards, the magnificent Passeig de Gràcia or the more touristed Las Ramblas. On the Passeig, shop a serious fashion district while marveling at examples of Mordenisme architecture, seemingly sculpted from the stuff of dreams (Gaudi's masterpiece of a family home, Casa Batlló is well worth a visit). If a trip on the Passeig hasn't convinced you of Gaudi's genius, a visit to La Sagrada Familia Cathedral will do the trick; this fantastic, soaring marvel will live on in your memory long after you've returned.
Not far from the Passeig and just north of Las Ramblas, the Gothic Quarter (the Barri Gotic) provides an abundance of shopping opportunities for all tastes, and a bit of European history to boot - check out the tranquil Cathedral of Barcelona. To see a bit of local life a visit to a food market is a quick, fun detour: try Santa Caterina near the Cathedral or Mercado de La Boqueria, right off of Las Ramblas.
Barcelona's food is also a highlight: stop into a tapas bar and try a variety of delicacies. "Standard" restaurants of every style are available, too. And, there's music, too! Visit an underground jazz club or the magnificent Palau de la Música Catalana; or stop by the Palau Dalmases for a stunning, flamenco performance (it's near the Picasso museum). Did we mention art? One of the largest collections of Picasso's art is found at the Museau Picasso, and a great collection of contemporary, figurative (i.e not abstract) painting and sculpture is housed at the European Museum of Modern Art just around the corner.
It's probably clear by now that you really can't get it all done in a day (even if all means "just the must-sees"). So, stay for a day or three in the Gothic Quarter or near Plaça de Catalunya and really get a feel for what makes Barcelona such a wonderful place. Partly it's the result of the "accidents" of its history and present: as the regional capital of Spain's prosperous Catalunya region, Barcelona has a "flavor" that is a bit of a mix between Spanish and French (it's located quite close to the French border). Yes, you can practice your Spanish here - it attracts Spaniards from throughout the country - but you'll also see and hear Catalan with it's own charm. You won't regret you time here.
Nice, France - Cosmopolitan and chic, sun-drenched and spicy, Nice sparkles as the unofficial capital of the Riviera. Its bustling nightlife, top-notch museums, vibrant arts, and beaches enhance the charm of this Riviera town. Excellent local and regional transportation and a populace accustomed to tourists make Nice a rite of passage travelers young or old.
Portofino, Italy - Portofino, picturesquely situated in a narrow cove at the southeastern tip of a promontory might be the most beautiful place you'll ever see. A tiny port on Italy's northern coast, enchanting Portofino has long been popular with artists, actors and important people thanks to its beautiful setting. Abundantly blessed with agreeable climate and luxuriant vegetation, this "Pearl of the Mediterranean" should have a place on everyone's "bucket list." Fortunately for we in the know, it still remains unspoiled.
La Spezia, Florence/Pisa Italy - In Florence view the timeless treasures: the lofty Duomo, Giotto's bell tower, Michelangelo's David, the Uffizi Gallery, Ponte Vecchio over the Arno. In Pisa, see the famous Tower, still standing, if crookedly, after 650 years.
Rome (Civitavecchia), Italy - Rome, Italy's capital, is a sprawling, cosmopolitan city with nearly 3,000 years of globally influential art, architecture and culture on display. Ancient ruins such as the Forum and the Colosseum evoke the power of the former Roman Empire. Vatican City, headquarters of the Roman Catholic Church, has St. Peter's Basilica and the Vatican Museums, which house masterpieces such as Michelangelo's Sistine Chapel frescoes.
Salerno, Italy (Amalfi Coast) - Framed by Mount Vesuvius along a dramatic skyline, the 2,800 year-old port city of Naples is chock full of historical sites, churches, and museums that make it an incredible place for you to explore. And in the region where pizza was first invented, you know the food is going to be incredible. Just 35 miles down the coast, Salerno offers you a rich history but also boasts a marvelous collection of parks, natural wonders, and unique vantage points to take in the beauty of the Tyrrhenian Sea. Two cities. One incredible stretch of Italian coastline.
At Sea - Cruising - Cruising
Our staff can assist you with all your travel arrangements.
Questions? Call us at 800-422-0711.
We can assist you with all your travel arrangements. We'd be happy to help you plan your flights, hotels or tours before and/or after your cruise conference.
EXCLUSIVE SHORE EXCURSIONS
Please note that our shore excursions are operated separately and
independently of those offered by the cruise line.
©2016 - University at Sea®