Nursing Topics in Orthopedics, Rheumatology, and Mental Health

7-Night Eastern Caribbean Cruise
Round-trip New Orleans, LA

July 14 - 21, 2019
14 Contact Hours

Course Fees:
$695 for Nurses, Residents, Students & Others
$695 for Nurse Practitioners

IMPORTANT NOTE: All conferees, their families, and guests must book their cruise within the University at Sea® meeting group through University at Sea® at 800-926-3775 or by registering online. This ensures our company can provide conference services and complimentary social amenities to all meeting participants and their guests. Thank you for your cooperation.
Faculty
Amy B. Harris, MSN, RN, OCNS-C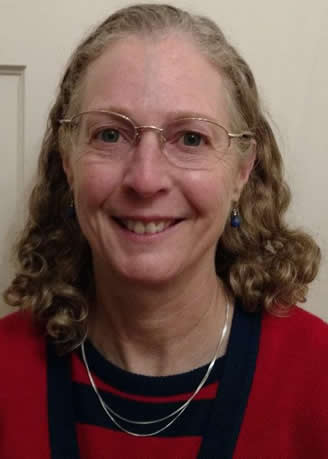 Orthopaedic Clinical Nurse Specialist
Licensed Advanced Practice Nurse
Maryland and District of Columbia
Consultant / Educator
Clinical Program Coordinator
Rheumatology Division
Children's National Health System (CNHS)
Washington, D.C. Amy B. Harris, MSN, APN, OCNS-C, has spent the past 30 years working in a variety of orthopaedic settings to include level one trauma hospital in-patient units, ambulatory care settings, a rehabilitation hospital, operating rooms, and in out-patient pediatric orthopaedics and rheumatology. Amy's roles within these settings have included those of staff nurse, nurse manager, and clinical nurse specialist. She has demonstrated her expertise holding certification as an Orthopaedic Clinical Nurse Specialist.

Her commitment to the National Association of Orthopaedic Nurses (NAON) is evident in her participation as a national congress speaker. She is vice-chair of the test committee for the Orthopaedic Nursing Certification Board (ONCB) and has served as an item-writer for the ONCB's certification exams. Amy served on NAON's education committee, and she was co-chair of NAON's first full day APN conference. She is an active member of the Rheumatology Nursing Society (RNS).

Amy has earned distinction as a sought-after presenter on a variety of orthopaedic-related topics. She has shared her insights nationally at conferences co-sponsored by NAON and the American Academy of Orthopaedic Surgeons.

She has also presented orthopaedic certification exam review courses around the country. Amy is well known for her energized teaching style and ability to provide practical information and interesting case studies to health care providers from varied disciplines. Make plans today to attend this educational event in order to learn from Amy's extensive knowledge and experiences!
Valerie R. Vestal, MSN, PMHNP-BC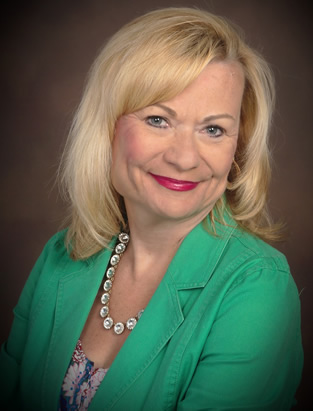 Valerie is a Board Certified Psychiatric Nurse Practitioner. Her nursing career has yielded a variety of experiences extending from Cardiac Critical Care, Nursing Informatics, and Adjunct Clinical Instructor. She has found her home in Psychiatry.

She received both her undergraduate and graduate degree in Nursing from Winston-Salem State University. She also holds a Post Master in Psychiatric Family Nurse Practitioner from the University of South Alabama School of Nursing. She is also a Lieutenant in the United States Navy Reserve and has deployed to both Kuwait and Germany.

She is passionate about uplifting patients who have a negative self-image and have defined themselves by their illness. She has most recently expressed this through her work as a contributing author in the book Goodness Abounds.
Our staff can assist you with all your travel arrangements.
Target Audience
Nurses, Nurse Practitioners
Program Purpose / Objectives
Purpose:
Depression: is not a one size fits all diagnoses. Depression has many shades varying from atypical depression to seasonal affective. Upon completion of this session participants will be able to identify the signs and symptoms of each type of depression and the aligning treatment option.
Bipolar disorder part I: Upon completion of this session participants should be able to be able to distinguish bipolar disorders from non-bipolar disorders using the Bipolarity Index.
Bipolar disorder part II:Untreated or inappropriately treated bipolar depression adds to the burden of illness and is associated with a greater risk of suicide. Greater consideration must be given to the choice of treatment for different subgroups of patients with bipolar depression, including those with co-morbid anxiety, and substance use disorder. Upon completion of this course participants should be able to describe both pharmacological and non-pharmacological treatment options for the client with bipolar disorder.
The use of pharmacogenetic testing in the clinical practice setting has the potential to improve the safety and efficacy of drug therapy. Studies have revealed that providers lack knowledge about the topic of pharmacogenetics and are not prepared to implement it in the clinical setting. Upon completion of this session participants should be able to discuss the benefits and limitations of pharmacogenetic testing in clinical practice.
Self-awareness is imperative in forming therapeutic relationships that foster improved clinical outcomes. Upon completion of this session participants should be able to describe the phases of relationship development and and identify the goals of the nurse client-relationship.
.Veterans, military families, and service members with mental health needs continues to increase across civilian and federal healthcare services. Upon completion of this session participants should be able to describe the issues veterans face as they reintegrate into civilian life. Participants should also be able to identify specific demographics that make veterans at an increased risk for suicide.
The psychiatric patient often presents with an array of medical conditions, often complicating their care. There is little information in the literature providing guidance on how to safely and effectively combine treatment for psychiatric client who is also medically compromised. Upon completion of the session the participant should be able to describe potential medication changes in the post gastric bypass client.
Topics:
Musculoskeletal Anatomy and Physiology of Bone Healing

Identify various components of musculoskeletal anatomy.
Explain the mechanism of bone and fracture healing.

Bone Health / Fracture Prevention - Avoiding the Revolving Door of Hospital to Home and Back Again

Prepare an individualized fracture prevention program for each patient discharged to home.

Specialized Nursing Care of the Osteoporotic Patient following a Fragility Fracture

Give examples of assessment tools utilized to diagnose osteoporosis and predict the risk of future fragility fractures.
Devise treatment regimens for fragility fracture patients.

Advances in Trauma Care From the E.D. through Rehab

Develop plans of care for patients that have experienced a variety of traumatic injuries.

Orthopaedic Complications

Recognize potentially serious orthopaedic complications.

Prevention and Management of Sports Injuries

Describe techniques used to prevent various types of sports injuries.
Devise treatment regimens for athletes with a variety of sports injuries.

Management of Pediatric Injuries - Avoiding Common Pitfalls

Design care plans for pediatric patients with a variety of injuries.

Degenerative joint disease: Conservative and surgical treatment options

Summarize various conservative and surgical treatment options for patients with degenerative joint disease.

Medical and surgical care of the rheumatoid arthritis patient. Acute and chronic spine issues

Design a plan of care for the rheumatoid arthritis patient.
Distinguish between various acute and chronic spine issues based on typical signs and symptoms.

The 5 Faces of Depression

Identify the different types of depression.
Describe the unique treatment options for each of the depressive types.

Bipolar is More than a Mood Swing- Part I

Describe the steps to screening for bipolar disorder.
Identify issues that may lead to a flawed diagnose in bipolar disorder.
Recognize the co-morbid aspects of bipolar disorder

Bipolar is More than a Mood Swing- Part II

Describe pharmacological treatment for bipolar disorder.
Describe non-pharmacological treatment for bipolar disorder.
Identify the comorbid effects of bipolar.
Identify the challenges in the management of bipolar disorder

Genetic Testing: Fact or Science Fiction

Describe the rational for implementing pharmacogenetic testing in practice.
Identify the barriers to incorporating pharmacogenetic testing into clinical practice.

Interviewing Techniques and Therapeutic Relationships in the the Mental Health Client.

Discuss the importance of self-awareness in the nurse-client relationship
Describe the phases of relationship development in the nurse-client relationship.
Identify the goals of a nurse-client relationship

Risk Factors Military Members and Their Families Face for Mental Health Disorders and Addiction

Describe the three major components that make up military culture.
Summarize the issues that veterans face as they reintegrate into civilian life
Identify the barriers and challenges that may prevent a veteran or service member from seeking mental health or substance abuse treatment
Describe circumferences and specific demographics that increase risk for suicide in Veterans

Psychopharmacology: Prescribing Tips and Tricks in Unique Populations

State how to select psychotropics in patients with complex medical issues
Discuss the challenges of managing a diabetic client who requires atypical antipsychotics
Describe necessary changes in psychotropic medications after gastric by pass.
Conference Sessions generally take place on days at sea (as itinerary allows), giving you plenty of time to enjoy your meals, evenings and ports of call with your companion, family and friends.
Questions? Call us at 800-422-0711.
We can assist you with all your travel arrangements. We'd be happy to help you plan your flights, hotels or tours before and/or after your cruise conference.

Cruise Itinerary
DATE
PORT OF CALL
ARRIVE
DEPART
Sun Jul 14
New Orleans, LA

-
4:00 pm
Mon Jul 15

*

At Sea - Cruising

-
-
Tue Jul 16
Key West, Florida

8:00 am
4:00 pm
Wed Jul 17
Freeport, Bahamas

8:00 am
5:00 pm
Thu Jul 18
Nassau, Bahamas

7:00 am
5:00 pm
Fri Jul 19

*

At Sea - Cruising

-
-
Sat Jul 20

*

At Sea - Cruising

-
-
Sun Jul 21
New Orleans, LA

8:00 am
-
*
Tentative course schedule, actual class times may differ.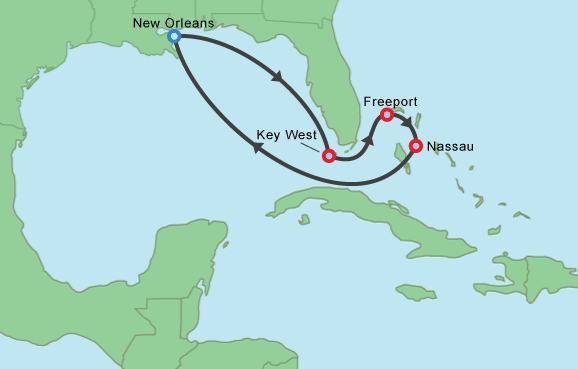 Ports of Call
New Orleans, LA - New Orleans is a city that knows how to have fun. Whether you take time to savor authentic Creole cuisine, browse through quaint antique shops in the French Quarter, or take a tour through historic mansions that date back over a century, you're sure to find dozens of other things to delight you in this happy, high-spirited city that pulses with the beat of Dixieland jazz. And don't forget to take a ride on one of the city's picturesque trolley cars.
At Sea - Cruising - Cruising
Key West, Florida - A distinctly American town with the look and feel of the Caribbean, Key West unlocks myriad attractions. Ride the Conch Train to the famous sights: Ernest Hemingway's home, the Audubon House, and the "Little White House", where President Truman spent many a working vacation. Hop a catamaran to America's only living coral reef to snorkel with dolphins. Or climb into the open cockpit of a World War II biplane for an unforgettable aerial tour of the Keys.
Freeport, Bahamas - Footloose and duty-free, the capital of the Bahamas is a shopper's paradise. Among your choices: the ten-acre International Bazaar and a lively straw market. If shopping's not your bag, stroll the lush Garden of the Groves or snorkel lovely Lucaya waters, where over a million dollars worth of pieces-of-eight were discovered in 1964.
Nassau, Bahamas - The captivating capital of the 700 Bahamian islands. Attractions include forts to explore, coral reefs to snorkel and a fascinating straw market to shop
Our staff can assist you with all your travel arrangements.
Questions? Call us at 800-422-0711.
We can assist you with all your travel arrangements. We'd be happy to help you plan your flights, hotels or tours before and/or after your cruise conference.
EXCLUSIVE SHORE EXCURSIONS
Please note that our shore excursions are operated separately and
independently of those offered by the cruise line.
©2019 - University at Sea®