University at Sea®
5700 4th Street North
St. Petersburg, FL 33703
E-Mail Us
Office Hours
Monday - Friday
9:00am - 5:00pm EST
Saturday
10:00am - 2:00pm EST

Dermatology and Gastroenterology
8-Night Norwegian Fjords Cruise Conference
Round-trip Dublin, Ireland
May 26 - June 03, 2019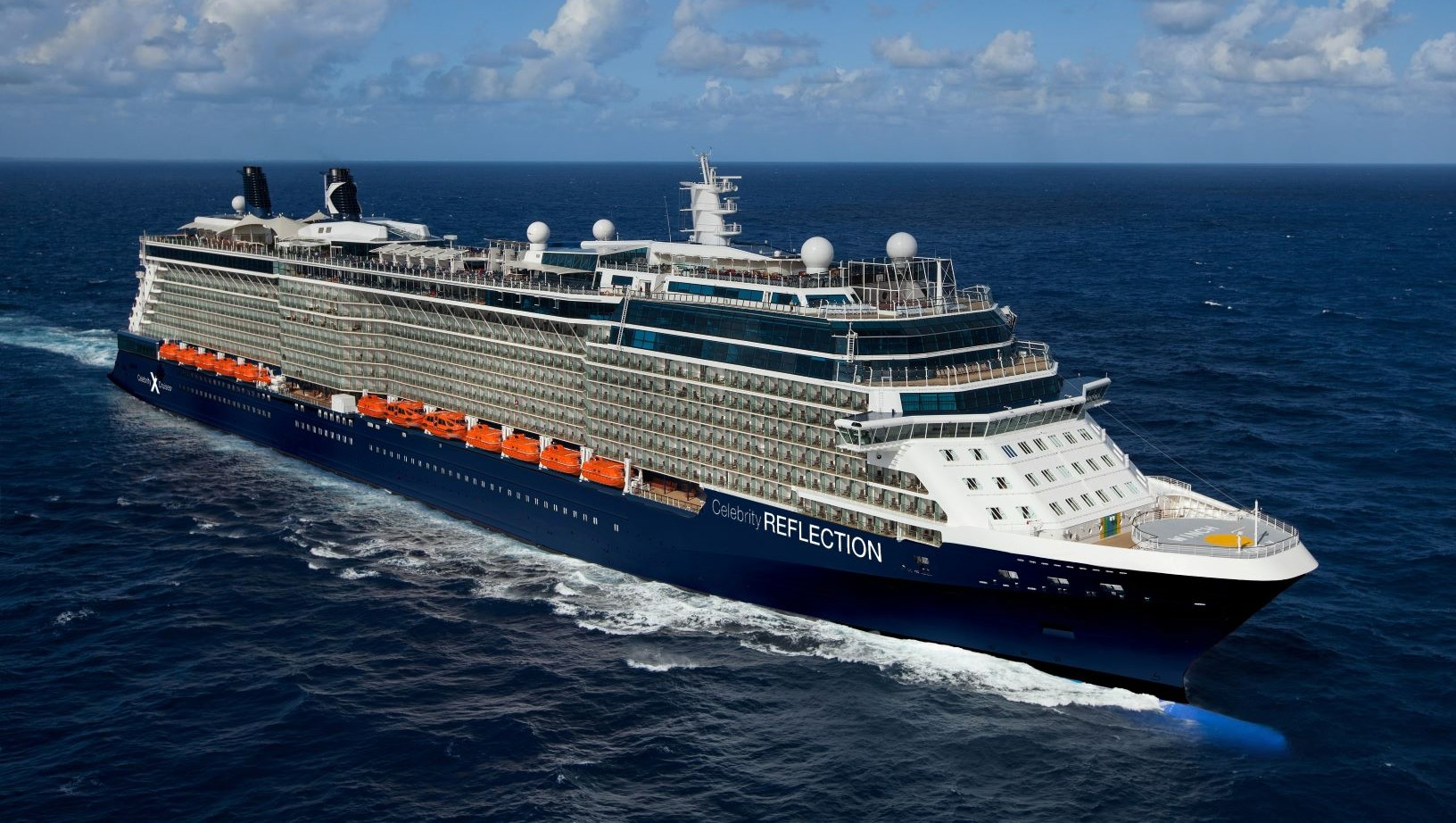 14.0 AMA PRA Category 1 Credits™
14 ACPE Credits
2½ Hours of Pharmacology for NPs
14.0 Contact Hours


Course Fees
Target Audience
Physicians, Physician Assistants, Nurses, Nurse Practitioners, Pharmacists
Program Purpose / Objectives
The goal is to provide our fellow colleagues with an overview of the most common gastrointestinal issues. The role is not only to review the underlying problems, but to aid in formation of a differential diagnosis. Participants will be provided with the latest guidelines which will allow them to address the complex issues.
One of the biggest initiatives is to increase colon cancer screening. Participants will have the tools to answer their patients questions, concerns and will be able to encourage patients to undergo screening tests from FIT, to COLOGUARD to screening colonoscopies.
Additional goals include providing knowledge in differentiating between celiac disease, gluten intolerance and gluten sensitivity. Providers will be able to explain the difference and direct the patients for necessary testing.
In understanding elevated liver enzymes, physicians will be able to order additional blood work and narrow the diagnosis prior to the referral. When addressing a topic of fatty liver, a multidisciplinary approach is introduced which will explain how liver findings are part of the metabolic syndrome and therefore close monitoring may involve participation of multiple teams.
Topics:
Recognizing Benign and Malignant Lesions of The Skin

Appropriately treat or refer patients with cutaneous neoplastic disease

Skin Disease Pearls for Primary Practice

Be comfortable choosing and using novel techniques in dealing with minor skin problems

Selected Topics in Acne and Rosacea

Diagnose and manage the most common forms of acne and rosacea

Infections and Infestations of the Skin

Recognize and treat skin infections and infestations

Psoriasis Update - Treatment and Co-morbidities

Manage patients with mild to moderate psoriatic disease, and counsel them about the many comorbidities of what used to be considered a benign skin disease.

GERD and safety of PPI medications

Participants will be able to identify patients with gastroesophageal reflux, prescribe therapy and discuss side effects of long term PPI use, and interactions with cardiac medications

HOW TO PROCEED WHEN YOU SEE ELEVATED LIVER ENZYMES?

Participants will be able to discuss patterns in liver disease and liver function and correlated diseases

WHATS IN A NAME? CELIAC DISEASE AND GLUTEN SENSITIVITY

Participants will be able to differentiate and order appropriate tests for patients with suspected issues with gluten

COLON CANCER - IS COLONOSCOPY THE ONLY MODALITY

Participants will be able to discuss and order various testing modalities to increase surveillance of colon cancer

ABDOMINAL BLOATING AND BACTERIAL OVERGROWTH

Participants will be able to address the differential diagnosis of abdominal bloating and determine whether breath tests are indicated

FATTY LIVER- HOW CONCERNED SHOULD WE BE?

Participants will be able to identify markers indicating fatty liver, and discuss associated risk factors

CONSTIPATION-IS THERE ANYTHING NEW ON THE MARKET?

Participants will be able to differentiate between types of constipation, and apply knowledge to treatment
Conference Sessions generally take place on days at sea (as itinerary allows), giving you plenty of time to enjoy your meals, evenings and ports of call with your companion, family and friends.
IMPORTANT NOTE: All conferees, their families, and guests must book their cruise within the University at Sea® meeting group through University at Sea® at 800-926-3775 or by registering online. This ensures our company can provide conference services and complimentary social amenities to all meeting participants and their guests. Thank you for your cooperation.
Faculty
Rimma Shaposhnikov, MD
Dr. Rimma Shaposhnikov is a board certified Gastroenterologist, who is currently an Assistant Clinical Professor at UCLA Division of Digestive Diseases.
Dr. Shaposhnikov completed her undergraduate work at Yale University, earning a bachelor of science in molecular biochemistry. She obtained her medical degree from State University of New York at Buffalo. During that time, Dr. Shaposhnikov was one of six people selected by the CDC to investigate a break out of hepatitis B in Brazil. Her training in internal medicine and subsequently gastroenterology was done at USC.
Her research centered on UGI bleeding, as well as molecular markers found in polyps. After completing fellowship, Dr. Shaposhnikov joined a multispecialty group in the San Fernando Valley. Dr. Shaposhnikov joined UCLA five years ago and helped establish GI practices at the Westlake Village and Thousand Oaks locations.
She is the director of the northwest clinical practices and the newly established surgical center. She practices general gastroenterology in all its aspects, with particular interests in inflammatory bowel disease, esophageal disorders, irritable bowel syndrome and colon cancer screening. She is board-certified in both internal medicine and gastroenterology. She is a member of the American College of Gastroenterology and the American Gastroenterology Association.
Stephen P. Stone, MD, FAAD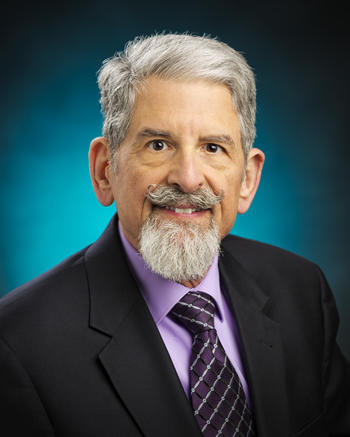 Professor Division of Dermatology SIU School of Medicine Chair AAD Individual Giving Committee Dr. Stephen P. Stone is professor and Director of Clinical Research in the Division of Dermatology at Southern Illinois University School of Medicine in Springfield, Illinois.
Dr. Stone graduated from Tufts University, and received his medical training at New York University School of Medicine. After serving with the U.S. Navy, he completed a residency in dermatology at the Mayo Clinic in Rochester, Minnesota. Dr. Stone then moved to Springfield, Illinois where he maintained a private practice for more than two decades before moving to his current university position.

He has received numerous honors and citations throughout his distinguished career including Honorary Membership in the AAD, selection for" Best Doctors in America", "Who's Who in Medicine and Health Care" and "Who's Who in America'. He is past Editor-in-Chief of Dialogues in Dermatology, the AAD's monthly audio journal and served as the 67th president of the Academy from March 2006 through February 2007.

His interests in dermatology include psoriasis and other inflammatory skin diseases, acne, occupational dermatology, and skin cancer. He has been involved as an investigator or subinvestigator in more than 40 clinical studies, more than half involving treatment of psoriasis.

Dr. Stone has given more than 220 lectures and Grand Rounds presentations outside of his university, including such international venues as Beijing, Shanghai, Xi'an and Guangzhou, China, the Icelandic Dermatology Association, in Reykjavik, Iceland, the Congresso da Sociedade Brasileira Dermatologia, Curitiba and Salvador, Brazil, the Philippine Dermatological Society Annual Meeting in Manila, Republic of the Philippines, the Canadian Dermatological Association, Dermatrends III in Chiang Mai, Thailand, Hong Kong, the International Congress of Dermatology, in Prague, Czech Republic, and the World Congress of Dermatology in Vancouver BC, Canada, Kalambakas, Greece, and Taupo, New Zealand.
Our staff can assist you with all your travel arrangements.
Questions? Call us at 800-422-0711.
We can assist you with all your travel arrangements. We'd be happy to help you plan your flights, hotels or tours before and/or after your cruise conference.

Cruise Itinerary
DATE
PORT OF CALL
ARRIVE
DEPART
Sun May 26
Dublin, Ireland

-
6:00 pm
Mon May 27

*

At Sea - Cruising

-
-
Tue May 28
Alesund, Norway

12:00 pm
8:00 pm
Wed May 29
Bergen, Norway

7:00 am
4:00 pm
Thu May 30
Geiranger, Norway

8:00 am
5:00 pm
Fri May 31
Olden, Norway

7:00 am
4:00 pm
Sat Jun 01

*

At Sea - Cruising

-
-
Sun Jun 02
Belfast, Northern Ireland

9:00 am
6:00 pm
Mon Jun 03
Dublin, Ireland

2:45 am
-
*
Tentative course schedule, actual class times may differ.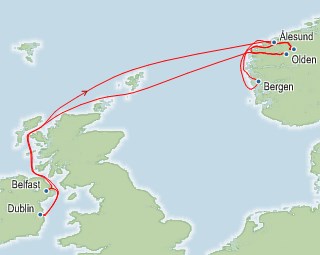 Ports of Call
Dublin, Ireland - Dublin, the fair city, invites you to wander the streets trod by Joyce, Yeats and Oscar Wilde. Drop in at pubs with mahogany bars and stained glass. In the Trinity College Library, feast your eyes on the illuminated 9th-century Book of Kells. Sample the world's most famous stout at the original Guinness Brewery. And, of course, there are plenty of shopping opportunities — from a souvenir shillelagh to Waterford crystal.
At Sea - Cruising - Cruising
Alesund, Norway - The picturesque Art Nouveau town of Älesund has a beautiful setting across several islands stretching out into the sea, and is situated at the very entrance to the world heritage listed Geirangerfjord. The town is also an excellent starting point for round trips to some of Norway's most popular tourist attractions. Ålesund is internationally renowned for its unique architecture in the Art Nouveau style. The town was devastated by fire a winter's night in 1904, laying 850 houses in ashes and leaving 10.000 people homeless. During a remarkably short period of time, the new Ålesund was rebuilt in the unique architectural style, especially significant from 1890-1910, with a myriad of turrets, spires and medieval ornaments. The Art Nouveau Centre portrays the town's unique position in Norwegian architectural history.
Bergen, Norway - A key member of the medieval Hanseatic League of Merchants, Bergen has had plenty of practice combining commerce with community. In this delightful city, you will find pleasure in the Bryggen waterfront district and marketplace, or travel out of town for some great backcountry hikes. On the shores of Nordnes Lake is Troldhaugen—the historic home of composer Edvard Grieg.
Geiranger, Norway - Enclosed on both sides by precipitous walls of rock, Geirangerfjord is one of Norway's most striking. While you're there, you'll want to visit the tiny octagonal church, ascend Mt. Dalshibba for a panormic view of the mountains, lakes, and waterfalls, or stop at the Tystig branch of Europe's most enormous glacier.
Olden, Norway - As well as being surrounded by immense natural beauty - think emerald lakes, towering mountains and cascading waterfalls - this fjord village of approximately 500 inhabitants once hosted American portrait and landscape artist John Singer Sargent (1856-1925), whose "Singerheimen" home is about a mile from the pier.Olden is mainly a gateway to outdoor activities, such as fishing or boating in the chilly teal-colored, glacier-fed waters of Oldevatnet Lake.
Belfast, Northern Ireland - So much of Ireland's political history is tied up in Belfast that many visitors are surprised to find that it is also a modern city, blending old and new effortlessly as the troubles of its pass fade into history. A day trip away are the Giants' Causeway (a series of stone pillars that extends to Scotland) and the spectacular Antrim coast.
Our staff can assist you with all your travel arrangements.
Questions? Call us at 800-422-0711.
We can assist you with all your travel arrangements. We'd be happy to help you plan your flights, hotels or tours before and/or after your cruise conference.
SHORE EXCURSIONS
Please note that our shore excursions are operated separately and
independently of those offered by the cruise line.
©2019 - University at Sea®