University at Sea®
5700 4th Street North
St. Petersburg, FL 33703
E-Mail Us
Office Hours
Monday - Friday
9:00am - 5:00pm EST
Saturday
10:00am - 2:00pm EST

Comprehensive Dentistry and the Dental Team:
The Pursuit of Excellence
9-Night Northern & Western Europe Cruise Conference
from Southampton (London), England to Lisbon, Portugal August 27 - September 05, 2019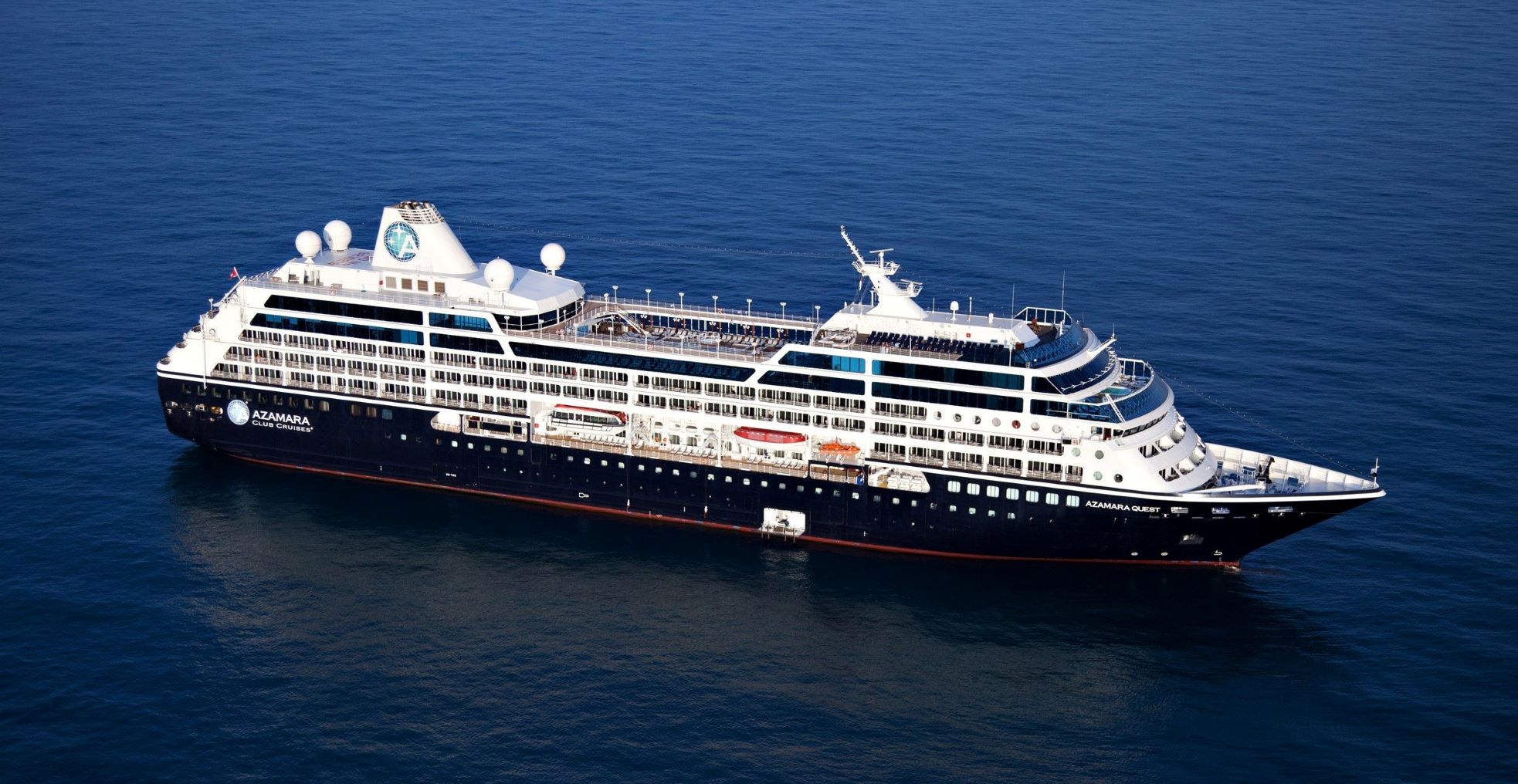 14.0 ADA CERP Credits


Course Fees
Target Audience
Dentists, Dental Staff
Program Purpose / Objectives
Your team already possesses the skills to transform your practice... but are they empowered?

How can you motivate them to share your vision and put forth the effort to bring your goals to life?
Bring your entire team to this course and discover together the joy of a quality- driven practice! Learn concepts and techniques for implementing new technology into everyday dentistry to diagnose and deliver exceptional comprehensive care. Your team will return from this course with the tools and inspiration to establish a philosophy of excellence at every level and build a successful practice that will continue to prosper, even in challenging economic times.
We will uncover the art of comprehensive restorative dentistry: from examination and diagnosis to tooth preparation, tissue management, temporization, and final restoration. Drawing upon Dr. Jesek's three decades of experience building and maintain one of the most successful private practices in central Illinois, your team will learn how to better understand themselves, their co-workers, and their patients. A happy team is a productive and profitable one! Attend this course together and transfer the excitement and the learning back to the office on Monday morning.
COURSE OBJECTIVES:
Increase profit - Do more dentistry in less time...with less stress!
Motivate patients to accept comprehensive dentistry and know when they are ready to begin treatment.
Obtain more predictable restorative and cosmetic case results.
Overcome patients' financial concerns.
The use of your computer to know as much about the patient as possible.
Importance of the morning/monthly meetings and time management.
Implement technology and study models to educate patients and gain case acceptance.
Use CAD/CAM dentistry and the newest esthetic materials and procedures for posterior and anterior restorations.
Review the multiple uses of Cone Beam technology in all areas of dentistry, Oral Surgery, TMD, Sleep, Implants, Endodontics, Orthodontics, Restorative and Periodontics.
Explore the use of 3D printing for dentistry to improve implant placement and patient acceptance
Build lasting relationships with your team and your patients.
Conference Sessions generally take place on days at sea (as itinerary allows), giving you plenty of time to enjoy your meals, evenings and ports of call with your companion, family and friends.
Conference Sessions generally take place on days at sea (as itinerary allows), giving you plenty of time to enjoy your meals, evenings and ports of call with your companion, family and friends.
IMPORTANT NOTE: All conferees, their families, and guests must book their cruise within the University at Sea® meeting group through University at Sea® at 800-926-3775 or by registering online. This ensures our company can provide conference services and complimentary social amenities to all meeting participants and their guests. Thank you for your cooperation.
Faculty
Warren F. Jesek, DDS, MAGD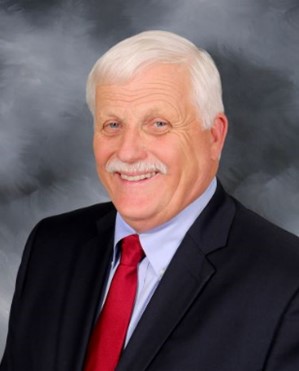 Past President of AES Leaders in Occlusion, TMD, & Comprehensive Oral Care Dr Jesek presents a fresh, common sense approach to the world of general dentistry. His passion will excite, motivate and inspire, as well as challenge dentists to be the best that they can become. The true strength of what Dr Jesek has to offer dentists is his message of comprehensive care for the entire family and a method to deliver excellence with consistency.

He graduated from Millikin University with a B.A. in biology and chemistry in 1974. He completed graduate studies in anatomy at the University of Nebraska before attending Loyola University Dental School where he received his dental degree in 1979. He has maintained a private general practice in Decatur, Illinois since 1979. Unique to the area, his practice houses a crown and bridge laboratory with three technicians focusing on using CAD/CAM milling technology to produce metal-free inlays, crowns and bridges Dr. Jesek continued his dental training at The Pankey Institute for Advanced Education beginning in 1986 and is a current member of the L.D. Pankey Dental Foundation. He became a teaching assistant in their TMJ dissection course in 1997.

Dr. Jesek is also the founder of Jesek Seminars: Promoting and Teaching Excellence in Dentistry. He has presented at national meetings for the Academy of General Dentistry, the American Equilibration Society, the American Dental Association and the American Academy of Pain Management. His articles have been published in Dentistry Today, Dental Economics, the Pankeygram, and the American Equilibration Society's Contact.
Our staff can assist you with all your travel arrangements.
Questions? Call us at 800-422-0711.
We can assist you with all your travel arrangements. We'd be happy to help you plan your flights, hotels or tours before and/or after your cruise conference.

Cruise Itinerary
DATE
PORT OF CALL
ARRIVE
DEPART
Tue Aug 27
Southampton (London), England

-
5:00 pm
Wed Aug 28
St. Malo, France

8:00 am
5:00 pm
Thu Aug 29
Le Palais, Belle Island, France

11:00 am
5:00 pm
Fri Aug 30
Bordeaux, France

9:00 am
-
Sat Aug 31
Bordeaux, France

-
-
Sun Sep 01
Bordeaux, France

-
8:30 am
Mon Sep 02
Bilbao, Spain

8:00 am
10:00 pm
Tue Sep 03
Gijon, Spain

8:00 am
8:00 pm
Wed Sep 04

*

At Sea - Cruising

-
-
Thu Sep 05
Lisbon, Portugal

7:00 am
-
*
Tentative course schedule, actual class times may differ.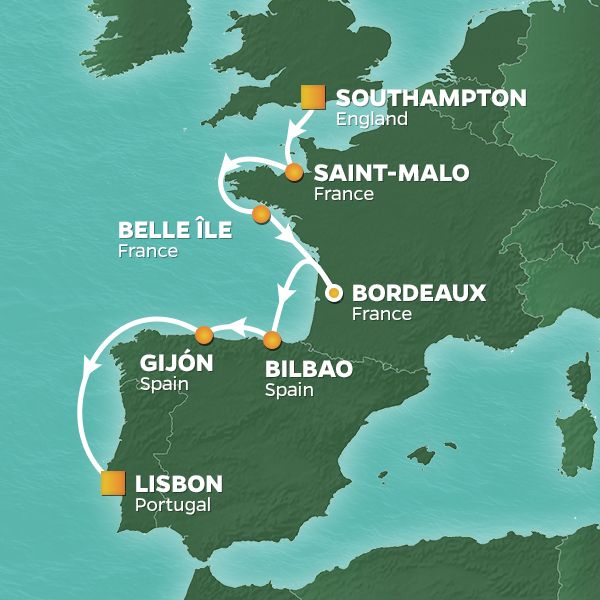 Ports of Call
Southampton (London), England - "Sir, when a man is tired of London, he is tired of life; for there is in London all that life can afford." Samuel Johnson's famous words are as true today as when he spoke them. A visitor to London could fill a month with fascinating people, art, music, late-night dancing, fabulous shopping, an endless array of pubs and first rate meals.

Tourists should take in Victoria Station, the beauty of Westminster Abbey, Parliament, and the pomp of Buckingham Palace. And then, there are the "Elgin Marbles" at the British Museum and the Crown Jewels in the Tower of London. Or visit Sherlock Holmes' HQ on Baker Street (you know the address). After all that, make what might be the most important stop of all: grab a pint at one of the many corner pubs that's been hosting revelers since before America was a nation.
St. Malo, France - The walled city of St. Malo is a quaint maze of fine old buildings, museums, and cafés serving Breton specialties of crepes and cider.

Stroll along the ramparts, walk the cobblestone streets, and hear tales of corsairs, privateers grown rich off captured ships and their booty, authorized by the government during wartime, in order to hinder the enemy.
Le Palais, Belle Island, France - As the largest of the Brittney Islands, Belle Ile is a French island divided into four communes, including the picturesque Le Palais. With a direct translation of "Beautiful Island," Belle Ile lives up to its name with delightfully beautiful beaches, cliffs, grottos, and aquamarine seas. The towering cliffs and their sharp and dangerous edges align the island's southwestern side while the northeastern side is brimming with serene, golden sand beaches, as well as harbors bustling with activity.

A ferry travels to and from the two major ports-Le Palais and Sauzon-to other hot spots and small islands in the area. In 1886, famous artist Claude Monet resided in the area for a few months and painted the charming ports. Beyond the ports, the once forested landscape is now endless plains and used primarily for agriculture and grazing. The region is also home to historic churches with impressive architecture and even better acoustics.
Bordeaux, France - Bordeaux's fortunes have long been tied to viticulture, beginning with an expansion of the wine trade with England in the 14th century. As a result it is a handsome and cohesive city of uniform classical and neoclassical style, with monumental buildings and many fine mansions financed by the almighty grape.
Bilbao, Spain - Bilbao, Spain's sixth-largest city, is being revitalized with the help of astounding strides in art and architecture. New life arrived in this commercial/industrial hub via the astonishing Bilbao Guggenheim Museum; the new, sleek glass and steel tube metro system; and the stunning glass-decked parabolic arch footbridge above the Nervion River. Bilbao also provides an excellent home base from which to explore the diverse Basque country, from the Atlantic Ocean to the Pyrenees.
Gijon, Spain - Beautiful green landscapes meet rural countrysides in Gijón, which started as a fishing village 3,000 years ago. Situated on the coast of Spain's famed Asturias region, this beautiful city offers an attractive combination of seafaring flavor, historic buildings and modern urban development. Most of the streets are cobblestone, barely two cars wide and pave the way to many renovated buildings that display the colorful life of the village. At the end of your day, visit a Sidrería (cider bar) and sample a bottle of the regional alcoholic specialty accompanied by a tapa or two - they say you haven't visited Asturias until you've tried cider.
At Sea - Cruising - Cruising
Lisbon, Portugal - Make your own discoveries in the city that launched the Age of Discovery. Cross the River Tagus on its soaring suspension bridge. Wander the maze of streets in the Alfama, the old Moorish quarter, dominated by the medieval Castle of St. George where peacocks strut and shriek. Stroll the Baixa, shop for elegant shoes.
Our staff can assist you with all your travel arrangements.
Questions? Call us at 800-422-0711.
We can assist you with all your travel arrangements. We'd be happy to help you plan your flights, hotels or tours before and/or after your cruise conference.
SHORE EXCURSIONS
Please note that our shore excursions are operated separately and
independently of those offered by the cruise line.
©2019 - University at Sea®