The Immediate Full Arch Rehabilitation
of Patients with Dental Implants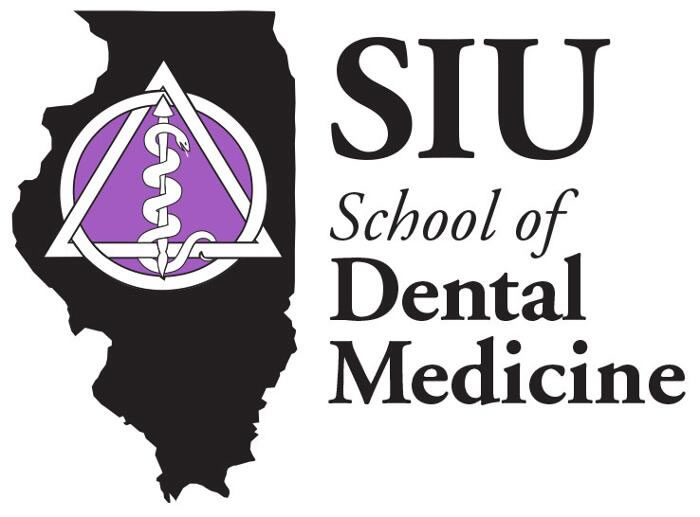 7-Night Melodies of The Danube CDE River Cruise
from Budapest to Prague
July 19 - 26, 2019
8.0 CE Units
$400 for Doctors/Dentists and $175 for Dental Personnel

IMPORTANT NOTE: All conferees, their families, and guests must book their cruise within the University at Sea® meeting group through University at Sea® at 800-926-3775 or by registering online. This ensures our company can provide conference services and complimentary social amenities to all meeting participants and their guests. Thank you for your cooperation.
Faculty
Steven J. LoCascio, BS, DDS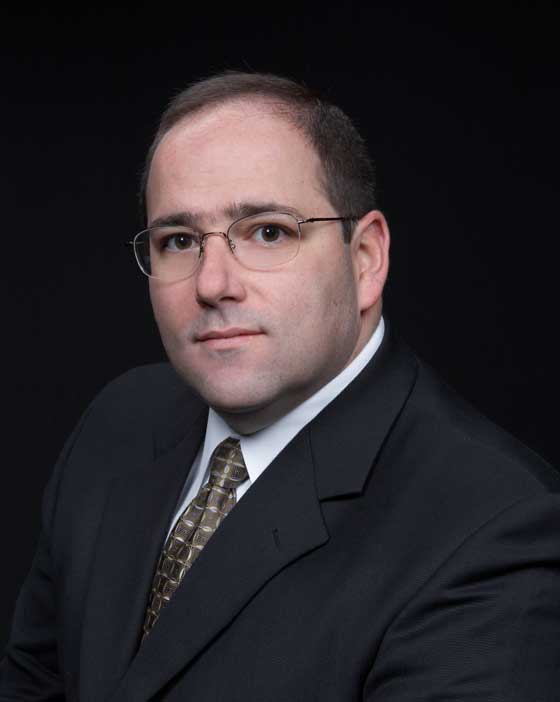 Dr. LoCascio received his dental degree from Louisiana State University and completed a General Practice Residency at the Medical Center of Louisiana. He earned specialty certificates in Prosthodontics and Maxillofacial Prosthetics from LSU and is a member of the American College of Prosthodontists, the Academy of Osseointegration, the American College of Dentists, the ADA, the TDA and the Second District Dental Society.

Dr. LoCascio is a Clinical Associate Professor in the Department of Oral and Maxillofacial Surgery at the University of Tennessee Medical Center in Knoxville, Tennessee and a Clinical Assistant Professor in the Department of Prosthodontics at Louisiana State University School of Dentistry in New Orleans, Louisiana.

In addition to his university teaching responsibilities, Dr. LoCascio is and educational mentor to many clinicians and participates in the ongoing training of dentists nationwide. Dr. LoCascio maintains a full-time private practice, limited to prosthodontics and maxillofacial prosthetics, in Knoxville, Tennessee, where he lives with his wife Christl and his two sons, Steven, Jr. and Brandon.
Our staff can assist you with all your travel arrangements.
Target Audience
Dentists, allied dental personnel.
Program Purpose / Objectives
The Immediate Full Arch Rehabilitation of Patients with Dental Implants
Dr. Steven J. LoCascio
PROGRAM DESCRIPTION:
Since its accidental discovery in 1952 by Dr. P.I. Brånemark, and subsequent introduction to dentistry in the late 1970s and early 1980s, osseointegration has revolutionized how dentists treat patients. It can be safely stated that the endosseous dental implant is the single greatest advance that dentistry has seen in the last century.
Utilization of endosseous implants can significantly improve a patient's quality of life by replacing missing teeth, restoring a smile and facilitating the ability to chew and function without experiencing pain and embarrassment.
Many patients with hopeless dentitions expect their transition from teeth to full arch implants to be seamless. A clinician's understanding of basic treatment principles along with current trends and technology, will help facilitate optimal outcomes that meet patient expectations of treatment experience, function and aesthetics. This lecture will focus on how to predictably transition patients with debilitated dentitions to full arch implant restorations. Prosthetic principles that are critical to achieve enhanced aesthetic and functional results will be reviewed. Multiple clinical cases will be illustrated.
At the completion of this program, participants should be able to:
Describe the aesthetic and biomechanical challenges associated with transitioning patients from teeth to dental implants.
Understand the various methods of transitioning patients with comprehensive dental needs from teeth to implants.
Identify patients that are candidates for immediate full arch loading of dental implants.
Understand the step by step sequencing of treatment procedures with both immediate provisionalization and case completion.
Explain the clinical differences with immediate occlusal loading of the maxilla compared to the mandible.
Be able to detail how to restoratively begin any rehabilitation case.
Understand how the use of specialty implants and surgical guidance can enhance treatment results.
Conference Sessions generally take place on days at sea (as itinerary allows), giving you plenty of time to enjoy your meals, evenings and ports of call with your companion, family and friends.
Questions? Call us at 800-422-0711.
We can assist you with all your travel arrangements. We'd be happy to help you plan your flights, hotels or tours before and/or after your cruise conference.

Cruise Itinerary
| DATE | PORT OF CALL | ARRIVE | DEPART |
| --- | --- | --- | --- |
| Fri Jul 19 | Budapest | 3:00 pm | - |
| Sat Jul 20 | Budapest | - | 5:00 pm |
| Sun Jul 21 | Bratislava, Slovakia | 9:00 am | 1:00 pm |
| Sun Jul 21 | Vienna, Austria | 8:30 pm | - |
| Mon Jul 22 | Vienna, Austria | - | 11:29 pm |
| Tue Jul 23 | Weissenkirchen - Grein | 8:30 am | 9:30 am |
| Tue Jul 23 | Grein | 5:00 pm | - |
| Wed Jul 24 | Grein | - | 2:00 am |
| Wed Jul 24 | Linz | 7:00 am | 11:59 pm |
| Thu Jul 25 | Passau, Germany - Vilshofen | 8:00 am | 12:00 pm |
| Thu Jul 25 | Vilshofen | 3:00 pm | - |
| Fri Jul 26 | Vilshofen | - | 10:00 am |
| Fri Jul 26 | Prague | - | - |
| Sat Jul 27 | Prague | - | - |
| Sun Jul 28 | Prague | - | - |
*
Tentative course schedule, actual class times may differ.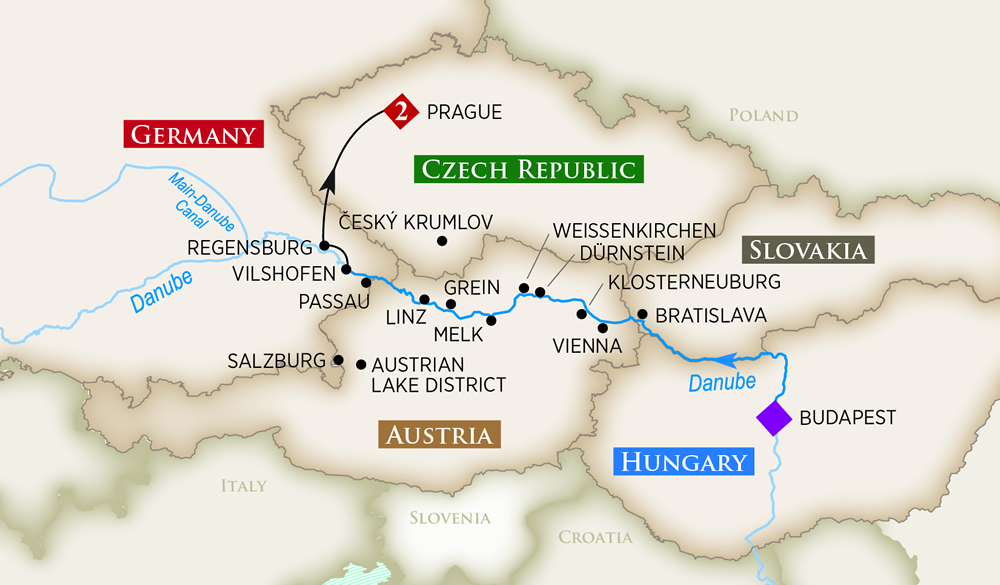 Ports of Call
Budapest - Home to several UNESCO World Heritage Sites, including the Buda Castle quarter in Castle Hill, and Heroes' Square, Budapest offers and unmatched combination of culture, tradition and even a secret labyrinth of caves and caverns under the city. Your city tour begins with a visit to the vibrant Great Market Hall brimming with vendors selling everything from food to souvenirs. The remainder of this tour takes you to both the Buda (hilly) and the Pest (flat) sides of the river (B)
Bratislava, Slovakia - Host to the crowning ceremonies of 11 Hungarian kings and queens between 1536 and 1830, Bratislava certainly has earned the title of "Coronation City of Kings" as you'll discover during your walking tour. Or join a culinary host to sample traditional Slovakian specialties, as well as learn how to prepare stuffed potato ravioli with an opportunity to taste your own creation. For a more active adventure, hike up to Bratislava Castle, offering magnificent views of the city. (B,L, D).
Vienna, Austria - The "City of Waltzes" offers a treasure trove of gems and you have two ways to discover them. Join a city tour showcasing the regal splendor of the city, including the majestic Opera House and the former Imperial Palace of the Habsburgs before concluding in Vienna's historic city center, a UNESCO World Heritage Site, and then visit St. Stephen's Cathedral. Or, for a more active exploration of the area, take a guided bike ride along the Danube. During the afternoon, you can enjoy leisure time or pedal your way to Klosterneuburg Monastery on a guided cycling tour.
(B,L,D).
Weissenkirchen - Grein - After reaching Weissenkirchen in the heart of the Wachau Valley, you'll be treated to several choices of excursions. Discover the best of both Durnstein and Melk with a walking tour in Durnstein before visiting the UNESCO-designated Melk Abbey. You can also opt for a walking tour of Weissenkirchen followed by a visit to the Abbey. For those preferring a more culinary-focused experience, join a walking tour of Durnstein and then be treated to a wine tasting hosted by a local vintner as well as a visit to a local boutique where you will enjoy a tasting of special apricot treats. Prefer more active adventures? Join a guided bike tour to Melk. Later in the day, set sail through the scenic Strudengau Valley to the medieval town of Grein. Be treated to an exclusive visit to the more than 500 - year-old Greinburg Castle, looming regally above the village. While here, enjoy a folklore show along with a wine reception. (B,L,D).
Passau, Germany - Vilshofen - Discover the 2,000-year-old-city of Passau in one of three ways. Enjoy a walking tour and marvel at Gothic and Italian Baroque architecture and St. Stephen's Cathedral. Guests looking for a more active morning can choose between a guided bike tour along the Danube River, or a guided hike up to the Veste Oberhaus Fortress. Later, the ship cruises to Vilshofen, where you will be treated to a festive Oktoberfest celebration with local beer, Bavarian folk music and dancing-an AmaWaterways exclusive. (B,L,D).
Vilshofen - Vilshofen is a town in the German district of Passau. It is known as the Three River City and is situated on the southern edge of the Bavarian forest between the Danube and Vils. Attractions in Vilshofen include the Benedictine Abbey Schweiklberg which houses an African museum, the town square and town hall, the city tower and the church of St.John. The town plays host to a variety of festivals, including the yearly Folk Festival. The fireworks display over the Danube, held on the second weekend in July, is one of the grandest in the region.
Prague - "Golden City of a Hundred Spires" tour is included this morning and a Czech beer tasting is yours to enjoy(B)
Our staff can assist you with all your travel arrangements.
Questions? Call us at 800-422-0711.
We can assist you with all your travel arrangements. We'd be happy to help you plan your flights, hotels or tours before and/or after your cruise conference.
EXCLUSIVE SHORE EXCURSIONS
Please note that our shore excursions are operated separately and
independently of those offered by the cruise line.
©2019 - University at Sea®