University at Sea®
5700 4th Street North
St. Petersburg, FL 33703
E-Mail Us
Office Hours
Monday - Friday
9:00am - 5:00pm EST
Saturday
10:00am - 2:00pm EST

Allergy, Immunology & Geriatrics
10-Night Mediterranean Cruise Conference
Round-trip Civitavecchia (Rome), Italy
October 17 - 27, 2019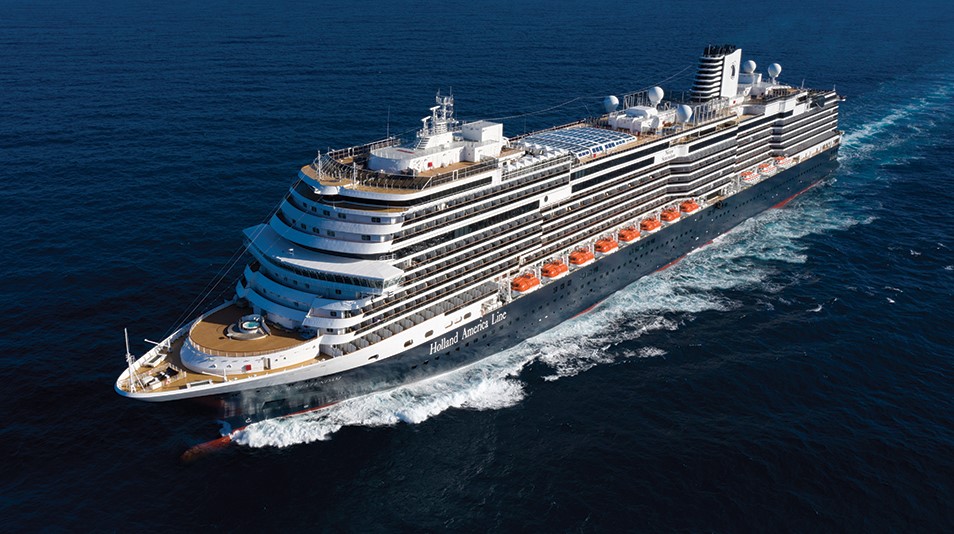 14.0 AMA PRA Category 1 Credits™
14 ACPE Credits
14.0 Contact Hours


Course Fees
Target Audience
Physicians, Physician Assistants, Nurses, Nurse Practitioners, Pharmacists
Program Purpose / Objectives
The purpose of the allergy lectures is to review common allergy-related conditions that primary care providers will encounter and bring participants up-to-date with the current methods of evaluation and treatment. Attendees will re-enforce their present knowledge and acquire additional information about the covered topics with emphasis on the best management options for each disease state discussed as well as appropriate times to make referral to a specialist.
Topics:
Osteoporosis

Evaluate screening recommendations and apply them to everyday practice
Utilize therapies that include bisphosphonates, PTH and inhibitors of the RANK/RANKL/OPG system
Review the current controversies and clinical studies regarding Vitamin D
Better advise patients on calcium supplementation

MCI and Alzheimer's Disease

Define Mild Cognitive Impairment in both amnestic and non-amnestic disease states
Understand the potential implications of early diagnosis of dementia for patient care outcomes
Describe the clinical manifestations of Alzheimer's disease
Evaluate patients for symptoms of cognitive and functional loss
Apply appropriate drug and non-drug interventions for patients with dementia
Counsel families and caregivers at all stages of disease

To Sleep: Perchance to Dream

Describe the age-related changes in sleep
Evaluate the psychiatric, medical, and neurological causes of sleep problems
Implement office-based and objective methods for evaluating sleep disordered breathing
Intervene with appropriate treatments for complaints of insomnia including CBTI as first line guideline directed care.

Management of Constipation

Understand the common barriers that hinder the optimal management of chronic constipation in health care settings
Define primary as well as secondary causes of hypertension in the older adult
Provide a rational strategy to manage constipation based on current best evidence of the drug classes currently available

Where Pain Management Meets Addiction Medicine

Understand the pathogenesis of pain
Apply recent guidelines in pain management including calculations for Morphine Milligram Equivalent Units
Choose appropriate drug therapy and multimodal interventions for the relief of pain
Consider the metabolic breakdown of different narcotics and their contribution to serotonin syndrome
Employ newer tools to determine the potential for opioid dependence

Pulmonary Disease in the Elderly

Evaluate current trends in pulmonary disease in the elderly
Review current immunization guidelines and supportive therapy
Include new therapies like LAMA/LABA combination inhalers and roflumilast in the management of COPD
Implement the appropriate use of nebulizers, MDIs and oxygen
Apply guideline directed care to patients with COPD

Nutritional Supplements: When East meets West

Understand that adequate nutrition is a prerequisite for the maintenance of good health and optimum efficiency
Find the on-line resources that provide the best evidence in support of dietary and nutritional supplements
Identify targeted supplements for heart disease, vision, depression/mood, and urologic disorders
Council patients on the risks of certain therapies in the presence of other disease
Improve your working knowledge of the Mediterranean diet

Acute and chronic rhinosinusitis

Understand the anatomy of the paranasal sinuses
Explain the pathophysiology of acute and chronic rhinosinusitis
Describe methods of diagnosis and treating acute and chronic rhinosinusitis

Anaphylaxis: Diagnosis and management

Explain mechanisms and presentations of anaphylaxis.
Describe treatment with emphasis on the importance of epinephrine.
Explain why physicians and staff should be proficient in anaphylaxis management.

Update in Asthma Management

Discuss the pathophysiology of asthma
Describe how asthma symptoms do not always correlate with asthma severity
Explain the concepts of step-care guideline-based asthma management
Explain the growing number of newer treatment modalities for severe asthmatics.

Caring for the patient with chronic cough

Explain the mechanism of the cough reflex.
Describe the most common causes of chronic cough.
Describe diagnostic empiric trials of therapy.

Chronic Idiopathic Urticaria and Angioedema

Explain the pathophysiology of chronic idiopathic urticaria and angioedema.
Describe the differences between other types of dermatitis and pruritus vs. chronic idiopathic urticaria and angioedema.
Determine an appropriate treatment plan and when referral to an allergist and/or dermatologist is indicated.

Allergic Rhinitis & Conjunctivitis; Non-allergic (chronic) rhinitis

Explain types of allergic rhinitis & conjunctivitis and non-allergic (chronic) rhinitis.
Describe conditions that mimic rhinitis.
Determine appropriate evaluation diagnostic studies and treatment plans.

Current approach to the management of stinging insect allergy

Explain various types of reactions to an insect sting.
Describe treatments for each type of sting reaction.
Determine which patients should be referred to a board-certified allergy/immunology specialist.
Conference Sessions generally take place on days at sea (as itinerary allows), giving you plenty of time to enjoy your meals, evenings and ports of call with your companion, family and friends.
IMPORTANT NOTE: All conferees, their families, and guests must book their cruise within the University at Sea® meeting group through University at Sea® at 800-926-3775 or by registering online. This ensures our company can provide conference services and complimentary social amenities to all meeting participants and their guests. Thank you for your cooperation.
Faculty
G. Edward Stewart II, MD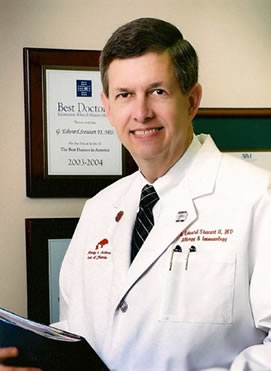 Clinical Professor of Medicine (retired)
University of S. Florida
Allergy and Asthma Care of Florida
Ocala, FL and The Villages, FL
G. Edward Stewart II, MD received his B.S. degree from the University of Tennessee College of Pharmacy in 1979 and his medical degree from the University of Tennessee College of Medicine in 1988. Dr. Stewart completed his internship and residency in Internal Medicine at Baptist Memorial Hospital in Memphis in 1991.
He completed his fellowship in Allergy and Immunology at the University of South Florida in 1993 and completed a fellowship in Clinical Laboratory Immunology at the University of South Florida in 1994.
He is Board Certified by the American Board of Allergy and Immunology. He has an Allergy and Immunology practice in Ocala, FL and in The Villages, FL. He is a past-president of the Marion County Medical Society and a past-president of the Florida Allergy Asthma and Immunology Society.
Dr. Stewart recently retired as Clinical Professor of Medicine in the Division of Allergy and Clinical Immunology at the University of South Florida where he had volunteered on a part-time basis for nineteen years.
Eric G. Tangalos, MD, FACP, AGSF, CMD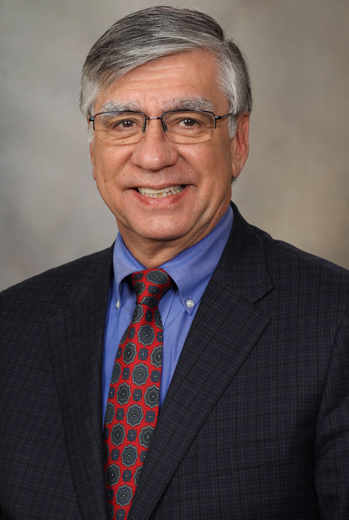 Dr. Eric Tangalos is Professor of Medicine at the Mayo Clinic in Rochester, Minnesota. He was Chair of Primary Care Internal Medicine from 1997 to 2006. Dr. Tangalos received his undergraduate training from the University of Michigan, is a graduate of the Loyola University Stritch School of Medicine in Chicago, and was a resident and fellow in Internal Medicine at Mayo.

He is a past president of the American Medical Directors Association (AMDA) and is a fellow and past governor of the American College of Physicians. He is a past director of the American Geriatrics Society and served on their Foundation for Health in Aging. He was also on the national board of the Alzheimer's Association for eight years and was a member of their executive committee. He continues with NCQA on their Geriatric Measurement Advisory Panel and reviews NIH STTR-SBIR grants on a regular basis.

Dr. Tangalos has been continuously funded with the Mayo Clinic Alzheimer's Disease Research Center since 1987. He was responsible for the recruitment of volunteers that first defined Mild Cognitive Impairment and was an author on those seminal publications. He is an Internist and Geriatrician, teaches on the Mayo campus and lectures both nationally and internationally.
Our staff can assist you with all your travel arrangements.
Questions? Call us at 800-422-0711.
We can assist you with all your travel arrangements. We'd be happy to help you plan your flights, hotels or tours before and/or after your cruise conference.

Cruise Itinerary
DATE
PORT OF CALL
ARRIVE
DEPART
Thu Oct 17
Civitavecchia (Rome), Italy

-
5:00 pm
Fri Oct 18

*

At Sea - Cruising

-
-
Sat Oct 19
Dubrovnik, Croatia

12:00 pm
11:00 pm
Sun Oct 20
Kotor, Montenegro

8:00 am
5:00 pm
Mon Oct 21
Corfu, Greece

8:00 am
6:00 pm
Tue Oct 22
Katakolon, Greece

8:00 am
4:00 pm
Wed Oct 23
Athens (Piraeus), Greece

8:00 am
10:00 pm
Thu Oct 24
Santorini, Greece

8:00 am
6:00 pm
Fri Oct 25

*

At Sea - Cruising

12:00 am
12:00 am
Sat Oct 26
Naples, Italy

9:00 am
7:00 pm
Sun Oct 27
Civitavecchia (Rome), Italy

7:00 am
-
*
Tentative course schedule, actual class times may differ.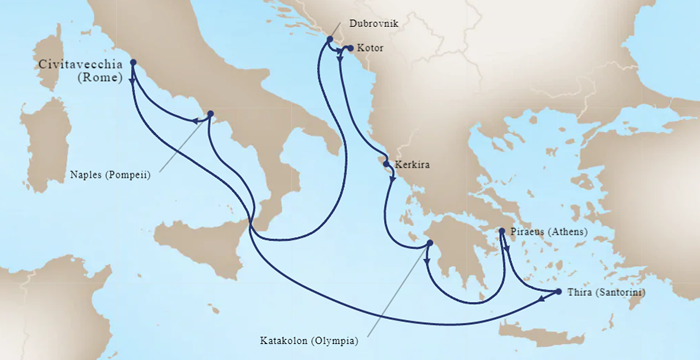 Ports of Call
Civitavecchia (Rome), Italy - Plan your time here carefully, as the Eternal City's sights are endless: the Colosseum, the Forum, the Sistine Chapel, the Vatican and so much more.
At Sea - Cruising - Cruising
Dubrovnik, Croatia - Thick 16th-century stone walls encase the entire Old Town of Dubrovnik. But there are no boundaries on the endless adventures you'll discover among its orange-roofed ramparts. With a made-for-TV appeal— Game of Thrones was actually filmed here— the city commands your attention with the perfectly preserved Rector's Palace, elaborate Onofrio's Fountain, and baroque St. Blaise's Church, named after the city's patron saint. You can browse museum collections showcasing Croatian artwork, period furniture and shipbuilding traditions. Stand in awe of the Franciscan Monastery library's 30,000 volumes. Or to get your heart pumping, go cliff diving into the sea and kayak crystal blue waters, with the 'Pearl of the Adriatic' shimmering in the distance.
Kotor, Montenegro - Though small, this city is vibrant and shining and its people are happy to share their city with all who come.
Corfu, Greece - Corfu greets you with sunny beaches, miles of cypress groves and the opulent villas of 19th century European royalty.
Katakolon, Greece - Experience ancient history and modern charm in Katakolon, a vibrant cruise port on the Greek coast. From here, you can catch a glimpse of Olympia, the birthplace of the original Olympic games and a shrine to the ancient Greek gods. Cruise to Greece and walk through the Olympia complex to get a historical tour of architectural styles, from the classical ruins to the red-tiled roofs of the traditional homes. Then, stroll through the Katakolon's lively center to discover unique local galleries and shops, and grab a seat at an oceanfront taverna with a glass of white wine and a dish of locally caught calamari.
Athens (Piraeus), Greece - As the capital of Greece and one of Europe's most bustling cities, Athens is powered by 5,000 years of history. At night, the city of Athens glows from afar, light reflecting off the ancient ruins. Today travelers flock from around the world to experience its history while on cruises from Athens. After all, the art, theatre, architecture, and philosophy of Athens had ripple effects through the fabric of entire civilizations.
Santorini, Greece - Here on the island of Santorini, you'll find a classic Greek seascape‐whitewashed houses accented by sea-blue roofs. This is a treasure trove for both professional and amateur archeology buffs, with sites that include tombs that date back to the 9th century and the sanctuary of Apollo.
Naples, Italy - Capital of Southern Italy, the largest city of Campania, Naples is the third most populated city in Italy (after Rome and Milan), with over a million inhabitants, and is the most important industrial center and trading port for the South. Naples itself can provide a day's fun and entertainment, if its somewhat rundown appearance doesn't dissuade you. Or, join a tour of incredible Pompeii, frozen in time since A.D. 79 when Mt. Vesuvius brought an end to that then-thriving city. Or, take a quick ferry across the bay to the flowery Isle of Capri. Or, (yes, there's more) visit fabulous Sorrento, vacation spot for the well to do.
Our staff can assist you with all your travel arrangements.
Questions? Call us at 800-422-0711.
We can assist you with all your travel arrangements. We'd be happy to help you plan your flights, hotels or tours before and/or after your cruise conference.
SHORE EXCURSIONS
Please note that our shore excursions are operated separately and
independently of those offered by the cruise line.
©2019 - University at Sea®