University at Sea®
5700 4th Street North
St. Petersburg, FL 33703
E-Mail Us
Office Hours
Monday - Friday
9:00am - 5:00pm EST
Saturday
10:00am - 2:00pm EST

Dermatology
Adult and Pediatric Emergency Medicine
7-Night Western Caribbean Cruise
Round-trip New Orleans, LA
December 01 - 08, 2019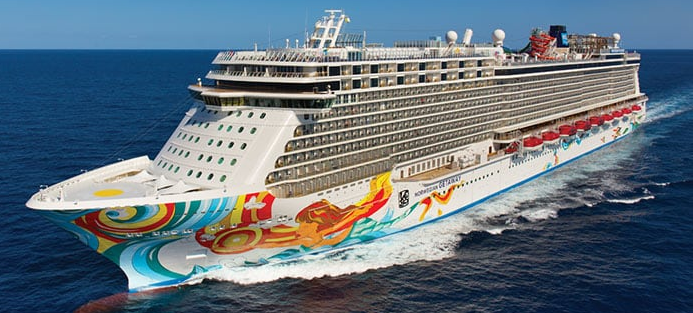 14.0 AMA PRA Category 1 Credits™
14 ACPE Credits
13 Hours of Pharmacology for NPs
14.0 Contact Hours


Course Fees
Target Audience
Physicians, Physician Assistants, Nurses, Nurse Practitioners, Pharmacists
Program Purpose / Objectives
Topics:
Non-Melanoma and Melanoma Skin Cancers

Learn to identify the patterns of skin cancer

Collagen Vascular Disease

Identify the signs of collagen vascular disease

Skin signs of Systemic Disease

Identify the skin signs of multiple systemic diseases

Common Disorders You Should Know

Discover common skin diseases you may or may not know

Papulosquamous Disease

Be able to identify and differentiate the papulosquamous diseases

Psoriasis and Metabolic Syndrome

Demonstrate, locate and manage psoriasis and metabolic syndrome

Acne and Rosacea

Define the various types of acne and rosacea and utilize treatment in practice

Event Medicine

Identify medical entities likely to be present, specific to type of event
Calculate medications, equipment, and coverage required for a given event
Evaluate the environment, including forecasted weather and crowd size to determine resources needed
Illustrate by example specific problems to be anticipated by type of event

Pediatric fever: evaluation of the febrile infant

List serious bacterial infections (SBI)
Indicate clinical scores for behavior in the patient unable to communicate
Describe the significance of fever
Identify indications for specific testing in the febrile infant
Calculate risks for sepsis, meningitis, and bacteremia

Resuscitation Update

Indicate the indications for targeted temperature management
Appraise the role of neuroimaging and neurologic evaluation in survivor from cardiac arrest
Appraise the value of ECMO in the emergency setting
Examine the role of pharmacologic agents in advanced cardiac life support

Toxicology Update

Cite substances encountered in the emergency setting
Examine the role of supportive care and the potential role for specific antidotes
Formulate guidelines for management of more traditional overdoses.

The Evaluation of Syncope and near-syncope

Formulate guidelines to identify patients most at risk of short-term risk following a loss of consciousness
Identify specific cardiac and pulmonary causes for near-syncope
Distinguish the syncopal patient from the seizure patient
Define safe guidelines for discharge of the syncopal patient
List disorders causing near loss of consciousness which constitute "can't miss" diagnoses

Legal considerations in emergency and clinical care

Diagram the cost in time, stress, dollars and burnout for which the practitioner is at risk
Estimate mechanisms by which one can avoid a lawsuit
Illustrate the magnitude of the problem in emergency care
Formulate specific presentations which expose the practitioner to liability

Opioid abuse and pain management in the acute care setting

Name alternatives to narcotics in the management of pain
List evidence for the use and efficacy of specific agents
Recognize the risks and magnitude of narcotic abuse
Conference Sessions generally take place on days at sea (as itinerary allows), giving you plenty of time to enjoy your meals, evenings and ports of call with your companion, family and friends.
IMPORTANT NOTE: All conferees, their families, and guests must book their cruise within the University at Sea® meeting group through University at Sea® at 800-926-3775 or by registering online. This ensures our company can provide conference services and complimentary social amenities to all meeting participants and their guests. Thank you for your cooperation.
Faculty
Jonathan Glauser, MD, FACEP, MBA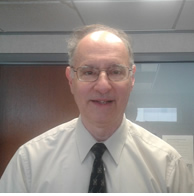 Professor, Emergency Medicine
Case Western Reserve University
Cleveland, Ohio
Faculty, Residency Training Program in Emergency Medicine
MetroHealth Medical Center/ Cleveland Clinic Dr. Jonathan Glauser is currently Professor of Emergency Medicine at Case Western Reserve University. He is board certified in both Emergency Medicine and Pediatric Emergency Medicine.

He has been active in the education of medical students and resident training for over three decades, and is currently on the full-time faculty of the residency program in Emergency Medicine at MetroHealth Medical Center/ Cleveland Clinic.

He serves on the editorial advisory board of three publications in the field of emergency care, and is section editor in Infectious Disease for the journal Current Emergency and Hospital Medicine Reports. He lives with his wife in the greater Cleveland area.
Georgia K. Seely, MD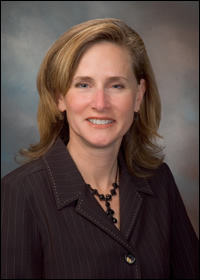 Affiliate Clinical Professor
Department of Dermatology
Virginia Commonwealth University Medical Center
Richmond, VA
Georgia Seely, MD is a board-certified dermatologist at Dermatology Associates of Virginia, where she also serves as the company's President. Dermatology Associates of Virginia is a medically-focused practice where Georgia has over 20 years of experience in the treatment of skin cancers such as melanoma, as well as cutaneous lymphomas, and internal medicine related diseases.
She is also board-certified in internal medicine, and is a former Assistant Professor of Dermatology at Virginia Commonwealth University School of Medicine. Georgia has served as president of the Richmond Dermatological Society and is a board member of MD Value Care, which is an organization of physician practices in Richmond, VA.
Georgia and her husband Scott have two children. Her interests include reading, travelling, playing tennis, gardening, as well as good food and good music.
https://www.youtube.com/watch?v=1Q-ze1-gDEo
Our staff can assist you with all your travel arrangements.
Questions? Call us at 800-422-0711.
We can assist you with all your travel arrangements. We'd be happy to help you plan your flights, hotels or tours before and/or after your cruise conference.

Cruise Itinerary
DATE
PORT OF CALL
ARRIVE
DEPART
Sun Dec 01
New Orleans, LA

-
4:00 pm
Mon Dec 02

*

At Sea - Cruising

-
-
Tue Dec 03

*

At Sea - Cruising

-
-
Wed Dec 04
Harvest Caye, Belize

8:00 am
5:00 pm
Thu Dec 05
Roatan, Honduras

8:00 am
5:00 pm
Fri Dec 06
Cozumel, Mexico

9:00 am
6:00 pm
Sat Dec 07

*

At Sea - Cruising

-
-
Sun Dec 08
New Orleans, LA

7:00 am
-
*
Tentative course schedule, actual class times may differ.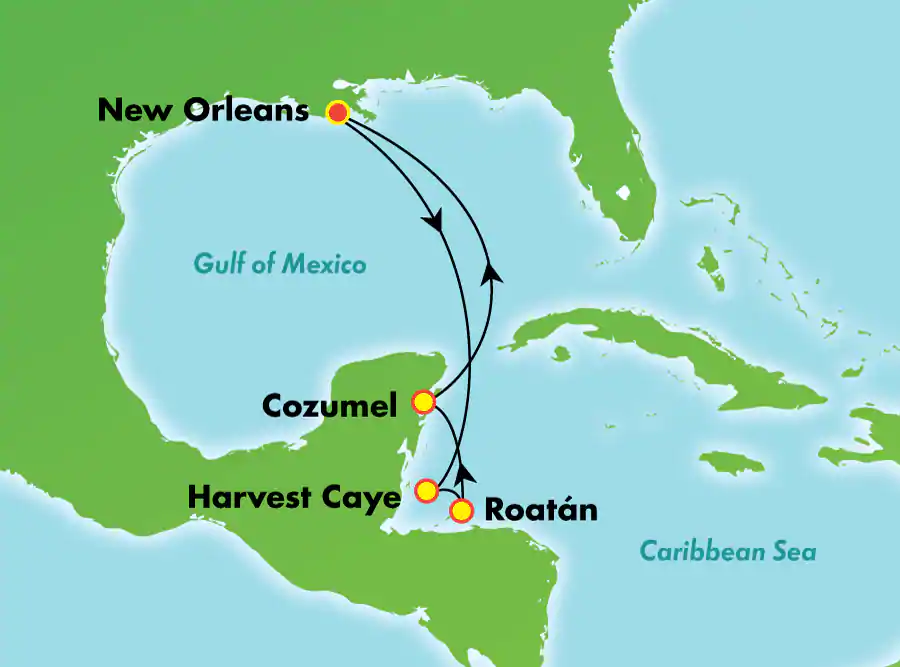 Ports of Call
New Orleans, LA - New Orleans is a city that knows how to have fun. Whether you take time to savor authentic Creole cuisine, browse through quaint antique shops in the French Quarter, or take a tour through historic mansions that date back over a century, you're sure to find dozens of other things to delight you in this happy, high-spirited city that pulses with the beat of Dixieland jazz. And don't forget to take a ride on one of the city's picturesque trolley cars.
At Sea - Cruising - Cruising
Harvest Caye, Belize - Belize is ideal for eco-tourism. With diverse ecology consisting of jungles, rainforests, swamps, coral reefs and so on, you will find solace and adventure in Harvest Caye's stunning landscape
Roatan, Honduras - Roatan Island, Honduras is an adventure traveler's vacation paradise with its blue skies, clear turquoise water and year-round moderate climate. Go scuba diving, snorkeling, swimming with the dolphins or, ashore, take a canopy tour, ride horses, explore tropical scenery, shop for island crafts, walk the beach and view butterfly and floral gardens.
Cozumel, Mexico - The Conquistadors first saw Mexico from the shores of Cozumel while searching for gold. Today, visitors to the island continue to seek out gold and silver jewelry in the shops of San Miguel while having a great time in its many local bars and restaurants. Plus, the waters around Cozumel's sheltered coral reefs make this one of the best snorkeling areas in the world.
Our staff can assist you with all your travel arrangements.
Questions? Call us at 800-422-0711.
We can assist you with all your travel arrangements. We'd be happy to help you plan your flights, hotels or tours before and/or after your cruise conference.
SHORE EXCURSIONS
Please note that our shore excursions are operated separately and
independently of those offered by the cruise line.
©2019 - University at Sea®