University at Sea®
5700 4th Street North
St. Petersburg, FL 33703
E-Mail Us
Office Hours
Monday - Friday
9:00am - 5:00pm EST
Saturday
10:00am - 2:00pm EST

PLEASE NOTE: THIS IS NOT A CURRENTLY ACTIVE PROGRAM.
You may have found this page in error or been referred to this page via an outdated link. If you did come to this page from a link posted on another website, you may wish to alert the person responsible for the link that the program is labeled as inactive on our site. You are also welcome to e-mail us and report this message.
Achieving Excellence in Restorative Dentistry through Creative Treatment Planning
7-Night Classical Rhine River Cruise
from Basel, Switzerland to Amsterdam, The Netherlands June 23 - 30, 2020

12.0 ADA CERP Credits


Course Fees
Target Audience
Dentists, Dental Staff
Program Purpose / Objectives
Are you ready to take the guesswork out of your restorative cases and achieve maximum impact in your everyday dental practice?
Understand the art of comprehensive restorative dentistry: from examination and diagnosis to tooth preparation, tissue management, temporization, and final restoration. This program will provide time-proven and scientifically-based techniques for implementing the latest technologies into your practice. Discover the power of digital diagnostic tools and a process for identifying patient needs and guiding them to optimum dentistry through the comprehensive co-discovery examination process.
The pursuit of excellence in any field is a process of learning and overcoming challenges. Dr. Jesek has done just that for more than four decades building and maintaining a successful practice. Join Dr. Jesek and explore time-proven principles that have a common thread of excellence at every level.
COURSE OBJECTIVES:
Learn how to plan treatment and present comprehensive cases to gain greater case acceptance.
Discover a process for overcoming the patient's financial concerns.
Analyze strategies for escaping single-tooth, emergency-driven dentistry.
Learn how to guide the money - or emergency-driven patient to accept comprehensive oral care.
Discover the power of 3D intraoral scanning for patient education and treatment acceptance of restorative dentistry and orthodontic aligners.
Review the use of CBCT for implant planning and guided placement.
Pinpoint how to select the appropriate CAD/CAM technology to produce outstanding, functional and esthetic results.
Understand the process for designing occlusions that are kind to porcelain.
Eliminate the stress of taking impressions.
Ensure that your restorations are in harmony with the TMJ's and comfortable to the patient.
Explore how patient education elevates the value of quality oral care motivating patients to refer family and friends.
Conference Sessions generally take place on days at sea (as itinerary allows), giving you plenty of time to enjoy your meals, evenings and ports of call with your companion, family and friends.
IMPORTANT NOTE: All conferees, their families, and guests must book their cruise within the University at Sea® meeting group through University at Sea® at 800-926-3775 or by registering online. This ensures our company can provide conference services and complimentary social amenities to all meeting participants and their guests. Thank you for your cooperation.
Faculty
Warren F. Jesek, DDS, MAGD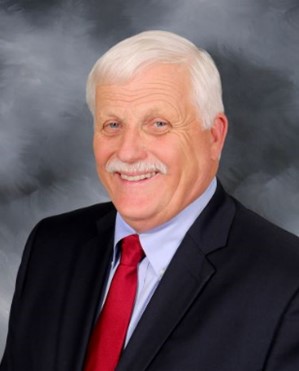 Past President of AES Leaders in Occlusion, TMD, & Comprehensive Oral Care Dr Jesek presents a fresh, common sense approach to the world of general dentistry. His passion will excite, motivate and inspire, as well as challenge dentists to be the best that they can become. The true strength of what Dr Jesek has to offer dentists is his message of comprehensive care for the entire family and a method to deliver excellence with consistency.

He graduated from Millikin University with a B.A. in biology and chemistry in 1974. He completed graduate studies in anatomy at the University of Nebraska before attending Loyola University Dental School where he received his dental degree in 1979. He has maintained a private general practice in Decatur, Illinois since 1979. Unique to the area, his practice houses a crown and bridge laboratory with three technicians focusing on using CAD/CAM milling technology to produce metal-free inlays, crowns and bridges Dr. Jesek continued his dental training at The Pankey Institute for Advanced Education beginning in 1986 and is a current member of the L.D. Pankey Dental Foundation. He became a teaching assistant in their TMJ dissection course in 1997.

Dr. Jesek is also the founder of Jesek Seminars: Promoting and Teaching Excellence in Dentistry. He has presented at national meetings for the Academy of General Dentistry, the American Equilibration Society, the American Dental Association and the American Academy of Pain Management. His articles have been published in Dentistry Today, Dental Economics, the Pankeygram, and the American Equilibration Society's Contact.
Our staff can assist you with all your travel arrangements.
Questions? Call us at 800-422-0711.
We can assist you with all your travel arrangements. We'd be happy to help you plan your flights, hotels or tours before and/or after your cruise conference.

Cruise Itinerary
| DATE | PORT OF CALL | ARRIVE | DEPART |
| --- | --- | --- | --- |
| Tue Jun 23 | Basel, Switzerland | - | 5:00 pm |
| Wed Jun 24 | Strassbourg/Kehl, Germany | 9:00 am | 11:00 pm |
| Thu Jun 25 | Speyer | 7:00 am | 12:00 pm |
| Thu Jun 25 | Mannheim | 2:00 pm | 1:00 am |
| Fri Jun 26 | Rüdesheim | 7:00 am | 12:00 pm |
| Fri Jun 26 | Koblenz | 3:30 pm | - |
| Sat Jun 27 | Koblenz | - | 6:00 am |
| Sat Jun 27 | Cochem | 1:30 pm | 6:00 pm |
| Sun Jun 28 | Cologne | 7:00 am | 2:30 pm |
| Mon Jun 29 | Hoorn | 1:00 pm | 1:30 pm |
| Mon Jun 29 | Amsterdam, The Netherlands | 5:30 pm | - |
| Tue Jun 30 | Amsterdam, The Netherlands | - | - |
*
Tentative course schedule, actual class times may differ.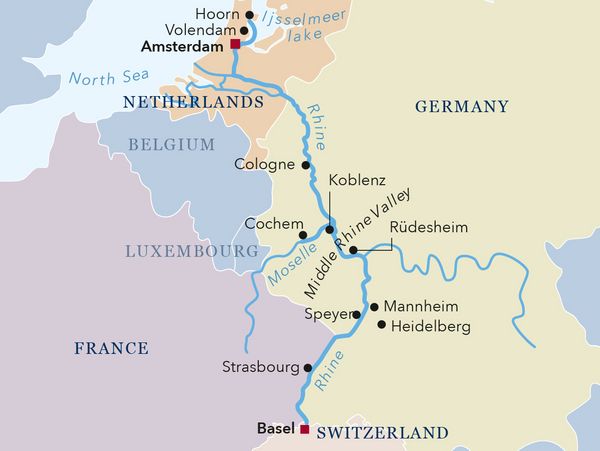 Ports of Call
Basel, Switzerland - Your journey begins in Basel, the third-largest city in Switzerland. After embarking you can explore your AMADEUS ship and meet the cruise director on board at a Welcome Cocktail. Your floating hotel departs for Strasbourg shortly before the Welcome Dinner on board.

Strassbourg/Kehl, Germany - During the night, your ship left Switzerland and followed the Rhine into the Alsace region in the south of France. During breakfast, arrive in Strasbourg – a city known not only for its romantic old town, but also for the numerous important European institutions housed there. In the morning, explore the city independently, or as part of an organised tour. A detour to the countryside is highly recommended, particularly along the famous wine route, where the quaint wine-growing villages will delight wine-lovers and the general public alike. Late tonight, your ship departs for Germany.

Speyer - Before breakfast, arrive in the Rhineland-Palatinate town of Speyer, which played an important role in the Holy Roman Empire during the Middle Ages. Your ship remains here until lunchtime, offering time to explore this historic destination. Your trip continues for roughly 25 kilometers towards Mannheim, our next stop along the picturesque Rhine for the remainder of the day. This young city is best explored with an extended walk, or alternatively you can take a trip to the nearby city of Heidelberg, which boasts a beautiful Baroque old town. Late at night, your ship continues in the direction of Rüdesheim.

Rüdesheim - Two charming stops await you today. In the morning, arrive in Rüdesheim, a town well known for its winemaking, especially Riesling wines. Nearby, Siegried's Mechanical Music Cabinet with its historic automated musical instruments is a delight. Your AMADEUS ship will depart punctually at lunchtime, to cruise the most beautiful section of the river – the legendary Upper Middle Rhine Valley. The view from the sun deck, of the myth-enshrouded Lorelei, is sure to be a highlight of your cruise. Shortly thereafter, we arrive in Koblenz, one of Germany's oldest and most beautiful towns, where you can end the day with a leisurely stroll through the city.

Koblenz - The vessel departs Koblenz in the early hours, and makes a detour along the Mosel River to the most romantic part of the valley and the little town of Cochem. The magnificent Reichsburg castle is situated high above the town, dominating the landscape. Down below, the village with its narrow streets, half timbered houses, and numerous restaurants are an ideal setting to taste the wines of the region. Back on board dinner is served as the journey continues to Cologne.

Cologne - After lunch, view our arrival into the beautiful city of Cologne. Every year visitors from all over the world are drawn to the historical city and its 2000-year history. Explore the historic Old Town, visit the famous twin-spired Cologne Cathedral, or perhaps sample some of the famous Kölsch beer brewed in Cologne. There are many medieval houses, bridges, and gates that will delight the historian in you, while the more modern skyscrapers that tower overhead are sure to impress. After an exciting day, we return to the vessel and make our way south.

Hoorn - By lunchtime you will have crossed yet another country border to arrive in the Dutch town of Hoorn. This picturesque village is a jumping off point for the optional overland trip to the north of Holland and Amsterdam. For those remaining onboard, discover the beauty of the Dutch Watwerays as the ship glides toward the capital city of the Netherlands, where it will remain docked for the evening.

Amsterdam, The Netherlands - Here in Amsterdam, you can decide whether the real masterpieces are the gabled houses that flank graceful canals, or the van Goghs, Rembrandts and Vermeers that cover the walls of the city's grand museums.

Our staff can assist you with all your travel arrangements.

Questions? Call us at 800-422-0711.

We can assist you with all your travel arrangements. We'd be happy to help you plan your flights, hotels or tours before and/or after your cruise conference.


Please note that our shore excursions are operated separately and
independently of those offered by the cruise line.
©2019 - University at Sea®