Nursing Topics: Palliative Care, Family Medicine,
Clinical Pharmacology, and Self Care for Nurses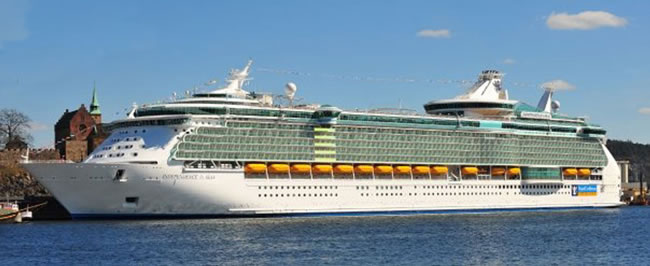 5-Night Western Caribbean & Perfect Day Coco Cay Cruise
Round-trip Ft. Lauderdale, Florida

July 11 - 16, 2020
14 Contact Hours

Course Fees:
$695 for Nurse Practitioners
$495 for Nurses, Residents, Students & Others

IMPORTANT NOTE: All conferees, their families, and guests must book their cruise within the University at Sea® meeting group through University at Sea® at 800-926-3775 or by registering online. This ensures our company can provide conference services and complimentary social amenities to all meeting participants and their guests. Thank you for your cooperation.
Faculty
Sandra L. Argenio, MD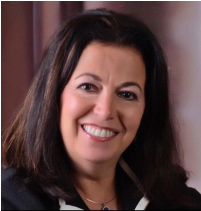 Department of Family Medicine, Mayo Clinic, Emeritus Staff Member
Faculty Physician and Consultant, Institute for Healthcare Excellence, Ponte Vedra Beach, FL
Member of the Florida Academy of Family Physicians Continuous Professional Development/ CME Committee
Past President of the FAFP Dr. Sandra Argenio served as a Consultant in the Department of Family Medicine at Mayo Clinic Florida and Assistant Professor of Family Medicine at Mayo Medical School. She joined Mayo Clinic in 1992 and continues as an Emeritus member of the Family Medicine Department.
Dr. Argenio has nurtured new generations of doctors, was instrumental in the development of the Family Medicine Residency at Mayo Clinic Florida and served as the program's first residency director. She has trained and mentored over 150 family medicine residents.
Dr. Argenio served as the President of the Florida Academy of Family Physicians in 2005 and has been active on many committees of the FAFP and the American Academy of Family Physicians.
She has been active in CME program planning at Mayo Clinic and the Florida Academy of Family Physicians, conducting Maintenance of Certification Workshop sessions on multiple topics for over 1,100 participants at FAFP meetings.
Dr. Argenio had a leading role in establishing communication training at Mayo Clinic starting in 2005. She was Chair of the Mayo Clinic Florida Communication Faculty.
She developed coursework for faculty and trainees at Mayo Clinic, including Longitudinal Research in Academic Medicine, Family Medicine Residency, Scottsdale, Arizona; and Team Communication, Strengthening the Cornerstone of Teamwork at Mayo Clinic's three campuses. She also served on the Florida Governor's Physician Workforce Advisory Board.
Dr. Argenio was awarded the Exemplary Teacher Award by FAFP in 2000. She also received the Outstanding Florida Family Medicine Education Award by FAFP in 2000, and the Mayo Distinguished Educator Award in 2003. She was listed as one of Jacksonville's Best Doctors by Jacksonville Magazine from 2000 to 2014. She has published on the topics of presence, reflective listening and communicating effectively with female patients.
In her current work, she has collaborated in designing curricula and delivering programs at multiple hospitals, hospice organizations, and veterans administration and military healthcare organizations.
Dr. Argenio is a graduate of Wilkes College in Wilkes-Barre, Pennsylvania. She graduated from Hahnemann Medical University in Philadelphia, Pennsylvania. She completed her Family Medicine Residency at Geisinger Medical Center in Pennsylvania in 1982. She resides in Ormond Beach, Florida, with her husband Tom Sperrazza and daughter Jessie.
Linda Scaz, RN, PhD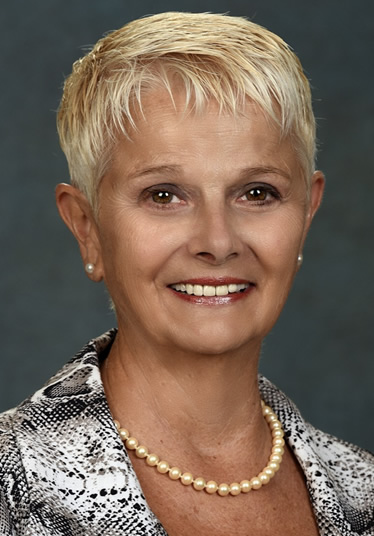 Linda Scaz, RN, PhD, FCN served as a Senior Director of Clinical Care and Operations at Haven Hospice of Northeast Florida and as Director of Community Engagement. She has mentored student nurses and developed caregiver and end of life programs.
Dr. Scaz completed her undergraduate studies at Wilkes University and master's program at Misericordia College, both in Pennsylvania. She graduated from Penn State University where she completed her doctoral studies in transcultural education of healthcare professionals. Dr. Scaz is a graduate of Leadership Jacksonville.
Dr. Scaz has spent many years doing hands on patient care and has also acted in a professor capacity. She has worked extensively in the area of education/communication around end of life care for both professionals and caregivers.
She has served on the nurse advisory councils for Jacksonville University and St. John's River State College. She has also been a member of First Coast Nurse Leader Coalition over the last ten years as well as president of the Jacksonville Chamber of Commerce Health Council. She is also a "First Steps ACP" Certified Facilitator.
Dr. Scaz was selected as one of the "Top 100 Nurses in North Florida" and selected as one of Jacksonville's Top 40 Healthcare Leaders. She has published on the topics of cultural competency, advanced directives, and health care mission work in a third world country.
She is a former Rotarian and a dedicated volunteer in her church and community.
In her spare time, she enjoys reading, swimming, spending time with her family and traveling to Haiti to serve others. A "fun fact" is Dr. Scaz is also a certified mermaid.
Dr. Scaz currently resides in Jacksonville Florida with her husband Ken. She has two children, Kendra and Ken Jr. who she enjoys traveling with.
Edward M. Bednarczyk, PharmD, FCCP, FAPhA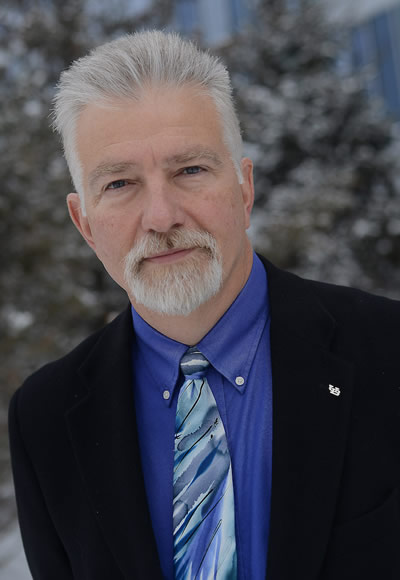 Clinical Associate Professor, Department of Pharmacy Practice
Director, Center for Health Outcomes, Pharmacoinformatics and Epidemiology (cHOPE)
School of Pharmacy & Pharmaceutical Sciences
University at Buffalo, The State University of New York
Buffalo, NY Edward M Bednarczyk , PharmD, FCCP, FAPhA is a Clinical Associate Professor of Pharmacy Practice, and director of the Center for Health Outcomes, Pharmacoinformatics and Epidemiology(cHOPE) at the University at Buffalo, SUNY, School of Pharmacy and Pharmaceutical Sciences (aka UB).

He received his BS in pharmacy from UB in 1984, and completed a pharmacy practice residency at the Buffalo General Hospital in 1985.

He went on to receive his PharmD degree from the Medical University of South Carolina followed by a fellowship in Clinical Cardiovascular Pharmacology at Case Western Reserve University/University Hospitals of Cleveland.

His scholarship is split between the use of molecular imaging to explore drug effects, and drug outcomes and utilization.

His clinical responsibilities are divided between nuclear medicine and neurology at the VAMC. He is serving as the president of the Academy of Pharmaceutical Research and Science (APRS) of the APhA.

He established cHOPE as an unfunded center within the School of Pharmacy. It has since grown to approximately 3 million dollars in annual external funding.

Dr. Bednarczyk also serves as the CEO of University Pharmacy Resident Services, Inc, a 501c3 corporation for administering UB's pharmacy residencies, chairs the Radioactive Drug Research Committee (RDRC), serves on the executive committee of the university faculty senate, and has established himself as to "go to" faculty member for all things related to medical marijuana.
Our staff can assist you with all your travel arrangements.
Target Audience
Nurses, Nurse Practitioners
Program Purpose / Objectives
The purpose of the lectures to be presented is to increase the knowledge, understanding and skills of the participants in the areas of Family medicine, Palliative care and Clinical pharmacology.
General presentations will address self-care, mindfulness, customer service, appreciation and gratitude.
Palliative topics are designed to help learners improve their ability to have meaningful discussions with patients, families and colleagues when patients are at the end of life. Team outcomes and healthcare team performance will be addressed through lectures considering incivility, bullying and selfcare.
Other topics will address family medicine topics and clinical pharmacology.
Topics:
Self-care: Taking Care of Yourself

Define principals necessary for healthcare providers to take care of themselves.
Express how each person must care for themselves before they can truly care for others.
Communicate with patients, families, communities, and professionals in health and other fields in a responsive and responsible manner that supports a team approach to the promotion and maintenance of health and the prevention and treatment of disease.

Palliative care: Tips for making Each Conversation the Best

Define and Describe important principles of palliative care.
Manage difficult conversations with patients and families at end of life.
Identify their own areas of discomfort when addressing dying patients

Dying Gracefully

Describe important factors to be addressed when patients are critically ill and dying
Define key factors which help patients die with dignity
Prepare themselves, colleagues, patients and families for making sure that the dying experience a good death.

So I want to do Mission Work: Preparing to do Mission Work (Travel medicine)

Discover the knowledge of one's own role and those of other professions to appropriately assess and address the health care needs of patients and to promote and advance the health of populations.
Describe key principals of mission work.
Discover risks inherent in mission work and know how to address them.

Incivility and Bullying in Nursing

Work with individuals of other professions to maintain a climate of mutual respect and shared values.
Define and describe what incivility looks like.

Mindfulness and Listening

Apply relationship-building values and the principles of team dynamics to perform effectively in different team roles.
Assess mindfulness and how this relates to excellence in outcomes.
Recognize how to be a better listener to improve communication and teamwork.

Customer Service or patient Experience: Are They the Same Thing?

Evaluate the relationships with patients and their families directly relate to clinical outcomes.
Demonstrate skills that result in effective communication and teaming with patients, their families and professional associates, such as fostering a therapeutic relationship that is ethically sound; using effective listening skills with non-verbal and verbal communication; working as both a team member and at times as a leader.
Conference Sessions generally take place on days at sea (as itinerary allows), giving you plenty of time to enjoy your meals, evenings and ports of call with your companion, family and friends.
Questions? Call us at 800-422-0711.
We can assist you with all your travel arrangements. We'd be happy to help you plan your flights, hotels or tours before and/or after your cruise conference.

Cruise Itinerary
DATE
PORT OF CALL
ARRIVE
DEPART
Sat Jul 11
Ft. Lauderdale, Florida

-
4:30 pm
Sun Jul 12
Coco Cay, Bahamas

7:00 am
7:00 pm
Mon Jul 13

*

At Sea - Cruising

-
-
Tue Jul 14
Falmouth, Jamaica

7:00 am
4:30 pm
Wed Jul 15

*

At Sea - Cruising

-
-
Thu Jul 16
Ft. Lauderdale, Florida

7:00 am
-
*
Tentative course schedule, actual class times may differ.
Ports of Call
Ft. Lauderdale, Florida - There is an abundance of things to see and do in the Ft. Lauderdale area: visit the newly redesigned Ft. Lauderdale Beach and cafes, stroll the historic Riverwalk, shop the luxurious stores on Las Olas Boulevard or adventure to the Everglades for an intriguing air boat excursion.
Coco Cay, Bahamas - Located in the middle of the Caribbean's bright blue water lies the secluded island of CocoCay. With its white-sand beaches and spectacular surroundings, CocoCay is a wonderland of adventure. Reserved exclusively for Royal Caribbean guests, this tropical paradise has recently been updated with new aquatic facilities, nature trails and a ton of great places to just sit back, relax and enjoy a tropical drink.
PERFECT DAY COCOCAY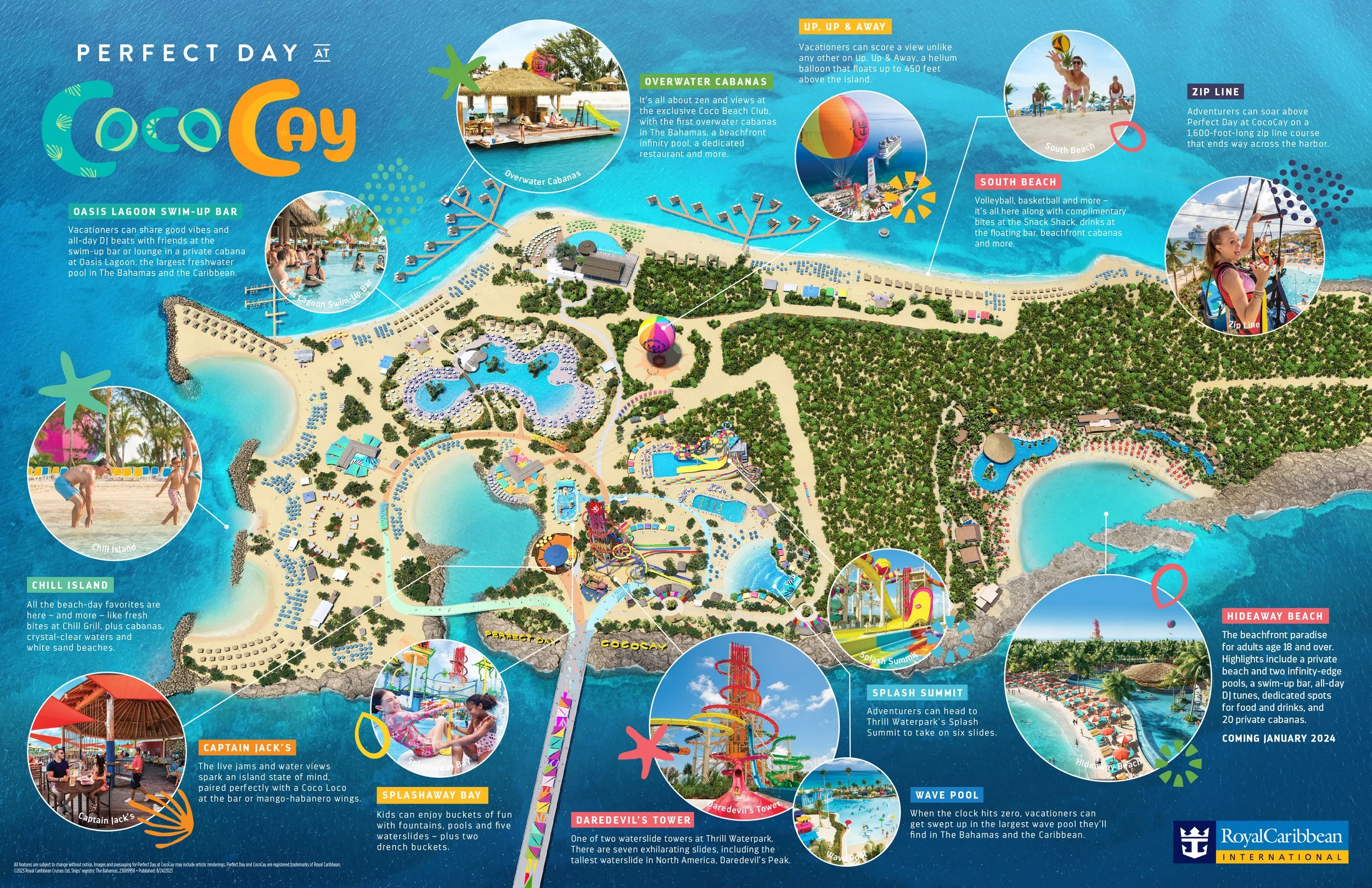 At Sea - Cruising - Cruising
Falmouth, Jamaica - Step off the ship and step back in time. You might not think so at first glance but little Falmouth was an economic and shipping powerhouse and center for dramatic social change during the English Colonial Period. Founded and named Martha Brae Point in 1769 by local English planter, Thomas Reid, Falmouth became the transshipment hub for the sugar plantations covering the hills of the North Coast of Jamaica. Edward Barrett, a wealthy English planter, strongly influenced the early development of Falmouth. From the wharfs of Falmouth, sugar, molasses, rum and coffee were sent to England while ships carrying African slaves and all the necessities of 18th century colonial life dropped anchor in the bustling port town. You'll return with sun kissed skin, timeless memories as well as interesting historical tidbits to share with friends, like this one: Falmouth received piped water before New York City.
Our staff can assist you with all your travel arrangements.
Questions? Call us at 800-422-0711.
We can assist you with all your travel arrangements. We'd be happy to help you plan your flights, hotels or tours before and/or after your cruise conference.
EXCLUSIVE SHORE EXCURSIONS
Please note that our shore excursions are operated separately and
independently of those offered by the cruise line.
©2019 - University at Sea®