Critical Care in the Obstetric Setting
A comprehensive guide to recognizing acute illness, understanding diagnosis, and treatment of the critically ill obstetric patient.

7-Night Mexican Riviera Cruise
Round-trip Los Angeles, California

October 10 - 17, 2020
16 Contact Hours

Course Fees:
$495 for Nurses

IMPORTANT NOTE: All conferees, their families, and guests must book their cruise within the University at Sea® meeting group through University at Sea® at 800-926-3775 or by registering online. This ensures our company can provide conference services and complimentary social amenities to all meeting participants and their guests. Thank you for your cooperation.
Faculty
Elizabeth Stefani BSN RN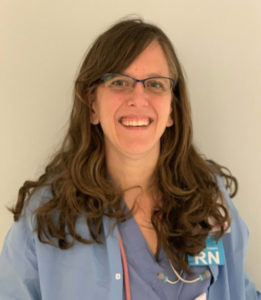 Liza has been working in the acute care setting since 2001 and has been actively involved in health education since 1996 when she worked for the California Deparment of Health as a Tobacco Education Liaison. Liza graduated nursing school in 2006 and went on to get her BSN from Samuel Merritt University in Oakland, Ca.

In her career as a nurse Liza has worked in Hospice, Oncology, Telemetry and most recently as a Labor and Delivery nurse at one of the largest L&D units in California.

Her passion for teaching comes from watching two close family members die of medical mistakes. Because of these experiences Liza strongly believes that a nurse with an understanding of pathophysiology can save lives and anytime a nurse stops asking 'why', is when he or she stops being the nurse Liza wants to care for her family.
Jessica Van Leuven, BSN RN
Jessica is currently an Assistant Nurse Manager working in a complex high risk labor and delivery department in Roseville, Ca. She has a broad background that includes almost 20 years of nursing practice at the bedside.
Her experience is gathered from Cardiac ICU, Home Health and Hospice, Forensic Psychiatry, Child and Adolescent Psychiatry, Mother Baby, and most recently Labor and Delivery in the critical care setting.
Jessica graduated from Brigham Young University with her Bachelors degree in Nursing. She is currently attending University of San Francisco in the graduate program for Clinical Nurse Leadership. Jessica is passionate about education that inspires all those who partake to be empowered to become better clinicians, promoters of the nursing profession, and influential members of our community.
Jessica has taught for over twenty years in many different settings and has found this to be one of her passions along with writing. Jessica is a published author and the founder of the Facebook group "Humans of Healthcare". In her down time Jessica enjoys traveling, studying philosophy, learning languages, running, skiing, and waterskiing, but most of all spending quality time with her cherished family and friends.
Our staff can assist you with all your travel arrangements.
Target Audience
Nurses, Nurse Practitioners
Program Purpose / Objectives
Introduction:
Recognition in conjunction with a comprehensive understanding of illness in the acute care setting is essential for best practice outcomes.
Objectives:
Recognize acute illness in the obstetric patient
Hold a comprehensive understanding of disease process and appropriate treatment options unique to cardiovascular crisis, hypertensive disorders, and sepsis in pregnancy
Utilize the key concepts from Team STEPPS to effectively communicate in critical care scenarios.
Team STEPPS communication (Workshop & Inservice 4 Hours)
Why effective communication is essential at the bedside
Closed loop communication
How to effectively escalate concerns with a patient who meets criteria for advanced level of care. (SBAR)
What is CUSS and how do we apply is to our practice.
Cardiovascular Emergencies: (Workshop & Inservice 6 Hours)
Diagnosis of most common Obstetric cardiovascular emergencies

Hypovolemic Shock / Hemorrhage
Arrhythmia's
Pulmonary, Amniotic emboli, and Stroke<

Pathophysiology unique to the pregnant patient with acute cardiovascular crisis.
Recognizing the Signs and Symptoms of acute illness and initiating the critical care cascade.
Treatment options at the bedside taking into consideration the unique challenges to the individual patient and plan of care.
Hypertensive Crisis (Workshop & Inservice 3 Hours)
Diagnosis for Hypertensive disorders in pregnancy


Chronic Hypertension
Gestational Hypertension
Pregnancy induced Hypertension
HELLP syndrome

Pathophysiology unique to hypertensive disorders in pregnancy
Signs and symptoms for a hypertensive crisis.
Clinical Pathways for evidence based practice in treatment of Hypertensive disorders and crisis
Sepsis (Workshop & Inservice 3 Hours)
Diagnosis of sepsis vrs Chorioamnionitis
Pathophysiology of sepsis and the unique risk factors presented in labor and delivery.
Signs and Symptoms of sepsis

Sepsis Screening
Sepsis Bundles
Septic Shock

Clinical pathways for treatment of sepsis based on best practice.
Conclusion
The obstetric setting provides unique perspective in the setting of acute care crisis. Pregnancy demands special considerations for recognition and treatment in critical care scenarios. When gaining comprehensive understanding and advancing clinical practice one must understand how to communicate efficiently and effectively. Become proficient in recognizing acute illness, understanding best practice in treatment, and
most importantly implementing appropriate treatment plans for the individualized plan of care.
Course Evaluation
Course evaluation at end of course by all course participants.
Conference Sessions generally take place on days at sea (as itinerary allows), giving you plenty of time to enjoy your meals, evenings and ports of call with your companion, family and friends.
Questions? Call us at 800-422-0711.
We can assist you with all your travel arrangements. We'd be happy to help you plan your flights, hotels or tours before and/or after your cruise conference.

Cruise Itinerary
DATE
PORT OF CALL
ARRIVE
DEPART
Sat Oct 10
Los Angeles, California

-
4:30 pm
Sun Oct 11

*

At Sea - Cruising

-
-
Mon Oct 12
Cabo San Lucas

10:00 am
7:00 pm
Tue Oct 13
Mazatlan, Mexico

8:00 am
5:00 pm
Wed Oct 14
Puerto Vallarta, Mexico

8:00 am
8:00 pm
Thu Oct 15

*

At Sea - Cruising

-
-
Fri Oct 16

*

At Sea - Cruising

-
-
Sat Oct 17
Los Angeles, California

9:00 am
-
*
Tentative course schedule, actual class times may differ.
Ports of Call
Los Angeles, California - Los Angeles is a relatively young city, barely over a century old. This 467-square-mile desert basin is not only the center of the world's film industry; it also plays a major role in television, fashion, music and art. No wonder some of the world's most famous individuals choose L.A. as their home. The sunsets over the Pacific are nothing less than spectacular, and there are 72 miles of incredible oceanfront beaches from which to enjoy them.
At Sea - Cruising - Cruising
Cabo San Lucas - Championship golf courses, world-class deep sea fishing and incredible diving opportunities have transformed Cabo San Lucas, a once sleepy fishing town located on the southern tip of the Baja California Peninsula, into one of the most popular resort destinations in Mexico. Rolling sand dunes and hidden coves dot a countryside ringed by some of the most famous and often-photographed rock formations in the world.
Mazatlan, Mexico - If you're ready to experience some of the finest sailing and sport fishing available, then you're ready for Mazatlan. This is an exquisite seaside resort by anyone's standards. Of course, you don't have to partake in world-class water sports to enjoy Mazatlan. You can relax on one of its soft-sand beaches caressed by trade winds that are even softer. Or shop for silver jewelry and Mexican crafts in the shops of "The Golden Zone", where you can also celebrate your purchases at one of the area's lively cantinas.
Puerto Vallarta, Mexico - Puerto Vallarta has all the amenities of a classic beach resort ‐ surf, sand and sun‐ but it also offers so much more. Perfect for honeymooners, families and seniors alike, Puerto Vallarta offers sport fishing, golfing, horseback riding, hiking and whale watching. Boasting mountains, jungles, beaches, rivers, and waterfalls, this port is completely different from any other destination in Mexico. Puerto Vallarta is a modern destination that remains loyal to its traditional Mexican roots. And that's just scratching the surface.
Our staff can assist you with all your travel arrangements.
Questions? Call us at 800-422-0711.
We can assist you with all your travel arrangements. We'd be happy to help you plan your flights, hotels or tours before and/or after your cruise conference.
EXCLUSIVE SHORE EXCURSIONS
Please note that our shore excursions are operated separately and
independently of those offered by the cruise line.
©2019 - University at Sea®