Tips and Tricks for more Predictable Outcomes in both Fixed and Implant Prosthetics: Mastering Key Principles for Success... Pearls to use on Monday

7-Night Alaskan Explorer
Round-trip Seattle, Washington

July 04 - 11, 2021
14.0 CE Credits

Course Fees:
$895 for Dentists
$650 for Dental Staff

IMPORTANT NOTE: All conferees, their families, and guests must book their cruise within the University at Sea® meeting group through University at Sea® at 800-926-3775 or by registering online. This ensures our company can provide conference services and complimentary social amenities to all meeting participants and their guests. Thank you for your cooperation.
Faculty
Marshall D. Fagin, DDS Prosthodontist
Dr. Marshall Fagin
is a Prosthodontist and as an international lecturer and educator for over 35 years, he frequently updates his colleagues on the most recent advances in his specialty, including cosmetic and implant dentistry and on complex major crown and bridge cases.
In 2013 he received the highest honor given by his local Dental Society, the coveted Frank Stone Award, for his many years of contributions to dentistry, dental education and to organized dentistry. While in private practice, he is also a part-time Associate Professor at SUNY's Dental School in the Post-Grad Prosthodontic Residency Program and was instrumental in starting implant dentistry education there in the late 1980's.
He has conducted several "Hands-On" courses for dentists on "Anterior Esthetic Makeovers" at the school's Esthetic Dentistry Education Center and for the University of Florida School of Dentistry's Mastership Program in Fixed Prosthetics as well as Esthethics and Implant courses for AGD chapters.
Dr. Fagin served as Prosthodontist adviser and presentor for several Implant Study Clubs over the past 26 years. He presents for Dental Laboratories around the country to help dentists get back to the basics so labs can provide them with better outcomes. He was voted by his colleagues to "Best Dentists in America" 2004/2005 and 2013, "Global Who's Who Man of the Year" in Dental Health 2008, "Top Dentists" 2008/2014/2015/2017/2018 and was elected to faculty membership in the Honorary Dental Society Omicron Kappa Upsilon.
He was awarded Diplomat status in the International Congress of Oral Implantologists in 1994 and is a Fellowship recipient of the International College of Dentists for his contributions to Dentistry. Dr. Fagin also served on faculty for the Misch Implant Institute 1991-1993 (Detroit, Michigan) and 2005-2006 (Rochester, NY).
Our staff can assist you with all your travel arrangements.
Target Audience
Dentists, Dental Staff
Program Purpose / Objectives
"Tips & Tricks in Fixed Prosthetics: Mastering principles for success in ever-changing times – Pearls to use on Monday"
Course Overview:
Learn how to get the patient to say "Yes" to treatment! Leave with an appreciation of all the little things that make big differences, affecting productivity, profitability and better, more consistant outcomes, leaving you passionate about getting there.
This will include how to resolve several fixed prosthetic challenges through improved treatment planning, communication with patient and lab, and multiple techniques leading to predictable and time-saving results. Get excited about the latest technologies, from lasers to temporization and impression techniques (including digital) along with a better understanding of the rationale in choosing the latest in ceramic options.
Learn how material choice, tooth preparation and cementation material come together to impact long term success
Topics:

1.
Demystifying Occlusion – Understand the importance of the occlusal exam and its impact on treatment planning and how function and esthetics come together. Learn how the diagnostic 'wax-up' and 'mock will become the dentist- technician - patient blueprint.

2. Material Options - Learn guidelines in decision making for material choices from Composite Uveneers to PFM's or Lithium Disilicate (e-Max) along with different Zirconia choices and how this impacts preparation design which plays an essential role in esthetics and longevity.
3. Impressioning - Always the #1 complaint from the lab, whether conventional or digital. Learn 'multiple pearls' that will provide greater accuracy and save time at delivery through a step-by-step protocol.

4. Occlusal Bite Records – Learn techniques from single crown to full arch and how these time-saving methods will minimize adjustments and remakes.

5. Shade selection- Learn how to communicate with your lab to decrease compromised shade accuracy. This will minimize returns, resulting in satisfied patients and more referrals. Proper photographic techniques, shade guide armamentarium, shade mapping and digital options will be reviewed.

6. Cement Choices - A simplified explanation for selecting the appropriate cement option (the what, where, when and why) will not only aid in longer term outcomes and less breakage, but also aid in final color matching.

"Nuts & Bolts of Implant Treatment from Planning to Completion, from Single Tooth to the Complex Case: Reviewing Techniques and New Technologies to Achieve Predictable Success"
Course Overview:
Utilizing the principles and technologies that contribute greatly to long-term success in implant treatment, you can alleviate a great deal of stress while contributing to significantly increased practice profitability. In this course, Dr. Fagin will ensure that you learn new insights on a range of topics and gain confidence in overcoming challenges and creating long term implant success with a TEAM approach.
OBJECTIVES:
Understand patient's wants and needs and transform them into case acceptance
Treatment Plan from diagnostic wax-up to radiographic guides & surgical template design, while weighing the multiple risk factors and their impact on success
Understand the variables in implant selection and positioning
Identify potential esthetic challenges, including bone grafting and ridge preservation requirements
Distinguish factors affecting immediate load vs. progressive loading and other critical concepts of implant occlusion for long term success
Address the challenges and solutions to anterior implant esthetics
Learn temporization techniques in fixed cases and test esthetics while creating and transferring custom emergence profile, predictably managing goals with patient and lab
Learn treatment techniques that will decrease chair time and enhance outcomes, including use of Straumann's Variobase abutment
Learn how Cone Beam and CAD-CAM technology can design and mill your case, including osteoplasty and implant positioning and placement guides for both fixed & removable cases.
Know whether to splint or not to splint…that is the question!
Learn rationale for 'screw-in' vs. 'cement-on' restorations?
Learn rationale for cement choices – It makes a difference.
Conference Sessions generally take place on days at sea (as itinerary allows), giving you plenty of time to enjoy your meals, evenings and ports of call with your companion, family and friends.
Questions? Call us at 800-422-0711.
We can assist you with all your travel arrangements. We'd be happy to help you plan your flights, hotels or tours before and/or after your cruise conference.

Cruise Itinerary
DATE
PORT OF CALL
ARRIVE
DEPART
Sun Jul 04
Seattle, Washington

-
4:00 pm
Mon Jul 05

*

At Sea - Cruising

-
-
Tue Jul 06
Scenic Cruising Stephens Passage

-
-
Tue Jul 06
Juneau, Alaska

1:00 pm
9:00 pm
Wed Jul 07
Hubbard Glacier

2:00 pm
6:00 pm
Thu Jul 08
Sitka, Alaska

8:00 am
4:00 pm
Fri Jul 09
Ketchikan, Alaska

7:00 am
1:00 pm
Sat Jul 10
Victoria, British Columbia

6:00 pm
11:30 pm
Sun Jul 11
Seattle, Washington

7:00 am
-
*
Tentative course schedule, actual class times may differ.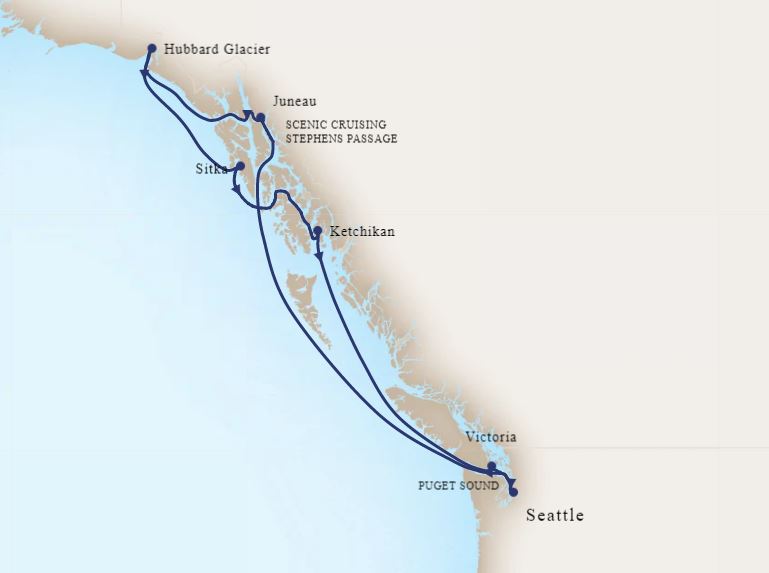 Ports of Call
Seattle, Washington - The Emerald City of the Pacific Northwest, Seattle is one of America's most vibrant cities. Stroll its bustling waterfront (including Pike Place Market), visit the Space Needle, and find a great coffee-shop to enjoy in this coffee-loving city (the home of Starbucks). One of America's tech centers (Amazon and Microsoft are both headquartered here), the city is abuzz with the interesting people attracted to the opportunities to be found there. There is more than enough to see and do here to keep you busy for a day or two. If you have a little extra time, Seattle is a great place to visit.
At Sea - Cruising - Cruising
Scenic Cruising Stephens Passage - Stephens Passage is a channel in the Alexander Archipelago in the southeastern region of the U.S. state of Alaska. It runs between Admiralty Island to the west and the Alaska mainland and Douglas Island to the east, and is about 170 km (105 mi) long. Juneau, the capital of Alaska, is near the north end, on Gastineau Channel.
Hubbard Glacier - Marching to the beat of a different drum, Hubbard Glacier is advancing while the rest of Alaska's ice rivers are receding rapidly. In 1986, Hubbard galloped forward, closing off Russell Fjord to create an entirely new lake. The phenomenon quickly passed and was followed by a short retreat, but the glacier is once again on the move and Russell Fjord is headed for another spell as an inland body of water.
Sitka, Alaska - Step back to the days of Russian Alaska as you watch lively performances of the New Archangel Dancers and view holy paintings of the Czarists' days.
Ketchikan, Alaska - Immerse yourself in Tlingit Indian culture as you view the world's largest collection of totem poles; kayak the colorful waterfront.
Victoria, British Columbia - Stroll through the charming downtown of this very British city, with its double-decker buses, turreted castles, fine British woolens, tea and china. Or, just outside the city, visit the lush flora and fauna of Butchart Gardens.
Non-US/Canadian individuals, please Click here to determine if you'll need a visa to board this cruise which visits Canada.
Our staff can assist you with all your travel arrangements.
Questions? Call us at 800-422-0711.
We can assist you with all your travel arrangements. We'd be happy to help you plan your flights, hotels or tours before and/or after your cruise conference.
EXCLUSIVE SHORE EXCURSIONS
Please note that our shore excursions are operated separately and
independently of those offered by the cruise line.
©2019 - University at Sea®