University at Sea®
5700 4th Street North
St. Petersburg, FL 33703
E-Mail Us
Office Hours
Monday - Friday
9:00am - 5:00pm EST
Saturday
10:00am - 2:00pm EST

Internal Medicine: Clinical Updates
7-Night Spanish Magic Cruise
from Lisbon, Portugal to Barcelona, Spain October 08 - 15, 2023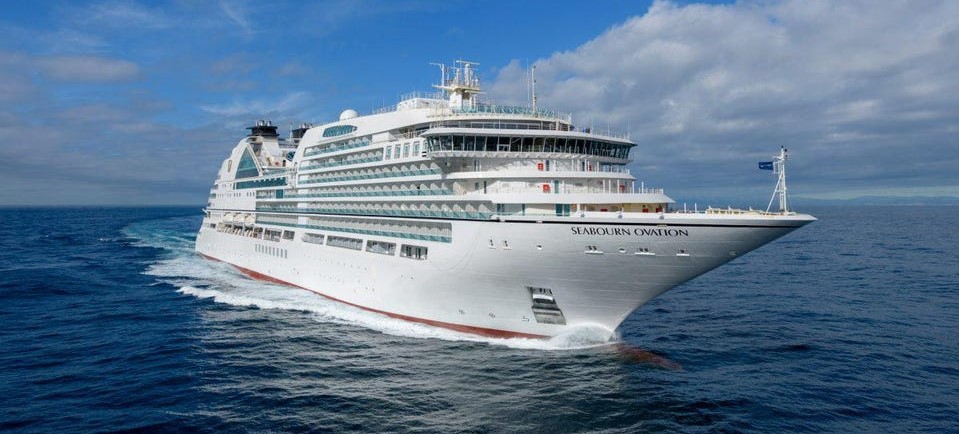 Program Purpose / Objectives
Topics and Objectives under development
Conference Sessions generally take place on days at sea (as itinerary allows), giving you plenty of time to enjoy your meals, evenings and ports of call with your companion, family and friends.
IMPORTANT NOTE: All conferees, their families, and guests must book their cruise within the University at Sea® meeting group through University at Sea® at 800-926-3775 or by registering online. This ensures our company can provide conference services and complimentary social amenities to all meeting participants and their guests. Thank you for your cooperation.
Our staff can assist you with all your travel arrangements.
Questions? Call us at 800-422-0711.
We can assist you with all your travel arrangements. We'd be happy to help you plan your flights, hotels or tours before and/or after your cruise conference.

Cruise Itinerary
DATE
PORT OF CALL
ARRIVE
DEPART
Sun Oct 08
Lisbon, Portugal

-
5:00 pm
Mon Oct 09

*

At Sea - Cruising

-
-
Tue Oct 10
Gibraltar

8:00 am
9:00 pm
Wed Oct 11
Tangier, Morocco

7:00 am
4:00 pm
Thu Oct 12
Melilla, Spanish Morocco, Spain

7:00 am
3:00 pm
Fri Oct 13
Alicante, Spain

8:00 am
9:00 pm
Sat Oct 14
Valencia, Spain

8:00 am
6:00 pm
Sun Oct 15
Barcelona, Spain

7:00 am
-
*
Tentative course schedule, actual class times may differ.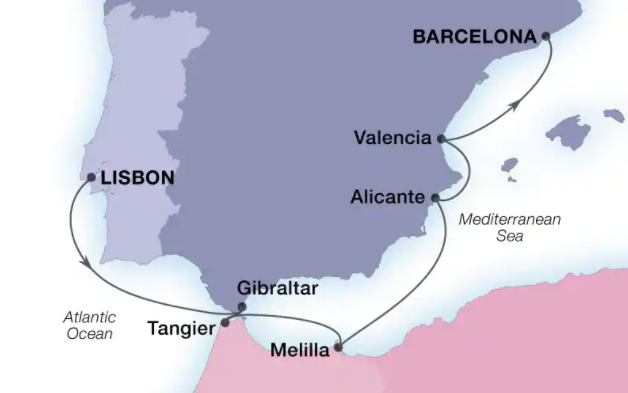 Ports of Call
Lisbon, Portugal - Make your own discoveries in the city that launched the Age of Discovery. Cross the River Tagus on its soaring suspension bridge. Wander the maze of streets in the Alfama, the old Moorish quarter, dominated by the medieval Castle of St. George where peacocks strut and shriek. Stroll the Baixa, shop for elegant shoes.

At Sea - Cruising - Cruising

Gibraltar - As long as the Barbary Apes remain, the British will rule Gibraltar‐this is the tradition that has held for 350 years. These pesky primates are a favorite with visitors despite their incessant chatter and light-fingered ways. Ride to the top of the Rock for great views over the Strait of Gibraltar‐on a clear day you'll see Africa.

Tangier, Morocco - Situated just across the narrow Strait of Gibraltar from Europe, Tangier has long comprised a hybrid culture that is nearly as European as it is African. Standing atop Cap Spartel, one can gaze down on the place where the Atlantic meets the Mediterranean. The "Hollywood" district where the foreign embassies have traditionally been located reflects the European influence. But ascending the hill above the waterfront, one enters the narrow, winding alleys of the Kasbah, the city's oldest, most Moroccan section. Down the coast, nearby Tetouan retains a nearly untouched walled medina, with sections originally occupied by Andalusian, Berber and Jewish populations. It is small enough that visitors can explore it without risking becoming lost, making it a perfect choice as a UNESCO World Heritage Site.

Melilla, Spanish Morocco, Spain - Melilla is one of Spain's two enclaves on the Mediterranean coast of Morocco, a remnant of the colonial past. As a pocket of Europe on the African continent, its border is rather heavily watched. But the town exists as a resort community and serves visitors well. Overlooking the harbor is Melilla La Vieja, a 15th century fortress converted to a holiday destination. Among its restored fortifications, the site hosts a number of museums, churches, memorials and a multi-story complex of manmade caves that lead down to the beach. The town also holds the second largest trove of architecture in the modernist style, after only Barcelona, many by the prominent architect Enrique Nieto. It is a fascinating city much praised for its tradition of multiculturalism.

Alicante, Spain - This bright city on the Costa del Sol was founded by the ancient Greeks in 325 B.C, who called it Akra Leuka ("White Summer") for its impressive headlands. The Moors ruled here for over five centuries, and reminders of their passing can be dicovered in the winding alleyways of the Old Quarter. The views from the 1,000 foot Balcon del Mediterraneo are superb.

Valencia, Spain - Incredibly, Valencia is a hidden gem of a big city in Spain. Although, it doesn't get the same attention that Barcelona and Madrid get, it competes quite well with those two well known destinations. Food, Shopping, Art and Architecture can be found in abundance; take some time and wander through the winding maze of medieval streets and stubble on your newest favorite shop/bar/restaurant. Too bad cruises don't depart from here; you could certainly spend a few days visiting Valencia's must-sees. One highlight is the City of Arts and Sciences (Ciutat de les Arts i les Ciències) designed by architect Santiago Calatrava. This beautiful complex consists of a cinema, garden, theater, planetarium, science museum and more!

Barcelona, Spain -

Barcelona is a one of the world's great cities. Stroll down her tree-lined boulevards, the magnificent Passeig de Gràcia or the more touristed Las Ramblas. On the Passeig, shop a serious fashion district while marveling at examples of Mordenisme architecture, seemingly sculpted from the stuff of dreams (Gaudi's masterpiece of a family home, Casa Batlló is well worth a visit). If a trip on the Passeig hasn't convinced you of Gaudi's genius, a visit to La Sagrada Familia Cathedral will do the trick; this fantastic, soaring marvel will live on in your memory long after you've returned.

Not far from the Passeig and just north of Las Ramblas, the Gothic Quarter (the Barri Gotic) provides an abundance of shopping opportunities for all tastes, and a bit of European history to boot - check out the tranquil Cathedral of Barcelona. To see a bit of local life a visit to a food market is a quick, fun detour: try Santa Caterina near the Cathedral or Mercado de La Boqueria, right off of Las Ramblas.

Barcelona's food is also a highlight: stop into a tapas bar and try a variety of delicacies. "Standard" restaurants of every style are available, too. And, there's music, too! Visit an underground jazz club or the magnificent Palau de la Música Catalana; or stop by the Palau Dalmases for a stunning, flamenco performance (it's near the Picasso museum). Did we mention art? One of the largest collections of Picasso's art is found at the Museau Picasso, and a great collection of contemporary, figurative (i.e not abstract) painting and sculpture is housed at the European Museum of Modern Art just around the corner.

It's probably clear by now that you really can't get it all done in a day (even if all means "just the must-sees"). So, stay for a day or three in the Gothic Quarter or near Plaça de Catalunya and really get a feel for what makes Barcelona such a wonderful place. Partly it's the result of the "accidents" of its history and present: as the regional capital of Spain's prosperous Catalunya region, Barcelona has a "flavor" that is a bit of a mix between Spanish and French (it's located quite close to the French border). Yes, you can practice your Spanish here - it attracts Spaniards from throughout the country - but you'll also see and hear Catalan with it's own charm. You won't regret your time here.

Our staff can assist you with all your travel arrangements.

Questions? Call us at 800-422-0711.

We can assist you with all your travel arrangements. We'd be happy to help you plan your flights, hotels or tours before and/or after your cruise conference.


independently of those offered by the cruise line.
©2019 - University at Sea®