University at Sea®
5700 4th Street North
St. Petersburg, FL 33703
E-Mail Us
Office Hours
Monday - Friday
9:00am - 5:00pm EST
Saturday
10:00am - 2:00pm EST

Internal Medicine: Clinical Updates
10-Night Riviera and Mediterranean Jewels
from Barcelona, Spain to Civitavecchia (Rome), Italy July 26 - August 05, 2023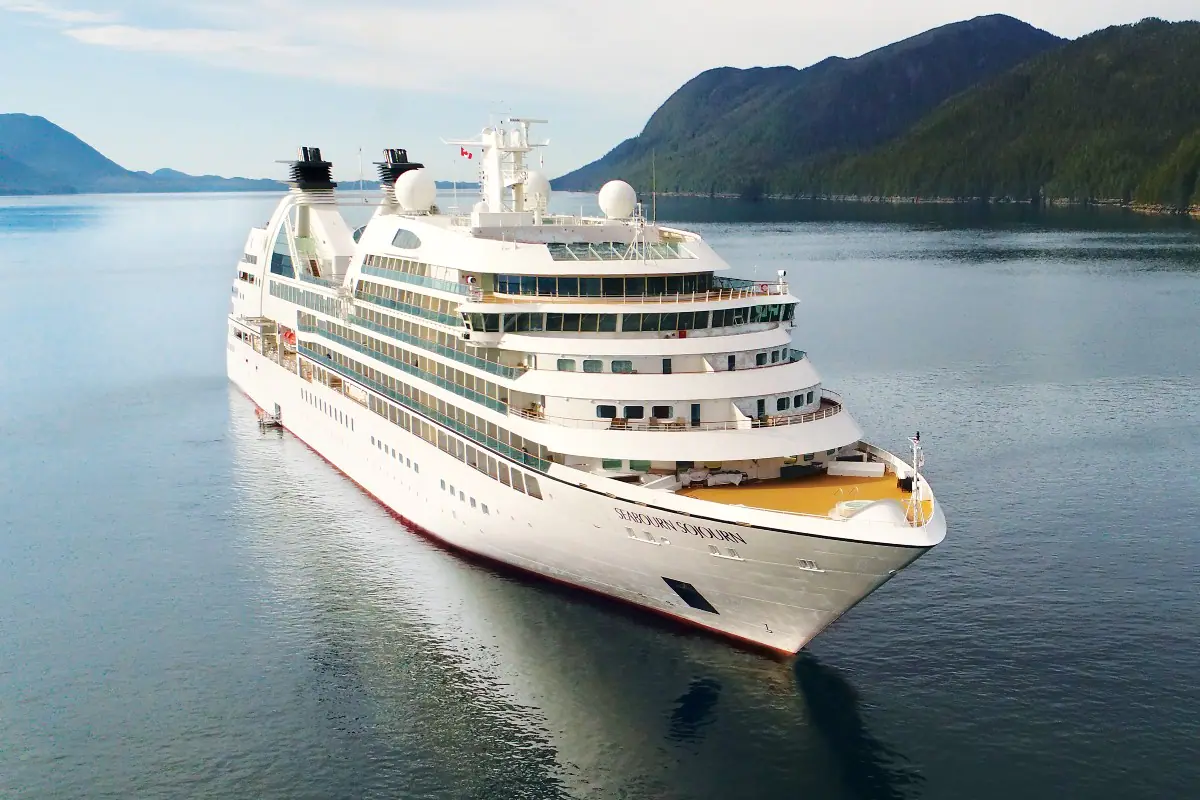 Program Purpose / Objectives
Topics and Objectives under development
Conference Sessions generally take place on days at sea (as itinerary allows), giving you plenty of time to enjoy your meals, evenings and ports of call with your companion, family and friends.
IMPORTANT NOTE: All conferees, their families, and guests must book their cruise within the University at Sea® meeting group through University at Sea® at 800-926-3775 or by registering online. This ensures our company can provide conference services and complimentary social amenities to all meeting participants and their guests. Thank you for your cooperation.
Our staff can assist you with all your travel arrangements.
Questions? Call us at 800-422-0711.
We can assist you with all your travel arrangements. We'd be happy to help you plan your flights, hotels or tours before and/or after your cruise conference.

Cruise Itinerary
DATE
PORT OF CALL
ARRIVE
DEPART
Wed Jul 26
Barcelona, Spain

-
5:00 pm
Thu Jul 27
Ciutadella de Menorca, Spain

8:00 am
5:00 pm
Fri Jul 28
Bandol, France

8:00 am
5:00 pm
Sat Jul 29
St. Tropez, France

8:00 am
11:00 pm
Sun Jul 30

*

At Sea - Cruising

-
-
Mon Jul 31
Trapani, Italy

8:00 am
5:00 pm
Tue Aug 01
Mgarr (Victoria), Gozo, Malta

8:00 am
3:00 pm
Tue Aug 01
Valletta, Malta

6:00 pm
-
Wed Aug 02
Valletta, Malta

-
5:00 pm
Thu Aug 03
Giardini Naxos (Taormina), Italy

8:00 am
5:00 pm
Fri Aug 04
Amalfi, Italy

8:00 am
5:00 pm
Sat Aug 05
Civitavecchia (Rome), Italy

7:00 am
-
*
Tentative course schedule, actual class times may differ.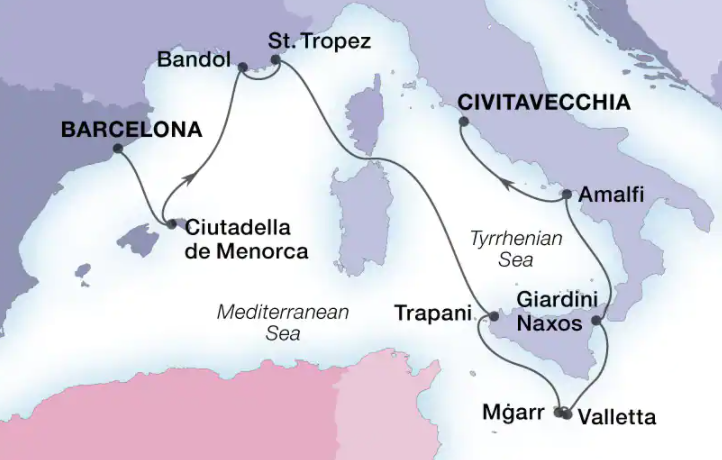 Ports of Call
Barcelona, Spain -

Barcelona is a one of the world's great cities. Stroll down her tree-lined boulevards, the magnificent Passeig de Gràcia or the more touristed Las Ramblas. On the Passeig, shop a serious fashion district while marveling at examples of Mordenisme architecture, seemingly sculpted from the stuff of dreams (Gaudi's masterpiece of a family home, Casa Batlló is well worth a visit). If a trip on the Passeig hasn't convinced you of Gaudi's genius, a visit to La Sagrada Familia Cathedral will do the trick; this fantastic, soaring marvel will live on in your memory long after you've returned.

Not far from the Passeig and just north of Las Ramblas, the Gothic Quarter (the Barri Gotic) provides an abundance of shopping opportunities for all tastes, and a bit of European history to boot - check out the tranquil Cathedral of Barcelona. To see a bit of local life a visit to a food market is a quick, fun detour: try Santa Caterina near the Cathedral or Mercado de La Boqueria, right off of Las Ramblas.

Barcelona's food is also a highlight: stop into a tapas bar and try a variety of delicacies. "Standard" restaurants of every style are available, too. And, there's music, too! Visit an underground jazz club or the magnificent Palau de la Música Catalana; or stop by the Palau Dalmases for a stunning, flamenco performance (it's near the Picasso museum). Did we mention art? One of the largest collections of Picasso's art is found at the Museau Picasso, and a great collection of contemporary, figurative (i.e not abstract) painting and sculpture is housed at the European Museum of Modern Art just around the corner.

It's probably clear by now that you really can't get it all done in a day (even if all means "just the must-sees"). So, stay for a day or three in the Gothic Quarter or near Plaça de Catalunya and really get a feel for what makes Barcelona such a wonderful place. Partly it's the result of the "accidents" of its history and present: as the regional capital of Spain's prosperous Catalunya region, Barcelona has a "flavor" that is a bit of a mix between Spanish and French (it's located quite close to the French border). Yes, you can practice your Spanish here - it attracts Spaniards from throughout the country - but you'll also see and hear Catalan with it's own charm. You won't regret your time here.

Ciutadella de Menorca, Spain -

Bandol, France - Tucked into a sheltered bay around the corner from busy Marseille, Bandol possesses a quiet charm that is rare on the Cote d'Azur. Its beachy side is along the Anse de Renecros.

St. Tropez, France - The fashionable French Riviera resort of St. Tropez enchants visitors from the world over. The beauty was noted by writer Guy de Maupassant at the end of the 19th century and by painter Paul Signac, who shared his knowledge of St. Tropez's inspiring landscapes with his other artist friends, including Matisse. Its real claim to fame came after Brigitte Bardot stared in the film "And God Created Woman" in 1956. The port is named after a Roman soldier from Pisa who was killed after declaring his Christian faith. His well-preserved body floated ashore and many pilgrims came to pay homage to his burial site, which was given the name of St. Tropez.

At Sea - Cruising - Cruising

Trapani, Italy - Bright stone buildings, Phoenician fortifications and centuries of monuments - these are just a few of Trapani's delights. The scythe-shaped town extends out to sea with Mount Erice towering above and the Tower of Ligny, a majestic landmark. Under Arab rule, Trapani was a thriving port for the production of salt, tuna, and coral. The city became famous in the 16th century for the beautiful pieces produced by Trapanese coral artisans. A lovely collection of their work can be seen in the Pepoli Museum.

Mgarr (Victoria), Gozo, Malta - A port not often visited by cruise ships, being more accustomed to welcoming fishing boats and private yachts. Malta's smaller sister-isle has a lot of charm to offer. Villages such as Mgarr all boast tall, elaborately carved churches, the result of a combination of fine-grained, easily carved stone, time, and stonemasons whose skill is matched only by their religious devotion. The city of Victoria was so named to honor the British queen's Diamond jubilee.

Valletta, Malta - Tiny Malta abounds in forts and temples. In Valletta, wander through the ornate Grand Master's Palace of the Knights of St. John. Within the thick walls of Medina, the Silent City (no cars), visit the serene Baroque cathedral.

Giardini Naxos (Taormina), Italy - This harbor on the eastern shore of Sicily near Messina gives us close access to the fabulous Greco-Roman ruins of Taormina, as well as the active volcano Mt. Etna. The temples, streets and large amphitheater of Taormina make it one of Italy's premier ancient sites. Its location overlooking the sea and with the backdrop of snow-capped Etna complete the package and make it among the most famous attractions in the Mediterranean region. Giardini Naxos itself boasts a lovely beach at Lido Europa, and intrepid visitors can climb Mt. Etna to see a volcano close up.

Amalfi, Italy - The Amalfi coast has been called the greatest meeting of land and sea on earth. Situated in the Campania region between Sorrento and Salerno, Amalfi is one of the main towns, the other being Positano, on the world famous Amalfi Drive - known as the most romantic drive in Italy. The road is gouged from the side of rocky cliffs plunging into the sea. Erosion has contorted the rocks into mythological shapes and hollowed out fairy grottoes where the air is turquoise and the water an icy blue. During the Middle Ages, Amalfi was an independent maritime state with a population of 50,000. The ship compass was invented here in 1302. Approximately 10 miles away from Amalfi is the village of Ravello. An enchanting village with wonderful views and quiet lanes, Ravello boasts romantic gardens that showcase medieval ruins, and afford magnificent views of the entire Bay of Salerno.

Civitavecchia (Rome), Italy - Plan your time here carefully, as the Eternal City's sights are endless: the Colosseum, the Forum, the Sistine Chapel, the Vatican and so much more.

Our staff can assist you with all your travel arrangements.

Questions? Call us at 800-422-0711.

We can assist you with all your travel arrangements. We'd be happy to help you plan your flights, hotels or tours before and/or after your cruise conference.


independently of those offered by the cruise line.
©2019 - University at Sea®