University at Sea®
5700 4th Street North
St. Petersburg, FL 33703
E-Mail Us
Office Hours
Monday - Friday
9:00am - 5:00pm EST
Saturday
10:00am - 2:00pm EST

PLEASE NOTE: THIS IS NOT A CURRENTLY ACTIVE PROGRAM.
You may have found this page in error or been referred to this page via an outdated link. If you did come to this page from a link posted on another website, you may wish to alert the person responsible for the link that the program is labeled as inactive on our site. You are also welcome to e-mail us and report this message.
Top Gun Dental Training
Creating clinical excellence
and high performance leadership
in the average dental practice
7-Night Eastern Caribbean & Coco Cay Cruise
Round-trip Miami, Florida
April 29 - May 06, 2023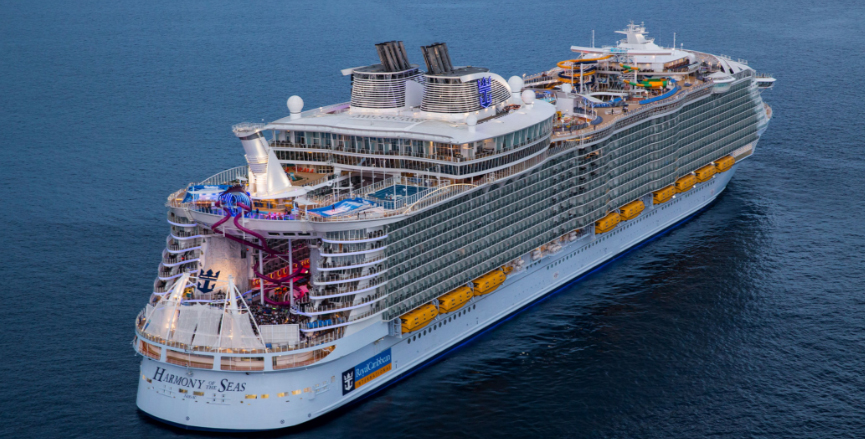 14.0 ADA CERP Credits


Course Fees

$895 for Dentists
$650 for Dental Staff

Target Audience
Dentists, Dental Staff
Program Purpose / Objectives
Each session will be 3.5 hours in length for a total of 14 hours

Session 1: The making of the Top Gun Dentist and Team. In this session I teach how to create and become a "Top Gun" dentist, leader and team player. What will it take to be the best?

This session is designed for the dentist and their team to envision and design what kind of practice they want to be. What is their "Top Gun" definition. What do you feel is missing, what is causing you to miss the target? This involves team exercises to understand the state of the current practice and designs realistic protocols to get the practice to their "Top Gun" status.

Session 2: Clinical excellence of the Top Gun Dentist and team. Making standards and protocols in today's fast paced, technology rich, dental environment. You will leave with Top Gun Systems for Success

This session introduces systems for success that every practice should be using. The systems will be reviewed in detail and team exercises will follow in order to help implement these systems into their offices

Session 3: Language of the Top Gun Team. Technology is great. We will learn how to communicate to those you serve as their Top Gun Dentist. We will also discuss how to communicate as a leader of the Top Gun Dental Team.

The session will introduce new communication protocols and how to communicate best with team members and patients. Team exercises will help introduce these new communication systems and protocols

Session 4: What it takes to put everything together for a highly successful Top Gun mission every day. It's not just about learning, it's about doing and getting it done. Learn the daily simple tasks to achieve the results you want as a Top Gun Team.

This session takes all of what was learned and how to implement into the daily life of the practice. Since change is never easy, implementation is key as well as accountability. The process of introducing these new protocols will be reviewed and how to best implement the systems and protocols.
Conference Sessions generally take place on days at sea (as itinerary allows), giving you plenty of time to enjoy your meals, evenings and ports of call with your companion, family and friends.
IMPORTANT NOTE: All conferees, their families, and guests must book their cruise within the University at Sea® meeting group through University at Sea® at 800-926-3775 or by registering online. This ensures our company can provide conference services and complimentary social amenities to all meeting participants and their guests. Thank you for your cooperation.
Faculty
George N. Strickland, DDS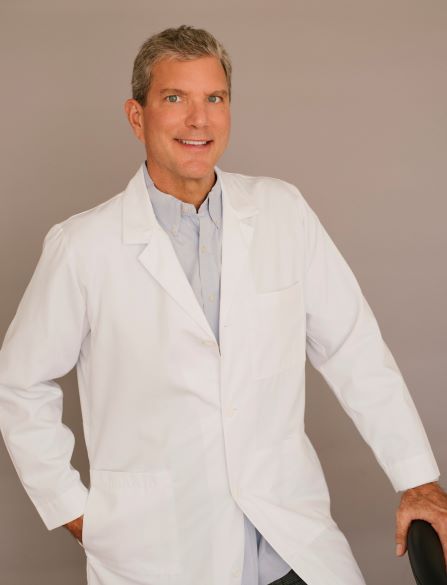 Dr. George Strickland has been in dentistry for over three decades. A graduate of Georgetown University School of Dentistry, Dr Strickland began his career as a leader and innovator in the DSO, group practice setting. While practicing as a fulltime dentist, he perfected his dental techniques along with the skills of a business leader. During his time in corporate dentistry, Dr. Strickland created educational training systems that produced repeatable results. As Chief Clinical officer for 3 major dental groups, his educational style and materials gained the respect of those he taught because they produced results. Dr Strickland is a mentor and coach to multiple practices to maximize their clinical and leadership potential.
Our staff can assist you with all your travel arrangements.
Questions? Call us at 800-422-0711.
We can assist you with all your travel arrangements. We'd be happy to help you plan your flights, hotels or tours before and/or after your cruise conference.

Cruise Itinerary
DATE
PORT OF CALL
ARRIVE
DEPART
Sat Apr 29
Miami, Florida

-
4:30 pm
Sun Apr 30

*

At Sea - Cruising

-
-
Mon May 01

*

At Sea - Cruising

-
-
Tue May 02
Philipsburg, St. Maarten

8:00 am
6:00 pm
Wed May 03
San Juan, Puerto Rico

7:00 am
4:00 pm
Thu May 04

*

At Sea - Cruising

-
-
Fri May 05
Coco Cay, Bahamas

9:00 am
6:00 pm
Sat May 06
Miami, Florida

10:00 am
6:00 pm
*
Tentative course schedule, actual class times may differ.
Ports of Call
Miami, Florida - South Florida's exciting, international city is much more than the gateway to Latin America, it's one of the world's most popular vacation destinations. Before departing from Miami, enjoy a tour that will highlight this "Magic City." Board an airboat and explore the wild Everglades--be ready to see gators. Experience the one-of-a-kind art deco district in South Beach. Discover a cuisine and culture that fits perfectly with your South American adventure.
At Sea - Cruising - Cruising
Philipsburg, St. Maarten - The capital of the Dutch side of St. Maarten is the town of Philipsburg, though St. Maarten is an island with two distinct sides. To the north is the French side, whose capital is Marigot, while Philipsburg sits on the southern part of the island. When exploring on cruises that go to St. Maarten, it's important to visit both sides to understand their customs and heritage.

You'll quickly be charmed by all sides of the island. Of course, this Caribbean island is best known for its beaches, like Maho Beach or Great Bay Beach, one of the area's best snorkeling spots. Sample local seafood or rum during your time in port, which have become symbols of St. Maarten life. There's just enough to fill the day here, especially if you hop between the French and Dutch beaches.
San Juan, Puerto Rico - The vibrant capital of Puerto Rico, San Juan offers something for every traveler — world-famous beaches with crystal clear waters, incredible cuisine, rugged natural beauty and a rich history that goes back 500 years. With its ancient fortresses and colorful colonial-era buildings, San Juan makes it easy to feel as though you've slipped into the past. Life moves at a slower pace along the sunny cobblestone streets of Old San Juan, and salsa beats seem to waft perpetually from open windows. If you're craving a hike, head to El Yunque National Forest. And if you're more in the mood to unwind, set your sights on the beautiful shores of Isla Verde or El Condado. Mealtime is also an adventure, with so many delicious options to try — from mofongo and pastelon to chillo frito and alcapurrias. Pair every bite with a piña colada — Puerto Rico's national drink.
Coco Cay, Bahamas - Located in the middle of the Caribbean's bright blue water lies the secluded island of CocoCay. With its white-sand beaches and spectacular surroundings, CocoCay is a wonderland of adventure. Reserved exclusively for Royal Caribbean guests, this tropical paradise has recently been updated with new aquatic facilities, nature trails and a ton of great places to just sit back, relax and enjoy a tropical drink.
CocoCay Map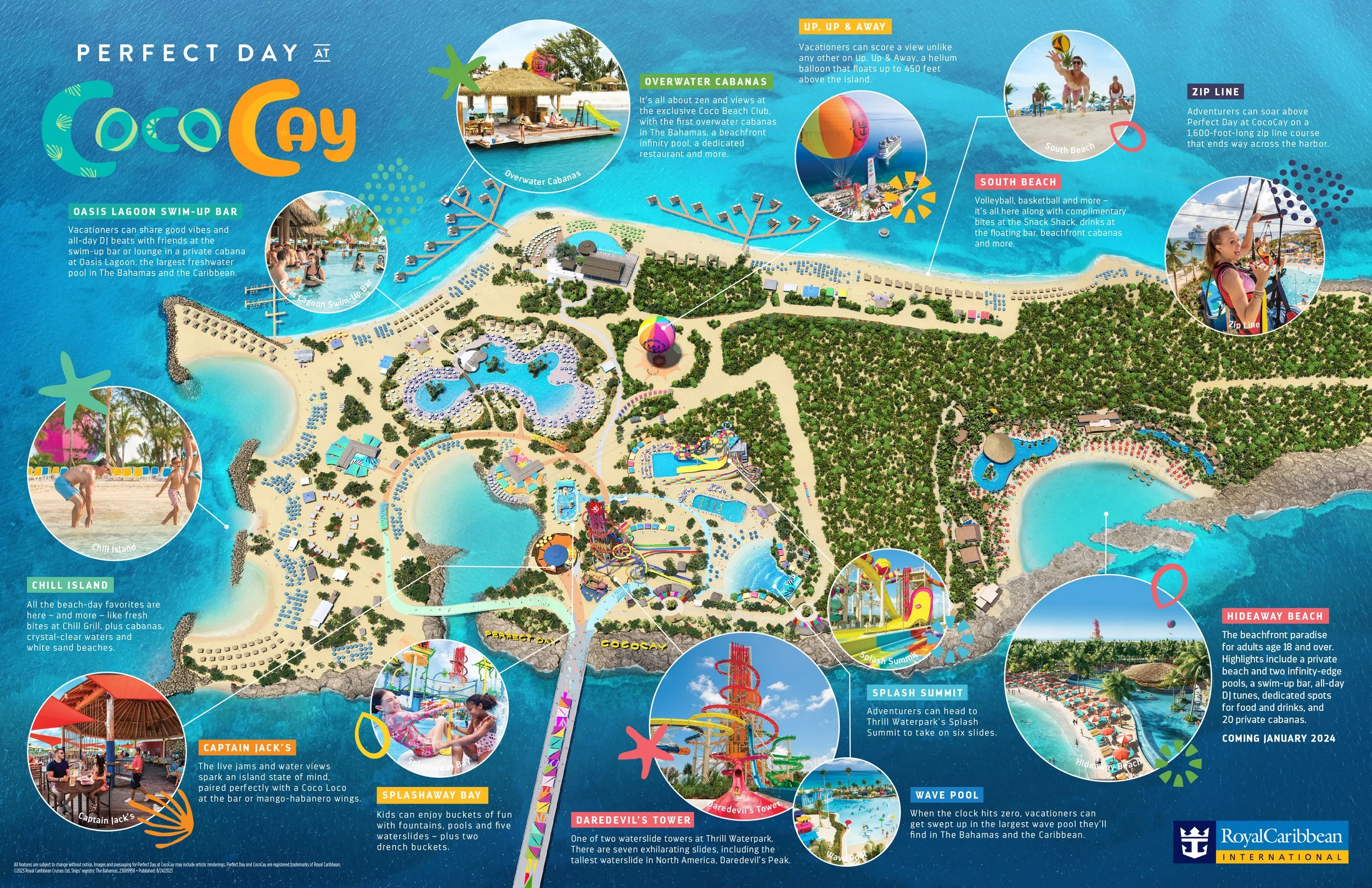 Our staff can assist you with all your travel arrangements.
Questions? Call us at 800-422-0711.
We can assist you with all your travel arrangements. We'd be happy to help you plan your flights, hotels or tours before and/or after your cruise conference.
SHORE EXCURSIONS
Please note that our shore excursions are operated separately and
independently of those offered by the cruise line.
©2019 - University at Sea®