University at Sea®
5700 4th Street North
St. Petersburg, FL 33703
E-Mail Us
Office Hours
Monday - Friday
9:00am - 5:00pm EST
Saturday
10:00am - 2:00pm EST

Pediatric Dentistry:
Bites, Bytes and Bits
7-Night Eastern Caribbean & Coco Cay Cruise
Round-trip Port Canaveral, Florida
August 20 - 27, 2023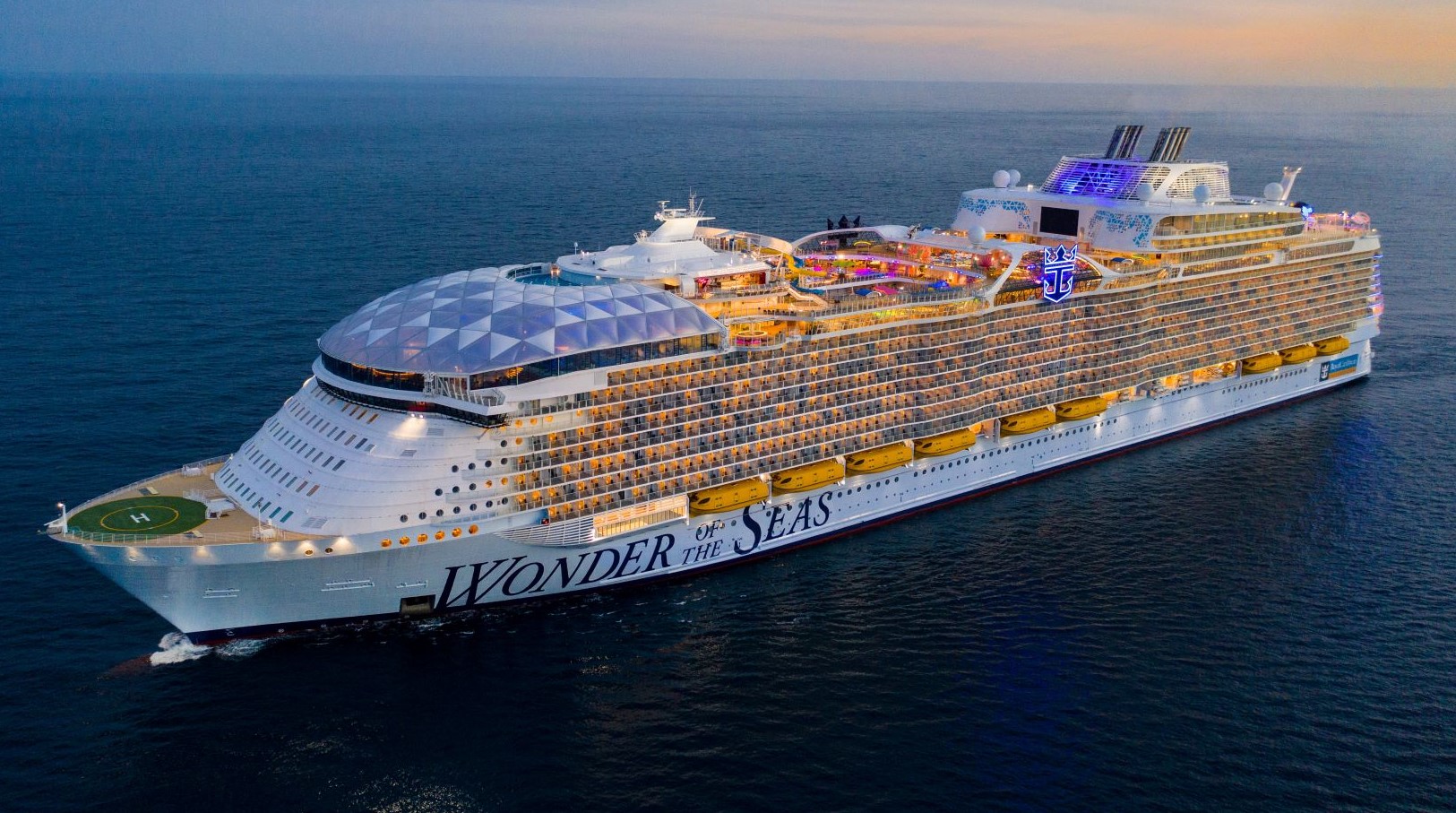 14.0 ADA CERP Credits


Course Fees

$995 for Dentists
$650 for Dental Staff

Target Audience
Dentists, Dental Staff
Program Purpose / Objectives
This program will span a variety of topics, ranging from pediatric dental examination (Bite #1) to issues with parental demands based on their internet "education" (Byte #2) to nutritional guidance for a healthier life (Bite #3). The final section will include a session about no bites, namely managing the behavior in the pediatric dental setting. The specifics on the courses are:
So Little Room, So Much to See (the complete pediatric dental examination):

Every pediatric dental examination is a new patient examination because of the dynamics of growth and development. There is much to see in the mouths of children other than caries and loose teeth. This program includes recognition of anomalies, growth and development, symmetry and balance of the dentition and other components that make examinations on children unique.

Eating as if Your Life Depends on it

Daily food choices create the foundation for your overall health and ultimately the health of your practice. We will cover hidden influences, sugar awareness, and explore the fascinating connections between brain, gut and the path along the way. Let's look at the food we eat (or not) and identify action steps, both large and small, that add up a lifetime of well-being.

Dealing with Dr. Google

With this parent (and patient) demands becoming greater all the time, the focus here will be on how and why this has arisen, grown and become, at times, a headache for practitioners. Specific strategies for dealing with various pediatric dental issues will be included as well as how to deal with negative online reviews.

In Stressful Times is the 5G World Working for You?

The pandemic, staff shortages, debt, fast pace of life, and other factors all add to the accumulated stress dentists are experiencing. With a wonderful career choice like ours, can't we enjoy ourselves more and stress less? Are there solutions to improve our quality of life? We will talk about 5 "G's" that add to stress and 5 "G's" that can reduce them. These simple ideas are easily attainable by anyone motivated enough to de-stress.

Getting Past "Uh-oh," "No" and Helicopters

Behavior management in the pediatric dental setting is key to success in both the technical and the social aspects of dental care for children. This session will include videos to illustrate points about managing oneself, the child and the parents.

Health by the Numbers

Come with your writing device/pen and be willing to examine numerical picture of your health. We will talk numbers beyond height and weight. Is there a way to quantify well-being with numbers? How many vegetables do you really need each day? How do you get enough fiber into your eating? Are you aware of the added sugars you eat? Does it all matter? We will have fun, look at our numbers and strategize next steps. It is important to know where you are in order to move ahead. Shape your trajectory for a life of quality and quantity.
Conference Sessions generally take place on days at sea (as itinerary allows), giving you plenty of time to enjoy your meals, evenings and ports of call with your companion, family and friends.
IMPORTANT NOTE: All conferees, their families, and guests must book their cruise within the University at Sea® meeting group through University at Sea® at 800-926-3775 or by registering online. This ensures our company can provide conference services and complimentary social amenities to all meeting participants and their guests. Thank you for your cooperation.
Faculty
Gregory L. Psaltis, DDS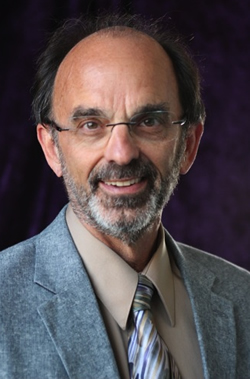 Certified in Pediatric Dentistry
Courtesy Staff at the University of Washington, School of Dentistry

Keynote speaker at AAPD Meeting, 2008
Gordon Christensen Speaker Recognition Award, Chicago Midwinter Meeting, 2014 Dr. Greg Psaltis has been a pediatric dentist for 43 years, most of which have been in private practice in Olympia, Washington. His varied career has included 23 years as a speaker, both nationally and internationally.

He is currently involved with two volunteer clinics in Mexico that he developed. Each provides comprehensive care for the indigent and medically compromised children of the Los Cabos and Zihuatanejo areas. He has published in several dental journals and was given the Gordon Christensen Speaker Award for excellence in professional presentations.
Mary Ellen Psaltis, Bachelor in Philosophy, BPh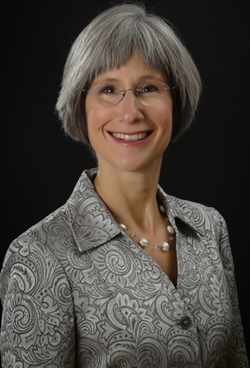 Certified Nutrition & Wellness Consultant
Certified Senior Nutrition Specialist Mary Ellen's professional writing about food and lifestyles has spanned over thirty years. Her interactions with chefs, farmers, and restaurateurs led to greater involvement in nutrition education and teaching.

Mary Ellen speaks nationally on creating optimal nutrition and making thoughtful life choices. Her local classes focus on supporting people along their healthful life journeys. She accompanies Greg on their Mexican mission trips as a dental assistant.
Our staff can assist you with all your travel arrangements.
Questions? Call us at 800-422-0711.
We can assist you with all your travel arrangements. We'd be happy to help you plan your flights, hotels or tours before and/or after your cruise conference.

Cruise Itinerary
DATE
PORT OF CALL
ARRIVE
DEPART
Sun Aug 20
Port Canaveral, Florida

-
4:30 pm
Mon Aug 21
Coco Cay, Bahamas

7:00 am
4:00 pm
Tue Aug 22

*

At Sea - Cruising

-
-
Wed Aug 23
Charlotte Amalie, St. Thomas, U.S.V.I.

1:00 pm
8:00 pm
Thu Aug 24
Philipsburg, St. Maarten

8:00 am
6:00 pm
Fri Aug 25

*

At Sea - Cruising

-
-
Sat Aug 26

*

At Sea - Cruising

-
-
Sun Aug 27
Port Canaveral, Florida

6:00 am
-
*
Tentative course schedule, actual class times may differ.
Ports of Call
Port Canaveral, Florida - As the home of Kennedy Space Center, Cape Canaveral is the launching point for all-out adventure in Central Florida. Its beaches offer a mix of family-friendly shores and secluded swaths of sand. And with Orlando's theme park sprawl only an hour away, you can easily mingle with your favorite characters. Beyond the parks lie equally amusing gems packed with Old Florida character. Kayak past manatees in the Banana River Lagoon and zip line above alligators at Brevard Zoo. Discover notable art museums and Park Avenue's ritzy charm. Orlando cruises give you access to trace the region's roots at the Orange County Regional History Museum.
Coco Cay, Bahamas - Located in the middle of the Caribbean's bright blue water lies the secluded island of CocoCay. With its white-sand beaches and spectacular surroundings, CocoCay is a wonderland of adventure. Reserved exclusively for Royal Caribbean guests, this tropical paradise has recently been updated with new aquatic facilities, nature trails and a ton of great places to just sit back, relax and enjoy a tropical drink.
CocoCay Map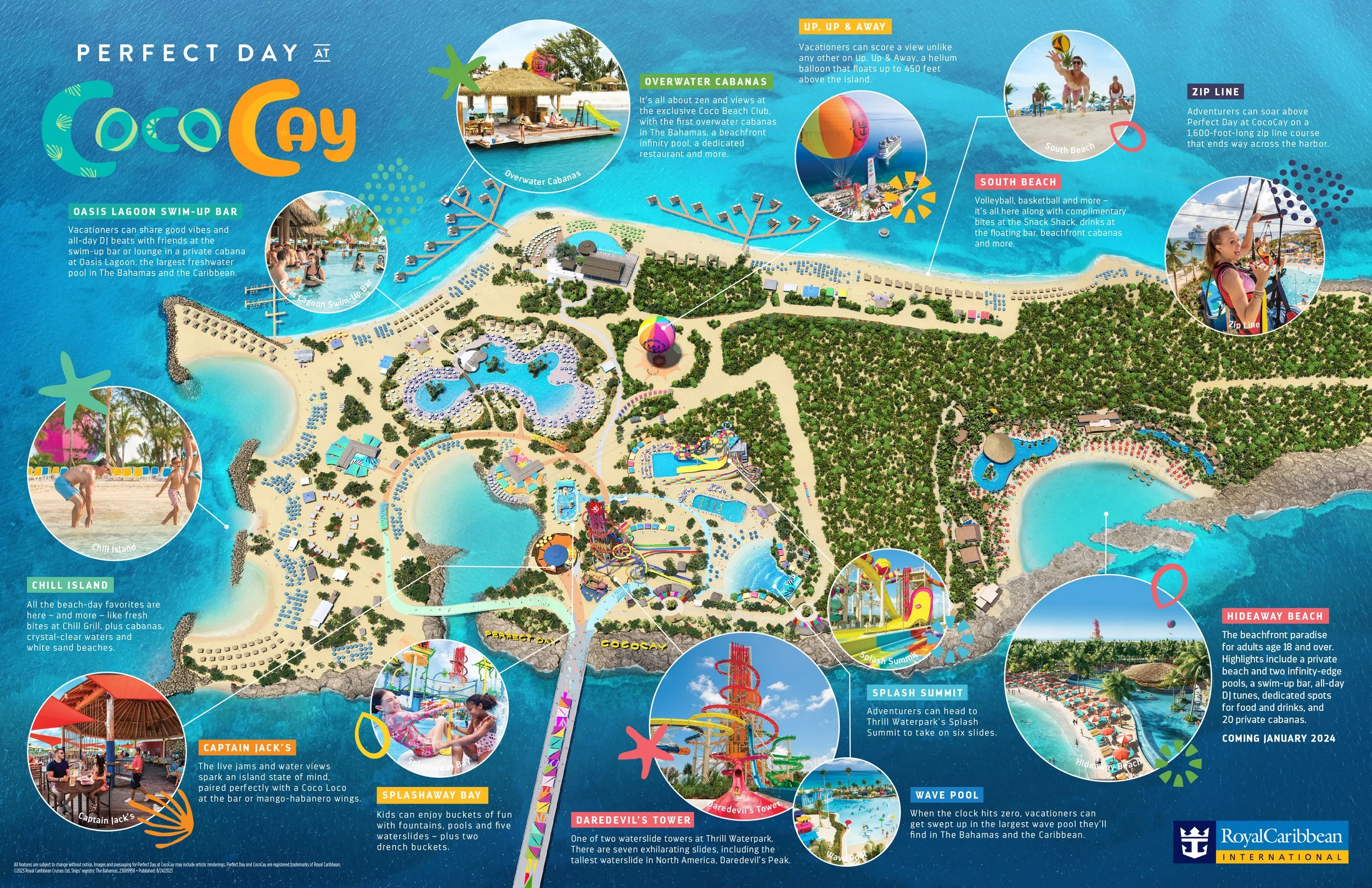 At Sea - Cruising - Cruising
Charlotte Amalie, St. Thomas, U.S.V.I. - Named after a Danish Queen, Charlotte Amalie has one of the most breathtaking deepwater harbors in the world. The key sights of Charlotte Amalie are located within the town centre, making it easy to combine sightseeing with St. Thomas' fantastic shopping opportunities. Eighteenth century architecture provides the perfect backdrop for walking tours and shopping here in the "Duty Free Capital of the World." For a dose of history, visit Emancipation Park, the American-Caribbean History Museum, or Bluebeard the pirate's castle at Magen's Bay. If tropical bliss is what you're after, head to any of Charlotte Amalie's pristine beaches, where the warm water, white sands and palm trees will lull you into deep relaxation!
Philipsburg, St. Maarten - The capital of the Dutch side of St. Maarten is the town of Philipsburg, though St. Maarten is an island with two distinct sides. To the north is the French side, whose capital is Marigot, while Philipsburg sits on the southern part of the island. When exploring on cruises that go to St. Maarten, it's important to visit both sides to understand their customs and heritage.

You'll quickly be charmed by all sides of the island. Of course, this Caribbean island is best known for its beaches, like Maho Beach or Great Bay Beach, one of the area's best snorkeling spots. Sample local seafood or rum during your time in port, which have become symbols of St. Maarten life. There's just enough to fill the day here, especially if you hop between the French and Dutch beaches.
Our staff can assist you with all your travel arrangements.
Questions? Call us at 800-422-0711.
We can assist you with all your travel arrangements. We'd be happy to help you plan your flights, hotels or tours before and/or after your cruise conference.
SHORE EXCURSIONS
Please note that our shore excursions are operated separately and
independently of those offered by the cruise line.
©2019 - University at Sea®