University at Sea®
5700 4th Street North
St. Petersburg, FL 33703
E-Mail Us
Office Hours
Monday - Friday
9:00am - 5:00pm EST
Saturday
10:00am - 2:00pm EST


Primary Care British Isles Cruise
12-Night British Isles Cruise
Round-trip Southampton (London), England
July 07 - 19, 2023
1.5 CEU
CME Training seminars are pre-recorded
15.0 Contact Hours


Course Fees

$299

Target Audience
Physicians, Physician Assistants, Pharmacists, Nurses, Nurse Practitioners
IMPORTANT NOTE: All conferees, their families, and guests must book their cruise within the University at Sea® meeting group through University at Sea® at 800-926-3775 or by registering online. This ensures our company can provide conference services and complimentary social amenities to all meeting participants and their guests. Thank you for your cooperation.
Our staff can assist you with all your travel arrangements.
Questions? Call us at 800-422-0711.
We can assist you with all your travel arrangements. We'd be happy to help you plan your flights, hotels or tours before and/or after your cruise conference.

Cruise Itinerary
DATE
PORT OF CALL
ARRIVE
DEPART
Fri Jul 07
Southampton (London), England

-
5:00 pm
Sat Jul 08
Portland, England

7:00 am
7:00 pm
Sun Jul 09
Cornwall (Falmouth), England

7:00 am
6:00 pm
Mon Jul 10
Cobh (Cork), Ireland

8:00 am
7:00 pm
Tue Jul 11
Dublin (Dun Laoghaire), Ireland

7:00 am
7:00 pm
Wed Jul 12
Belfast, Northern Ireland

8:00 am
9:00 pm
Thu Jul 13
Glasgow (Greenock), Scotland

7:00 am
6:00 pm
Fri Jul 14

*

At Sea - Cruising

-
-
Sat Jul 15
Invergordon, Scotland

7:00 am
6:00 pm
Sun Jul 16
Edinburgh (South Queensferry), Scotland

7:00 am
7:00 pm
Mon Jul 17

*

At Sea - Cruising

-
-
Tue Jul 18
Paris (Le Havre), France

7:00 am
8:00 pm
Wed Jul 19
Southampton (London), England

6:00 am
-
*
Tentative course schedule, actual class times may differ.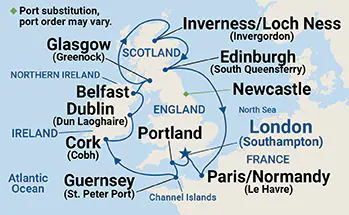 Ports of Call
Southampton (London), England - "Sir, when a man is tired of London, he is tired of life; for there is in London all that life can afford." Samuel Johnson's famous words are as true today as when he spoke them. A visitor to London could fill a month with fascinating people, art, music, late-night dancing, fabulous shopping, an endless array of pubs and first rate meals.

Tourists should take in Victoria Station, the beauty of Westminster Abbey, Parliament, and the pomp of Buckingham Palace. And then, there are the "Elgin Marbles" at the British Museum and the Crown Jewels in the Tower of London. Or visit Sherlock Holmes' HQ on Baker Street (you know the address). After all that, make what might be the most important stop of all: grab a pint at one of the many corner pubs that's been hosting revelers since before America was a nation.

London is most certainly a place to "take in," not just "pass through." You won't be bored.

After your time in London, you'll transfer to Southampton to board your ship and start your cruise conference. Options for doing that from bus transport to the train (which is very near the cruise port in Southampton) to private taxi are all solid choices.
Portland, England - Your visit to Portland and the English countryside of County Dorset will be rich in scenic beauty and centuries-old history. Visit the ancient village of Cerne Abbas and admire its beautiful 14th-century church and 16th-century houses; explore Sherbourne Castle, commissioned by Sir Walter Raleigh in 1594; and marvel at prehistoric Stonehenge, a UNESCO World Heritage Site.
Cornwall (Falmouth), England - England's southwest corner is steeped in legend and history. Tintagel Castle in Cornwall is the traditional birthplace of King Arthur. Falmouth, which boasts a superb deep-water harbour - the third-largest in the world - shares the Cornish coast's colorful history of shipwrecks, smuggling, and privateering. Cornwall is scenic England at its best, with superb seascapes, picturesque harbours, and countryside of green fields and hedgerows, quaint villages and low-slung granite farmhouses.
Cobh (Cork), Ireland - Cobh is just a short train ride to charming Cork, Ireland, whose hilly streets echo with the music of what is renowned to be Ireland's most talkative citizenry. Visit local artisans and witness their skills in the arts of weaving and cutting crystal. The charming English Market is a great place to get a taste of the local flavors (including the chance for an excellent meal at the Farmgate Cafe located within). Also, Cork's lovely art museum has many fine works by lesser known artists from the last few centuries.
Dublin (Dun Laoghaire), Ireland - Dún Laoghaire, with it's splendid harbour and spectacular rolling hills, is only seven miles (12km) south of Dublin, Ireland's capital. In Dublin, you'll wander the streets trod by Joyce, Yeats and Oscar Wilde, drop in at pubs with mahogany bars and stained glass, and visit Trinity College Library, where you can see the amazing "illuminations" in the 9th-century Book of Kells. You can also tour the original Guinness Brewery to sample the freshest possible pint of world's most famous stout. And, of course, there are plenty of shopping opportunities — from a souvenir shillelagh to great vintage shops in the university district to Waterford crystal.
Belfast, Northern Ireland - So much of Ireland's political history is tied up in Belfast that many visitors are surprised to find that it is also a modern city, blending old and new effortlessly as the troubles of its pass fade into history. A day trip away are the Giants' Causeway (a series of stone pillars that extends to Scotland) and the spectacular Antrim coast.
Glasgow (Greenock), Scotland - Scotland's largest city, Glasgow's skyline is a kaleidoscope of architectural gems, encompassing the magnificent 12th century cathedral, the stunning Victorian cityscape and revolutionary Art Nouveau. Against this backdrop, the famed art galleries and museums of Glasgow have ensured that its cultural heritage stands alongside that of other major European cities. See works by some of the worlds greatest artists at Kelvingrove Art Gallery and Museum housing a superb collection of paintings by, among others, Botticelli, Rembrandt, Monet, Van Gogh and Picasso.
At Sea - Cruising - Cruising
Invergordon, Scotland - In 1933, an enterprising editor in Inverness enlivened a slow news week with the story of an odd sighting in Loch Ness. The legend grew overnight - and today individuals still scan the dark waters of the Loch for a sight of Nessie, the Loch Ness Monster. Legend goes back as far as the 6th century and insists that the celebrated Loch Ness Monster inhabits a cave beneath the picturesque ruins of Urquhart Castle. Welcome to Invergordon, your gateway to Loch Ness and that area of the Highlands known as the "Great Glen."
Edinburgh (South Queensferry), Scotland - South Queensferry is the gateway to Edinburgh, the political, commercial and cultural heart of Scotland. Nestled between the Highlands and the Border Hills, Edinburgh is a gracious city noted for its superb skyline, its impressive collection of architecture and its beautiful parks. The streets of the elegant New Town are lined with graceful Georgian buildings, many designed by the great architect Robert Adam. Edinburgh has also exerted a tremendous cultural force on Europe and the English-speaking world. The International Festival has been one of the premier European cultural events for over half a century. Among those who have called the city home are the writers, Robert Burns, James Boswell, and Sir Walter Scott and the philosophers, Adam Smith and David Hume. To stroll the streets of Edinburgh is to experience one of the world's great cities.
Paris (Le Havre), France - Paris is an iconic city — a melange of everything artistic and sublime, with a worldwide reputation for excellence in cuisine, fashion, architecture and the fine arts. After you take the drive in from the port (just over two hours), hit the streets to see the city's monumental landmarks: Pass through the Arc de Triomphe, and stand in the presence of the Eiffel Tower. The beauty here is only matched by the history and culture. Cruise to Paris to feel the cool morning air outside Gothic Notre Dame cathedral, and see works from prehistoric to postmodern at the Louvre. At evening, walk the lamplit avenues as restaurants' wooden tables and rattan chairs spill onto the sidewalks and terraces. Pull up a seat, order a glass of vin rougeand a plate of pate on toast, and dive in.
Our staff can assist you with all your travel arrangements.
Questions? Call us at 800-422-0711.
We can assist you with all your travel arrangements. We'd be happy to help you plan your flights, hotels or tours before and/or after your cruise conference.
SHORE EXCURSIONS
Please note that our shore excursions are operated separately and
independently of those offered by the cruise line.
©2019 - University at Sea®