University at Sea®
5700 4th Street North
St. Petersburg, FL 33703
E-Mail Us
Office Hours
Monday - Friday
9:00am - 5:00pm EST
Saturday
10:00am - 2:00pm EST


2024 Financial ConNEXTion Educational Cruise
7-Night Southern Caribbean Cruise
Round-trip San Juan, Puerto Rico
February 24 - March 02, 2024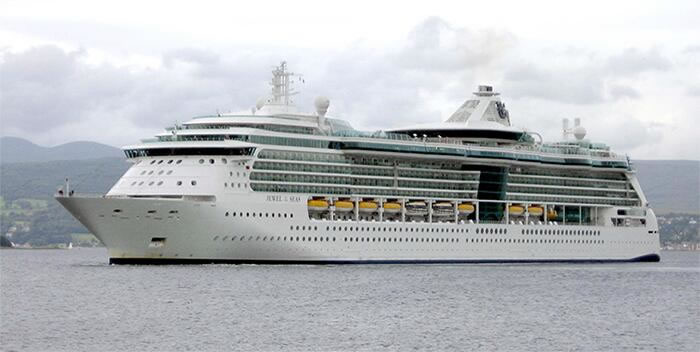 Course Fees

Registration fee: $200
Cruise priced separately

Program Purpose / Objectives
Dive into a unique educational adventure that combines learning, networking, and relaxation - all aboard the Royal Caribbean's Jewel of the Seas. The 2024 Financial ConNEXTion Educational Cruise is an exciting blend of camaraderie, education, and unwinding in a setting like no other.
This journey promises an enriching experience for professionals, university students, and those at the forefront of financial planning programs. Don't miss out on the thrilling Student Career Exploration Competition and the engaging Elevator Speech Contest - all while cruising on the azure Caribbean waters.
The conference lineup includes a diverse range of educational programs combining technical insights with business pragmatics. But it's not all work and no play! Unwind during evening networking dinners, participate in ship and shore group activities, and enjoy the optional cruise-based spouse/guest program. For those who like to plan ahead, some of the educational programs will be delivered via video prior to our departure.
Our ship-delivered educational programs are specially designed to be interactive, and active participation is expected. Students, gear up for the Elevator Speech Contest, and professionals, we'd love for you to share a written biography of your professional journey to foster an immersive networking environment.
Open the doors to opportunities aboard this conference for anyone associated with the various financial service careers or students interested in venturing into the financial services sector
For any questions, please call Terri Getman at (952) 232-8095.
Conference Sessions generally take place on days at sea (as itinerary allows), giving you plenty of time to enjoy your meals, evenings and ports of call with your companion, family and friends.
IMPORTANT NOTE: All conferees, their families, and guests must book their cruise within the University at Sea® meeting group through University at Sea® at 800-926-3775 or by registering online. This ensures our company can provide conference services and complimentary social amenities to all meeting participants and their guests. Thank you for your cooperation.
Faculty
Terri Getman, JD*, CLU, ChFC, RICP, AEP (Distinguished)

*Not in the practice of law
Our staff can assist you with all your travel arrangements.
Questions? Call us at 800-422-0711.
We can assist you with all your travel arrangements. We'd be happy to help you plan your flights, hotels or tours before and/or after your cruise conference.

Cruise Itinerary
DATE
PORT OF CALL
ARRIVE
DEPART
Sat Feb 24
San Juan, Puerto Rico

-
8:00 pm
Sun Feb 25

*

At Sea - Cruising

-
-
Mon Feb 26
Bridgetown, Barbados

7:00 am
6:00 pm
Tue Feb 27
Port of Spain, Trinidad

9:00 am
6:00 pm
Wed Feb 28
Scarborough, Tobago

8:00 am
5:00 pm
Thu Feb 29
Castries, St. Lucia

7:00 am
4:00 pm
Fri Mar 01
Philipsburg, St. Maarten

9:00 am
5:00 pm
Sat Mar 02
San Juan, Puerto Rico

7:00 am
-
*
Tentative course schedule, actual class times may differ.
Ports of Call
San Juan, Puerto Rico - The vibrant capital of Puerto Rico, San Juan offers something for every traveler — world-famous beaches with crystal clear waters, incredible cuisine, rugged natural beauty and a rich history that goes back 500 years. With its ancient fortresses and colorful colonial-era buildings, San Juan makes it easy to feel as though you've slipped into the past. Life moves at a slower pace along the sunny cobblestone streets of Old San Juan, and salsa beats seem to waft perpetually from open windows. If you're craving a hike, head to El Yunque National Forest. And if you're more in the mood to unwind, set your sights on the beautiful shores of Isla Verde or El Condado. Mealtime is also an adventure, with so many delicious options to try — from mofongo and pastelon to chillo frito and alcapurrias. Pair every bite with a piña colada — Puerto Rico's national drink.
At Sea - Cruising - Cruising
Bridgetown, Barbados - An island some say is more British than Britain. Here, cricket is the national sport and afternoon tea goes without saying. But Barbados is true blue Caribbean as well, with classic sand beaches, and wild monkeys in the jungle.
Port of Spain, Trinidad - Nestled along the calm, blue-green waters of the Gulf of Paria, Port of Spain is a popular starting point for those looking to explore the best of Trinidad. The city has its fair share of marvels, too — it's home to a centuries-old fortress, gorgeous botanical gardens, and a good number of picturesque churches. And nearby you'll find plenty of outdoor adventures, from the shaded mangroves and winding silver rivers of the Caroni Wetlands, to the postcard-pretty sweep of shore known as Maracas Beach.
Scarborough, Tobago - Travelers often overlook Tobago for its better-known neighbor, Trinidad — but this tiny island is a true Caribbean gem. Its north coast is full of secluded coves waiting to be explored, and its south coast unlocks incredible snorkel and dive sites, including Buccoo Reef, Flying Reef, and Bon Accord Lagoon. Laid-back Scarborough is the perfect jumping off point to explore the island, but it also offers plenty of ways to wile away the day — like a stroll through its botanical gardens, a visit to Fort King George, or a great meal of curry crab and dumplings at one of its charming open-air cafes.
Castries, St. Lucia - Watch natives fashion boats from gum trees, write postcards in a Creole cafe. Shop for black coral carvings and exquisite silk-screened fabrics.
Philipsburg, St. Maarten - The capital of the Dutch side of St. Maarten is the town of Philipsburg, though St. Maarten is an island with two distinct sides. To the north is the French side, whose capital is Marigot, while Philipsburg sits on the southern part of the island. When exploring on cruises that go to St. Maarten, it's important to visit both sides to understand their customs and heritage.

You'll quickly be charmed by all sides of the island. Of course, this Caribbean island is best known for its beaches, like Maho Beach or Great Bay Beach, one of the area's best snorkeling spots. Sample local seafood or rum during your time in port, which have become symbols of St. Maarten life. There's just enough to fill the day here, especially if you hop between the French and Dutch beaches.
Our staff can assist you with all your travel arrangements.
Questions? Call us at 800-422-0711.
We can assist you with all your travel arrangements. We'd be happy to help you plan your flights, hotels or tours before and/or after your cruise conference.
SHORE EXCURSIONS
Please note that our shore excursions are operated separately and
independently of those offered by the cruise line.
©2019 - University at Sea®