Physical and Mental Health: Navigating the Challenges Across the Spectrum of Life
10-Night Italy & Greek Isles Cruise Conference
Round-trip Rome, (Civitavecchia), Italy
April 27 - May 07, 2018
14 AMA PRA Category 1 Credit(s)™
14 CE Credits
14 Contact Hours
Course Fees:
$895 for Physicians, Attorneys, Psychologists & Doctors of Pharmacy
$695 for Physician Assistants, Nurse Practitioners
$495 Nurses, Residents, Students & Others
BIAS FREE CME - No Commercial Support was provided for this CME activity.
Cruise Pricing
PRICING: Although subject to change at any time, prices quoted are generally available until 90 days prior to sailing when they convert to typically higher, market rates.
Prices below are for the full cruise including meals and evening entertainment
FUEL SUPPLEMENT: Cruiselines may implement a fuel surcharge depending on the price of crude oil.
CANCELLATION PENALTIES: Cancellation policies vary by cruise line, itinerary and length of cruise. When reserving your stateroom, please review the policy applicable to this cruise with our staff.
IMPORTANT NOTE: All conferees, their families, and guests must book their cruise within the CME meeting group through Continuing Education, Inc./University at Sea® at
800-926-3775
or by
registering online
. This ensures our company can provide conference services and
complimentary social amenities
to all meeting participants
and their guests
. Thank you for your cooperation.
Want to Extend Your Cruise Vacation?
Call us at 1-800-926-3775 (US)
We'll be happy to help with all your travel plans.
Ports of Call
Civitavecchia (Rome), Italy (Embark and Debark) - Ah, the Eternal City: Romance, culture, food, history, art and fashion. You'll have to plan your time carefully as the sights of Rome are captivating and seemingly endless: the Colosseum and Forum, Trevi Fountai and the incredible Pantheon. And, of course, the Vatican is there with St. Peter's, it's museums and the Sistine Chapel. And, of course, there are also world class (secular) museums for lovers of every art era and great food is easily found (if you take a brief stroll away from the most heavy tourist areas to find the good stuff). No, you really can't fit it all in one day (or even a week, to be honest) so plan a couple days enjoying the many pleasures Rome has to offer before and/or after your cruise conference.
Athens (Piraeus), Greece - You'll climb the Acropolis, the site of ancient Athens, crowned by the immortal Parthenon. Its chiseled columns were raised by Pericles, Athens's great general. Rest your running shoes in the temple of Nike. A little shopping and souvlaki in the Plaka and you're practically an (ancient) Athenian!
Messina, Sicily - A beautiful sheltered harbor is your gateway to Taormina, a small town at heart despite its major tourist attraction: the sublime Teatro Greco, offering panoramic views of the coastline and snow-capped Mt. Etna.
Mykonos, Greece - For pure Mediterranean pizzazz, Mykonos can't be beat. Designer boutiques and beautifully bronzed Greek gods and goddesses lie on Mykonos' beaches. And Mykonos' famous five white churches look down on it all in oblivious serenity.
Naples, Italy - Capital of Southern Italy, the largest city of Campania, Naples is the third most populated city in Italy (after Rome and Milan), with over a million inhabitants, and is the most important industrial center and trading port for the South. Naples itself can provide a day's fun and entertainment, if its somewhat rundown appearance doesn't dissuade you. Or, join a tour of incredible Pompeii, frozen in time since A.D. 79 when Mt. Vesuvius brought an end to that then-thriving city. Or, take a quick ferry across the bay to the flowery Isle of Capri. Or, (yes, there's more) visit fabulous Sorrento, vacation spot for the well to do.
Rhodes, Greece - The crusader Knights of St. John made Rhodes their headquarters. Explore the massive fortress of the Palace of Grand Masters, and peer into tiny rooms of the Inns which once housed the knights. See where the towering Colossus of Rhodes once stood -- it could be seen for miles at sea!
Santorini, Greece - The view from the top of Santorini is breathtaking. The harbor below is said to be the site of the lost city of Atlantis! Visit the ruins of Akrotiri and discover a recently unearthed Minoan town which was extinguished by a volcanic cataclysm in 1500 B.C.
Valletta, Malta - Tiny Malta abounds in forts and temples. In Valletta, wander through the ornate Grand Master's Palace of the Knights of St. John. Within the thick walls of Medina, the Silent City (no cars), visit the serene Baroque cathedral.
EXCLUSIVE SHORE EXCURSIONS
Please note that our shore excursions are operated separately and
independently of those offered by the cruise line.
Questions? Call us at 800-926-3775.
We can assist you with all your travel arrangements. We'd be happy to help you plan your flights, hotels or tours before and/or after your cruise conference.

Cruise Itinerary
| DATE | PORT OF CALL | ARRIVE | DEPART |
| --- | --- | --- | --- |
| Fri Apr 27 | Rome (Civitavecchia), Italy | - | 5:00 pm |
| Sat Apr 28 | Messina, Sicily, Italy | 10:00 am | 7:00 pm |
| Sun Apr 29 | Valletta, Malta | 8:00 am | 6:00 pm |
| Mon Apr 30 | At Sea - Cruising | - | - |
| Tue May 01 | Mykonos, Greece | 7:00 am | 6:00 pm |
| Wed May 02 | Rhodes, Greece | 7:30 am | 6:00 pm |
| Thu May 03 | Santorini, Greece | 7:00 am | 6:00 pm |
| Fri May 04 | Athens (Piraeus), Greece | 6:00 am | 6:00 pm |
| Sat May 05 | At Sea - Cruising | - | - |
| Sun May 06 | Naples (Pompeii/Salerno/Capri), Italy | 7:00 am | 6:30 pm |
| Mon May 07 | Rome (Civitavecchia), Italy | 5:00 am | - |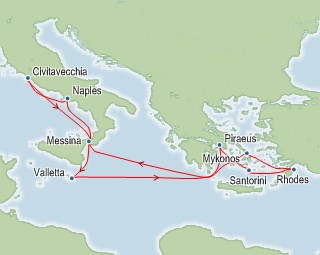 ©2016 - University at Sea®