University at Sea®
5700 4th Street North
St. Petersburg, FL 33703
E-Mail Us
Office Hours
Monday - Friday
9:00am - 5:00pm EST
Saturday
10:00am - 2:00pm EST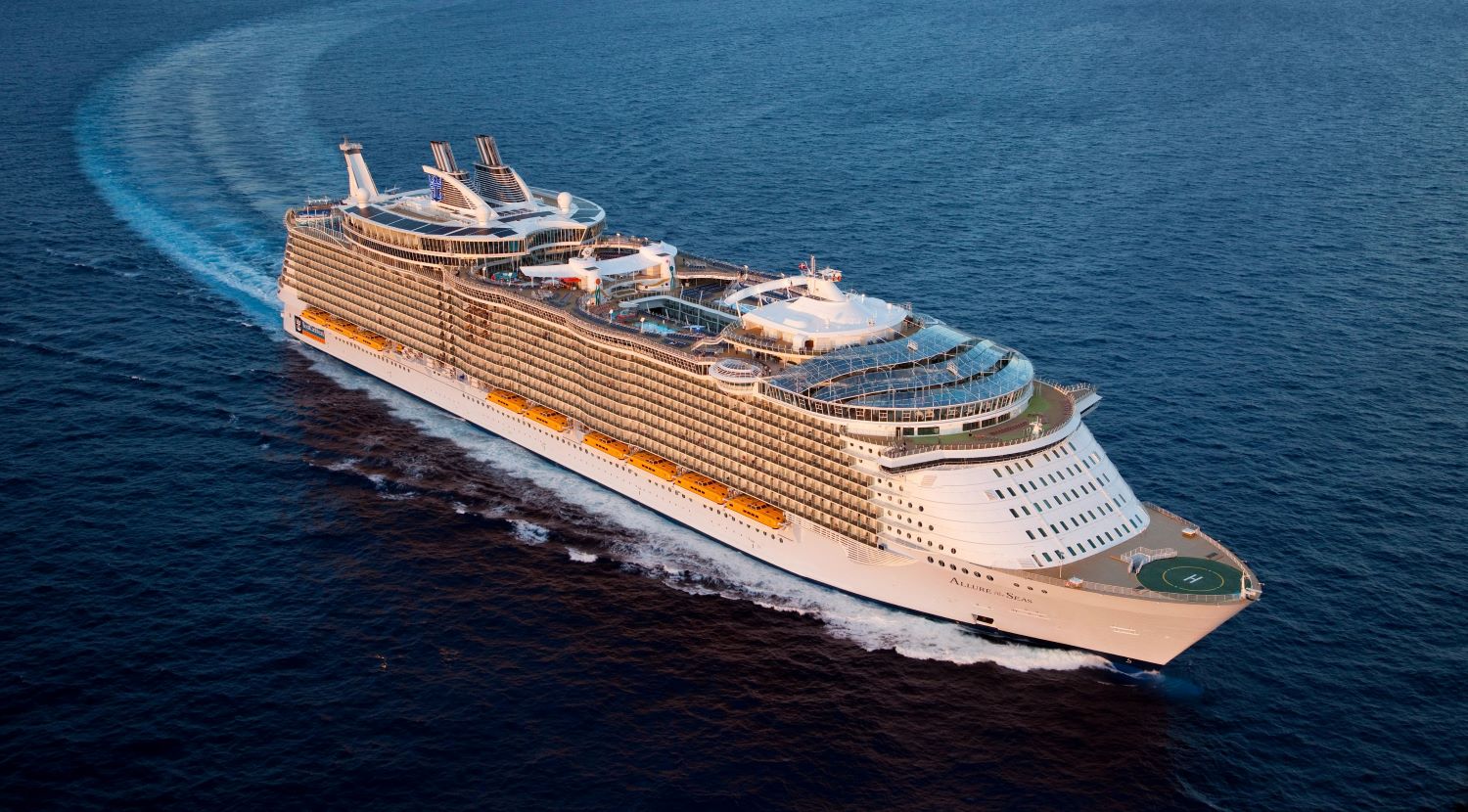 14.0 AMA PRA Category 1 Credits™
14 ACPE Credits
14.0 Contact Hours

Prices below are for the full cruise including meals and evening entertainment
STATEROOM DETAILS
PRICING/PERSON
Suite/Deluxe
Balcony
Outside
Inside
Prices are Per Person, Double Occupancy, Subject to change.
3rd/4th in Stateroom - Call for Pricing
Port Charges, Taxes & Fees $402.22 per person.
Deposit $250.00 per person
Cancellation Policies vary by cruise line, destination and sailing date. Please check with one of our cruise consultant for policies applicable to this cruise.
* COMPETITIVE PRICING PROMISE: While we are not a 'cruise discounter,'
we will match
any price offered
by the cruise line, directly to the general public, at the time of booking
. This offers includes many short-term, promotional rates. All cruise line rates
can be withdrawn
by the cruise line
at any time
and are capacity controlled.
PRICING SUBJECT TO CHANGE: Although subject to change at any time, the listed prices are generally available up to about 90 days before sailing; at that time they convert to typically higher, market rates. Rates offered directly by the cruise line and quoted by our agents are also subject to change at any time, can be withdrawn at any time and are capacity controlled.
CANCELLATION PENALTY POLICY WILL APPLY: Cancellation policies vary by cruise line, itinerary and length of cruise. When reserving your stateroom, please review the policy applicable to this cruise with our staff. We strongly recommend Travel Insurance to cover the unexpected.
FUEL SUPPLEMENT: Cruiselines may implement a fuel surcharge depending on the price of crude oil.
Questions? Call us at 800-422-0711.
We can assist you with all your travel arrangements. We'd be happy to help you plan your flights, hotels or tours before and/or after your cruise conference.

IMPORTANT NOTE: All conferees, their families, and guests must book their cruise within the CME meeting group through Continuing Education, Inc./University at Sea® at
800-926-3775
or by
registering online
. This ensures our company can provide conference services and
complimentary social amenities
to all meeting participants
and their guests
. Thank you for your cooperation.
Want to Extend Your Cruise Vacation?
Call us at 1-800-926-3775 (US)
We'll be happy to help with all your travel plans.
Ports of Call
Barcelona, Spain -
Barcelona is a one of the world's great cities. Stroll down her tree-lined boulevards, the magnificent Passeig de Gràcia or the more touristed Las Ramblas. On the Passeig, shop a serious fashion district while marveling at examples of Mordenisme architecture, seemingly sculpted from the stuff of dreams (Gaudi's masterpiece of a family home, Casa Batlló is well worth a visit). If a trip on the Passeig hasn't convinced you of Gaudi's genius, a visit to La Sagrada Familia Cathedral will do the trick; this fantastic, soaring marvel will live on in your memory long after you've returned.
Not far from the Passeig and just north of Las Ramblas, the Gothic Quarter (the Barri Gotic) provides an abundance of shopping opportunities for all tastes, and a bit of European history to boot - check out the tranquil Cathedral of Barcelona. To see a bit of local life a visit to a food market is a quick, fun detour: try Santa Caterina near the Cathedral or Mercado de La Boqueria, right off of Las Ramblas.
Barcelona's food is also a highlight: stop into a tapas bar and try a variety of delicacies. "Standard" restaurants of every style are available, too. And, there's music, too! Visit an underground jazz club or the magnificent Palau de la Música Catalana; or stop by the Palau Dalmases for a stunning, flamenco performance (it's near the Picasso museum). Did we mention art? One of the largest collections of Picasso's art is found at the Museau Picasso, and a great collection of contemporary, figurative (i.e not abstract) painting and sculpture is housed at the European Museum of Modern Art just around the corner.
It's probably clear by now that you really can't get it all done in a day (even if all means "just the must-sees"). So, stay for a day or three in the Gothic Quarter or near Plaça de Catalunya and really get a feel for what makes Barcelona such a wonderful place. Partly it's the result of the "accidents" of its history and present: as the regional capital of Spain's prosperous Catalunya region, Barcelona has a "flavor" that is a bit of a mix between Spanish and French (it's located quite close to the French border). Yes, you can practice your Spanish here - it attracts Spaniards from throughout the country - but you'll also see and hear Catalan with it's own charm. You won't regret you time here.
Palma de Mallorca, Balearic Islands, Spain - Floating gemlike off Spain's Mediterranean Riviera, Palma offers pearls, pottery and perfectly sublime sandy beaches. The historic district of the city is a great stop for an inexpensive good meal, a visit to a wonderous cathedral (for those seeking peace, consider visiting the quiet of the Saint Francis cathedral rather than its more touristed big brother. Shopping abounds in this european vacation spot as well as a very beautiful, small modern art museum with free entrance. Or take a day excursion to visit charming and quiet Valldemosa, where George Sand and Frederic Chopin spent a romantic winter in 1838.
Marseille, France - Marseille offers an unexpected view of a mosaic of buildings and National Heritage Sites from the terraces of Notre-Dame de la Garde Basilica that towers above and watches over the city.

Alongside the port the towers of Saint Victor Abbey house crypts that already existed when Christianity was introduced into Provence. The columns of the Palais de la Bourse, the noble facades of the Prefecture and the fountains of the Palais Longchamp are part of the triumphant architecture from the 19th Century that is scattered throughout the city and that gave Marseille renewed splendour.

In the old quarter the houses are built on the sunny slopes ; the clock in the Accoules Bell tower, which was the old Sauveterre tower, still marks the hours of life around the Town Hall, while beyond the dome of the Vieille Charite hospice, Pierre Puget's masterpiece, stands out against the sky. The small streets of the Panier quarter lie a little further on.
Florence (La Spezia), Italy - In Florence view the timeless treasures: the lofty Duomo, Giotto's bell tower, Michelangelo's David, the Uffizi Gallery, Ponte Vecchio over the Arno. In Pisa, see the famous Tower, still standing, if crookedly, after 650 years.
Civitavecchia (Rome), Italy - Plan your time here carefully, as the Eternal City's sights are endless: the Colosseum, the Forum, the Sistine Chapel, the Vatican and so much more.
Naples, Italy - Capital of Southern Italy, the largest city of Campania, Naples is the third most populated city in Italy (after Rome and Milan), with over a million inhabitants, and is the most important industrial center and trading port for the South. Naples itself can provide a day's fun and entertainment, if its somewhat rundown appearance doesn't dissuade you. Or, join a tour of incredible Pompeii, frozen in time since A.D. 79 when Mt. Vesuvius brought an end to that then-thriving city. Or, take a quick ferry across the bay to the flowery Isle of Capri. Or, (yes, there's more) visit fabulous Sorrento, vacation spot for the well to do.
At Sea - Cruising - Cruising
Our staff can assist you with all your travel arrangements.
Questions? Call us at 800-422-0711.
We can assist you with all your travel arrangements. We'd be happy to help you plan your flights, hotels or tours before and/or after your cruise conference.
EXCLUSIVE SHORE EXCURSIONS
Please note that our shore excursions are operated separately and
independently of those offered by the cruise line.
Questions? Call us at 800-926-3775.
We can assist you with all your travel arrangements. We'd be happy to help you plan your flights, hotels or tours before and/or after your cruise conference.

Cruise Itinerary
DATE
PORT OF CALL
ARRIVE
DEPART
Sun Jun 26
Barcelona, Spain

-
6:00 pm
Mon Jun 27
Palma de Mallorca, Balearic Islands, Spain
Lectures: 3:30pm - 6:30pm
8:00 am
4:00 pm
Tue Jun 28
Marseille, France
Lectures: 8:00am - 9:00am
9:00 am
6:00 pm
Wed Jun 29
Florence (La Spezia), Italy

8:30 am
8:30 pm
Thu Jun 30
Civitavecchia (Rome), Italy

7:00 am
8:00 pm
Fri Jul 01
Naples, Italy

7:00 am
8:00 pm
Sat Jul 02

*

At Sea - Cruising
Lectures: 8:00am - 12 Noon, 1:00pm - 5:00pm
-
-
Sun Jul 03
Barcelona, Spain

5:00 am
-
*
Tentative course schedule, actual class times may differ.
©2021 - University at Sea®