University at Sea®
5700 4th Street North
St. Petersburg, FL 33703
E-Mail Us
Office Hours
Monday - Friday
9:00am - 5:00pm EST
Saturday
10:00am - 2:00pm EST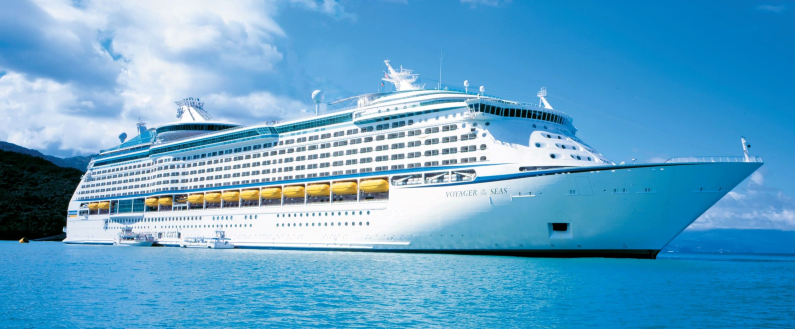 16.0 AMA PRA Category 1 Credits™
16 ACPE Credits
16.0 Contact Hours

Prices below are for the full cruise including meals and evening entertainment
STATEROOM DETAILS
PRICING/PERSON
Suite/Deluxe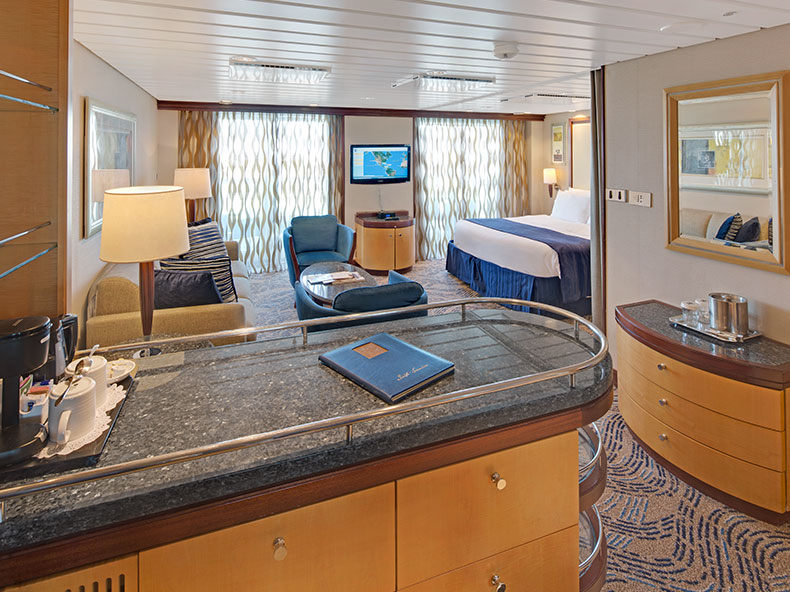 Suite/Deluxe
Grand Suite - 1 Bedroom (GS)
Enjoy a comfortable suite with a great view
Two twin beds that convert to a Royal King bed; One double sofa bed
Exclusive For Suites
Priority check-in and departure lounge
Concierge Club service on select ships
VIP seating at the pool deck and theater
Priority tender tickets
Private seating for breakfast and lunch in speciality restaurants
Complimentary luggage valet service
Luxury spa bathrobes
Complimentary pressing service on formal night
Stateroom: 381 sq. ft.
Balcony: 95 sq. ft.
Balcony
Outside
Inside
Prices are Per Person, Double Occupancy, Subject to change.
3rd/4th in Stateroom - Call for Pricing
Port Charges, Taxes & Fees $515.21 per person.
Deposit $450.00 per person
Cancellation Policies vary by cruise line, destination and sailing date. Please check with one of our cruise consultant for policies applicable to this cruise.
* COMPETITIVE PRICING PROMISE: While we are not a 'cruise discounter,'
we will match
any price offered
by the cruise line, directly to the general public, at the time of booking
. This offers includes many short-term, promotional rates. All cruise line rates
can be withdrawn
by the cruise line
at any time
and are capacity controlled.
PRICING SUBJECT TO CHANGE: Although subject to change at any time, the listed prices are generally available up to about 90 days before sailing; at that time they convert to typically higher, market rates. Rates offered directly by the cruise line and quoted by our agents are also subject to change at any time, can be withdrawn at any time and are capacity controlled.
CANCELLATION PENALTY POLICY WILL APPLY: Cancellation policies vary by cruise line, itinerary and length of cruise. When reserving your stateroom, please review the policy applicable to this cruise with our staff. We strongly recommend Travel Insurance to cover the unexpected.
FUEL SUPPLEMENT: Cruiselines may implement a fuel surcharge depending on the price of crude oil.
Questions? Call us at 800-422-0711.
We can assist you with all your travel arrangements. We'd be happy to help you plan your flights, hotels or tours before and/or after your cruise conference.

IMPORTANT NOTE: All conferees, their families, and guests must book their cruise within the CME meeting group through Continuing Education, Inc./University at Sea® at
800-926-3775
or by
registering online
. This ensures our company can provide conference services and
complimentary social amenities
to all meeting participants
and their guests
. Thank you for your cooperation.
Want to Extend Your Cruise Vacation?
Call us at 1-800-926-3775 (US)
We'll be happy to help with all your travel plans.
Ports of Call
Copenhagen, Denmark - Denmark's capital is sophisticated, saucy and friendly. Stroll the fairytale world of Tivoli Gardens to take in bright lights, castles that out-Disney Disney. See the city's 200- year-old Royal Palace, the lively Old Harbor - Hans Christian Andersen lived here. Salute the Little Mermaid, symbol of this light-hearted city.
At Sea - Cruising - Cruising
Stockholm, Sweden - There's just something about Stockholm, Sweden's capital and beating heart. It's an intellectual city like Berlin and brimming with cultural artifacts like Rome. On a Scandinavia cruise, Stockholm is a bit of a wildcard. It's a leader in the design space that put Scandinavian minimalism on the map. The city is home to an array of museums, historic buildings, and genuinely delicious eats scattered across the 14 connected islands that comprise it. Stockholm is also a pioneer in the foodie scene, where expensive delicacies and down-to-earth street foods collide.

For a city that has been around since the 13th century, Stockholm balances hundreds of years of history with a sleek, modern energy. On your Stockholm cruise, don't miss a walking tour through the cobblestoned streets of Gamla Stan, the Old Town. Spend an afternoon at the Nationalmuseum or the Vasa Museum, and you'll leave with more knowledge about Vikings and Swedish art than you ever thought possible. Because Stockholm is a set of islands connected by bridges, there's often a light breeze and plenty of opportunities for swimming, kayaking, and water sports during the summer months. Stockholm is the perfect introduction to the finer things in life in Scandinavia.
Tallinn, Estonia - Tallinn offers the perfect introduction to Estonia. After decades of occupation by the Soviet Union in the late 20th century, Tallinn is a little like a teenager in rebellion. The thriving nightlife and dance hall scene breathe life into the city, while colorful new districts like Creative City give residents and visitors alike a contemporary perspective of Tallinn. The UNESCO World Heritage Site of Old Town is a visitor favorite, with its quaintly cobblestoned streets teeming with history.

Tallinn is a laidback city with an adventurous heart. You'll be surprised by the versatile, chameleon nature of the city, whether you're strolling the grounds at Kadriorg Park or capturing that ideal Instagrammable shot from the lookout point at Kohtuotsa. Preserved towers and baroque churches offer a visual mix of cultures and aesthetics. Animal lovers will find plenty to see at the Tallinn Zoo, and art enthusiasts will enjoy an afternoon at the Kumu Art Museum.
Riga, Latvia - Latvia's historical capital is an architecture buff's dream come true. The Gothic structures in the Old Town and the Art Nouveau buildings scattered around the city meld together to create a modern-day fairy tale. Wander the narrow cobblestone streets, and step back into the 14th century. Stroll into the bustling Riga Central Market and sample the bright, colorful produce and local products like hemp butter and amber jewelry. Or wander through the street stalls to taste some traditional Latvian cuisine — fried lampreys, a prehistoric jawless fish that's flavor is less scary than it looks. Cruise to Riga and don't miss the city's iconic site, the House of the Blackheads, the former home of a merchant's guild and expression of Riga's medieval roots.
Visby, Sweden - A small town on the island of Gotland in the Baltic Sea, Visby was a popular trading spot during the Viking Age. Today, it's Sweden's sunniest vacation destination and a UNESCO World Heritage site. Explore the 3.5 km Ringmuren (Ring Wall), built in the 13th Century, and see its 50 towers and surrounding moats. Snap shots of the idyllic red rose-covered cottages, the ruined Gothic churches and the 13th-century Saint Maria Cathedral. If would like to know more about the island's history, don't miss the excellent Gotland Museum. Cruise to Visby and head 20 kilometers south to the Tofta Viking Village, a Viking-era settlement reconstructed around authentic ancient monuments.
Berlin (Warnemunde), Germany - The coastal resort town of Warnemunde might not be very well known beyond the borders of Germany, but its charm and gentle spirit lure more and more people to this hidden gem. Many people stop in Warnemunde on a cruise to Berlin and take a day trip to Germany's biggest city, but taking it easy in Warnemunde also has its benefits.

On a Scandinavian cruise, a stop in Warnemunde offers a picturesque alternative to the busy city vibes of the capital. Here, you'll see the laidback side of the German countryside, whether you're lounging on Warnemunde Beach or sailing the Baltic Sea. Warnemunde is rapidly growing as a foodie destination because of the sheer amount of travelers passing through. Don't miss a chance to try the region's famous smoked fish. Sailing and regatta are cultural touchstones that bring resort-goers back to Warnemunde every year.
Aarhus, Denmark - Just about everything you'll want to see and do is within easy walking distance. The second oldest city in Denmak, Aarhus has the youngest population in the country. Here you'll find charming cafes, chic shops and great shopping.
Our staff can assist you with all your travel arrangements.
Questions? Call us at 800-422-0711.
We can assist you with all your travel arrangements. We'd be happy to help you plan your flights, hotels or tours before and/or after your cruise conference.
EXCLUSIVE SHORE EXCURSIONS
Please note that our shore excursions are operated separately and
independently of those offered by the cruise line.
Questions? Call us at 800-926-3775.
We can assist you with all your travel arrangements. We'd be happy to help you plan your flights, hotels or tours before and/or after your cruise conference.

Cruise Itinerary
DATE
PORT OF CALL
ARRIVE
DEPART
Sun Jun 05
Copenhagen, Denmark

-
4:30 pm
Mon Jun 06

*

At Sea - Cruising

-
-
Tue Jun 07
Stockholm, Sweden

9:00 am
5:00 pm
Wed Jun 08
Tallinn, Estonia

10:00 am
6:00 pm
Thu Jun 09
Riga, Latvia

1:00 pm
-
Fri Jun 10
Riga, Latvia

-
6:00 pm
Sat Jun 11
Visby, Sweden

8:00 am
7:00 pm
Sun Jun 12

*

At Sea - Cruising

-
-
Mon Jun 13
Berlin (Warnemunde), Germany

7:00 am
9:00 pm
Tue Jun 14
Aarhus, Denmark

9:00 am
7:00 pm
Wed Jun 15
Copenhagen, Denmark

5:00 am
-
*
Tentative course schedule, actual class times may differ.
©2021 - University at Sea®