University at Sea®
5700 4th Street North
St. Petersburg, FL 33703
E-Mail Us
Office Hours
Monday - Friday
9:00am - 5:00pm EST
Saturday
10:00am - 2:00pm EST

Co-Provided with Renaissance School of Medicine, SUNY at Stony Brook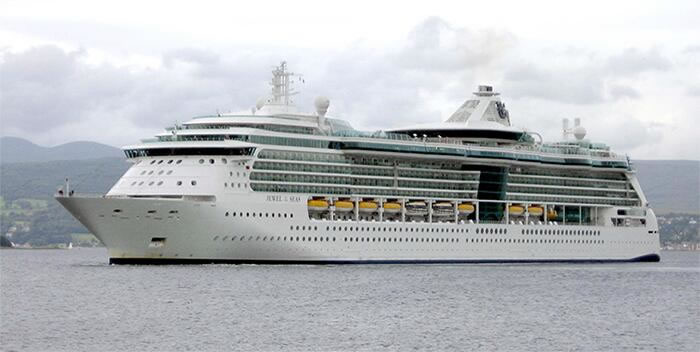 12.0 AMA PRA Category 1 Credits™
12.0 Contact Hours

Prices below are for the full cruise including meals and evening entertainment
STATEROOM DETAILS
PRICING/PERSON
Suite/Deluxe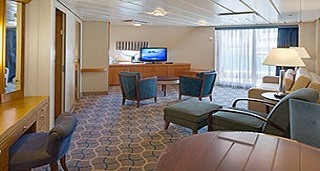 Suite/Deluxe
Owner's Suite - 2 Bedroom (OT)
All staterooms and suites come complete with private bathroom, vanity area, hair-dryer, closed-circuit TV, radio and phone.
These large suites offer two bedrooms, two bathrooms and a living area with a sofa bed.
Two sets of two twin beds that convert to a Royal King bed
One double sofa bed
Two Pullman beds
Stateroom: 584 sq. ft.
Balcony: 191 sq. ft.
Balcony
Outside
Inside
Prices are Per Person, Double Occupancy, Subject to change.
3rd/4th in Stateroom - Call for Pricing
Port Charges, Taxes & Fees $330.99 per person.
Deposit $250.00 per person
Cancellation Policies vary by cruise line, destination and sailing date. Please check with one of our cruise consultant for policies applicable to this cruise.
* COMPETITIVE PRICING PROMISE: While we are not a 'cruise discounter,'
we will match
any price offered
by the cruise line, directly to the general public, at the time of booking
. This offers includes many short-term, promotional rates. All cruise line rates
can be withdrawn
by the cruise line
at any time
and are capacity controlled.
PRICING SUBJECT TO CHANGE: Although subject to change at any time, the listed prices are generally available up to about 90 days before sailing; at that time they convert to typically higher, market rates. Rates offered directly by the cruise line and quoted by our agents are also subject to change at any time, can be withdrawn at any time and are capacity controlled.
CANCELLATION PENALTY POLICY WILL APPLY: Cancellation policies vary by cruise line, itinerary and length of cruise. When reserving your stateroom, please review the policy applicable to this cruise with our staff. We strongly recommend Travel Insurance to cover the unexpected.
FUEL SUPPLEMENT: Cruiselines may implement a fuel surcharge depending on the price of crude oil.
Questions? Call us at 800-422-0711.
We can assist you with all your travel arrangements. We'd be happy to help you plan your flights, hotels or tours before and/or after your cruise conference.

IMPORTANT NOTE: All conferees, their families, and guests must book their cruise within the CME meeting group through Continuing Education, Inc./University at Sea® at
800-926-3775
or by
registering online
. This ensures our company can provide conference services and
complimentary social amenities
to all meeting participants
and their guests
. Thank you for your cooperation.
Want to Extend Your Cruise Vacation?
Call us at 1-800-926-3775 (US)
We'll be happy to help with all your travel plans.
Ports of Call
Athens (Piraeus), Greece - As the capital of Greece and one of Europe's most bustling cities, Athens is powered by 5,000 years of history. At night, the city of Athens glows from afar, light reflecting off the ancient ruins. Today travelers flock from around the world to experience its history while on cruises from Athens. After all, the art, theatre, architecture, and philosophy of Athens had ripple effects through the fabric of entire civilizations.
Santorini, Greece - Here on the island of Santorini, you'll find a classic Greek seascape‐whitewashed houses accented by sea-blue roofs. This is a treasure trove for both professional and amateur archeology buffs, with sites that include tombs that date back to the 9th century and the sanctuary of Apollo.
Olympia (Katakolon), Greece - Experience ancient history and modern charm in Katakolon, a vibrant cruise port on the Greek coast. From here, you can catch a glimpse of Olympia, the birthplace of the original Olympic games and a shrine to the ancient Greek gods. Cruise to Greece and walk through the Olympia complex to get a historical tour of architectural styles, from the classical ruins to the red-tiled roofs of the traditional homes. Then, stroll through the Katakolon's lively center to discover unique local galleries and shops, and grab a seat at an oceanfront taverna with a glass of white wine and a dish of locally caught calamari.
Siracusa, Sicily, Italy - As your ship pulls into the harbor of Siracusa, it might be tempting to assume this Sicilian port is just another Italian city, but you would be mistaken. Historical icons, like the pre-Roman Empire Greek Theatre, to the piercingly blue, clear waters lapping at the shores of Ortygia island, make Siracusa stand apart from other places to vacation in Italy. A shopping trip through the Old Street Market or a fresh seafood meal along the water further cements the truth: Siracusa is a place of legends to visit with your cruise.
Salerno, Italy (Amalfi Coast) - Framed by Mount Vesuvius along a dramatic skyline, the 2,800 year-old port city of Naples is chock full of historical sites, churches, and museums that make it an incredible place for you to explore. And in the region where pizza was first invented, you know the food is going to be incredible. Just 35 miles down the coast, Salerno offers you a rich history but also boasts a marvelous collection of parks, natural wonders, and unique vantage points to take in the beauty of the Tyrrhenian Sea. Two cities. One incredible stretch of Italian coastline.
Ajaccio, Corsica - Ajaccio's monuments and squares celebrate Napoleon Bonaparte, its most famous native son. The elegant city delights with its mix of Italianate charm, Gallic style and Corsican culture against a stunning backdrop of rugged mountains.
Villefranche (Nice), France - Villefranche is your gateway to the one-of-a-kind French Riviera, home to Monte Carlo, Cannes and Nice. Shaded by jagged mountains touching deep blue shores, Villefranche offers sunny beaches, sophisticated resort cities, quaint red-roofed villages and spectacular views.
Provence (Toulon), France - Situated on the French Riviera, Toulon is more about small-town charm and natural beauty than glitz and glamor. As you pull into the city's huge natural harbor, you'll see towering Mont Faron — after you dock, take the 6-minute cable car ride to the summit, where you'll be greeted to sweeping views of the Mediterranean and the city below. Cruise to Provence to stroll down the Cours Lafayette and take in the smells of oregano, thyme and freshly baked pastries from the local street vendors. Then, explore the city's naval heritage — it's been the French Navy's base for over 500 years — at the Musee de la Marine, or take a boat tour of the Rade de Toulon, the city's military harbor.
Barcelona, Spain -
Barcelona is a one of the world's great cities. Stroll down her tree-lined boulevards, the magnificent Passeig de Gràcia or the more touristed Las Ramblas. On the Passeig, shop a serious fashion district while marveling at examples of Mordenisme architecture, seemingly sculpted from the stuff of dreams (Gaudi's masterpiece of a family home, Casa Batlló is well worth a visit). If a trip on the Passeig hasn't convinced you of Gaudi's genius, a visit to La Sagrada Familia Cathedral will do the trick; this fantastic, soaring marvel will live on in your memory long after you've returned.
Not far from the Passeig and just north of Las Ramblas, the Gothic Quarter (the Barri Gotic) provides an abundance of shopping opportunities for all tastes, and a bit of European history to boot - check out the tranquil Cathedral of Barcelona. To see a bit of local life a visit to a food market is a quick, fun detour: try Santa Caterina near the Cathedral or Mercado de La Boqueria, right off of Las Ramblas.
Barcelona's food is also a highlight: stop into a tapas bar and try a variety of delicacies. "Standard" restaurants of every style are available, too. And, there's music, too! Visit an underground jazz club or the magnificent Palau de la Música Catalana; or stop by the Palau Dalmases for a stunning, flamenco performance (it's near the Picasso museum). Did we mention art? One of the largest collections of Picasso's art is found at the Museau Picasso, and a great collection of contemporary, figurative (i.e not abstract) painting and sculpture is housed at the European Museum of Modern Art just around the corner.
It's probably clear by now that you really can't get it all done in a day (even if all means "just the must-sees"). So, stay for a day or three in the Gothic Quarter or near Plaça de Catalunya and really get a feel for what makes Barcelona such a wonderful place. Partly it's the result of the "accidents" of its history and present: as the regional capital of Spain's prosperous Catalunya region, Barcelona has a "flavor" that is a bit of a mix between Spanish and French (it's located quite close to the French border). Yes, you can practice your Spanish here - it attracts Spaniards from throughout the country - but you'll also see and hear Catalan with it's own charm. You won't regret your time here.
Our staff can assist you with all your travel arrangements.
Questions? Call us at 800-422-0711.
We can assist you with all your travel arrangements. We'd be happy to help you plan your flights, hotels or tours before and/or after your cruise conference.
EXCLUSIVE SHORE EXCURSIONS
Please note that our shore excursions are operated separately and
independently of those offered by the cruise line.
Questions? Call us at 800-926-3775.
We can assist you with all your travel arrangements. We'd be happy to help you plan your flights, hotels or tours before and/or after your cruise conference.

Cruise Itinerary
DATE
PORT OF CALL
ARRIVE
DEPART
Mon Oct 17
Athens (Piraeus), Greece

-
5:00 pm
Tue Oct 18
Santorini, Greece
Educational Sessions: 4:30pm - 6:30pm
8:00 am
5:00 pm
Wed Oct 19
Olympia (Katakolon), Greece
Educational Sessions: 4:30pm - 6:30pm
8:00 am
5:00 pm
Thu Oct 20
Siracusa, Sicily, Italy
Educational Sessions: 7:00am - 9:00am
8:00 am
5:00 pm
Fri Oct 21
Salerno, Italy (Amalfi Coast)

7:00 am
5:00 pm
Sat Oct 22
Ajaccio, Corsica
Educational Sessions: 7:00am - 11:00am
11:00 am
7:00 pm
Sun Oct 23
Villefranche (Nice), France

7:00 am
6:00 pm
Mon Oct 24
Provence (Toulon), France

7:00 am
4:00 pm
Tue Oct 25
Barcelona, Spain

6:00 am
-
*
Tentative course schedule, actual class times may differ.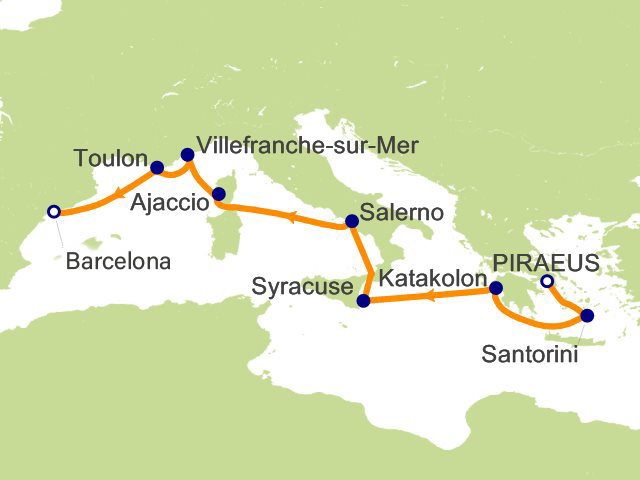 ©2021 - University at Sea®