University at Sea®
5700 4th Street North
St. Petersburg, FL 33703
E-Mail Us
Office Hours
Monday - Friday
9:00am - 5:00pm EST
Saturday
10:00am - 2:00pm EST

16.0 AMA PRA Category 1 Credits™
16 ACPE Credits
16.0 Contact Hours

Prices below are for the full cruise including meals and evening entertainment
STATEROOM DETAILS
PRICING/PERSON
Suite/Deluxe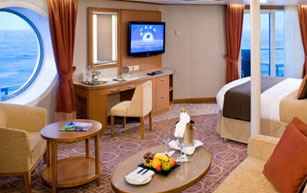 Sky Suite (S1)
When you stay in a Sky Suite, you'll enjoy the luxury of private butler service. This includes assistance with unpacking and packing. In-suite lunch and dinner service. Afternoon tea. Evening hors d'oeuvres and complimentary in-suite espresso and cappuccino from Café al Bacio. Stateroom: 300 sq. ft. Veranda: 79 sq. ft.
.
Balcony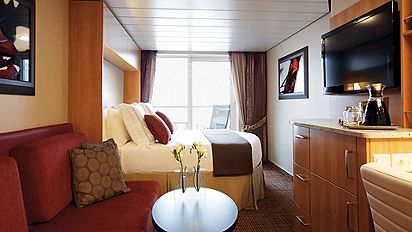 AquaClass (A2)
Celebrity's AquaClass veranda staterooms are perfectly suited for those with a focus on wellness and pure relaxation. Enjoy luxurious spa elements infused into the stateroom experience, savor clean cuisine with priority seating at Blu restaurant, and escape to the Relaxation Room and Persian garden for stunning sea views. Relax with AquaSpa treatments arranged by your personal spa concierge and feel rejuvenated with wellness classes such as meditation and yoga. Stateroom: 194 sq. ft. Veranda: 54 sq. ft.
.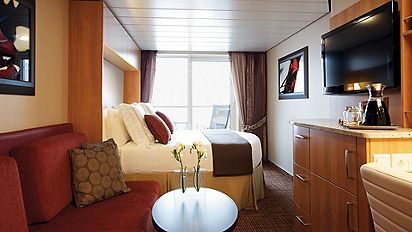 Concierge Class (C2)
Concierge Class staterooms are well-appointed, personal retreats located in some of the most-desirable locations on the ship. As a Concierge Class guest, your team of dedicated professionals will take care of all your vacation needs. From Priority Check-In — when you're greeted by your Concierge — to the moment you head back home, we're there to assist you. Stateroom: 194 sq. ft. Veranda: 54 sq. ft.
.
Prices are Per Person, Double Occupancy, Subject to change.
3rd/4th in Stateroom - Call for Pricing
Port Charges, Taxes & Fees $456.15 per person.
Deposit $250.00 per person
Cancellation Policies vary by cruise line, destination and sailing date. Please check with one of our cruise consultant for policies applicable to this cruise.
* COMPETITIVE PRICING PROMISE: While we are not a 'cruise discounter,'
we will match
any price offered
by the cruise line, directly to the general public, at the time of booking
. This offers includes many short-term, promotional rates. All cruise line rates
can be withdrawn
by the cruise line
at any time
and are capacity controlled.
PRICING SUBJECT TO CHANGE: Although subject to change at any time, the listed prices are generally available up to about 90 days before sailing; at that time they convert to typically higher, market rates. Rates offered directly by the cruise line and quoted by our agents are also subject to change at any time, can be withdrawn at any time and are capacity controlled.
CANCELLATION PENALTY POLICY WILL APPLY: Cancellation policies vary by cruise line, itinerary and length of cruise. When reserving your stateroom, please review the policy applicable to this cruise with our staff. We strongly recommend Travel Insurance to cover the unexpected.
FUEL SUPPLEMENT: Cruiselines may implement a fuel surcharge depending on the price of crude oil.
Questions? Call us at 800-422-0711.
We can assist you with all your travel arrangements. We'd be happy to help you plan your flights, hotels or tours before and/or after your cruise conference.

IMPORTANT NOTE: All conferees, their families, and guests must book their cruise within the CME meeting group through Continuing Education, Inc./University at Sea® at
800-926-3775
or by
registering online
. This ensures our company can provide conference services and
complimentary social amenities
to all meeting participants
and their guests
. Thank you for your cooperation.
Want to Extend Your Cruise Vacation?
Call us at 1-800-926-3775 (US)
We'll be happy to help with all your travel plans.
Ports of Call
Alaska Inside Passage - Winding along the breathtaking coast of Alaska, the Inside Passage offers magnificent views of forested islands, rock-walled fjords and snowcapped mountains. Richly diverse flora and fauna are also on display.
Icy Strait Point, Alaska - Immerse yourself in secluded beaches, old-growth forests and Alaskan adventure - the best of Southeast Alaska is yours, including some of the best whale-watching and bear viewing opportunities anywhere.
Hubbard Glacier - Marching to the beat of a different drum, Hubbard Glacier is advancing while the rest of Alaska's ice rivers are receding rapidly. In 1986, Hubbard galloped forward, closing off Russell Fjord to create an entirely new lake. The phenomenon quickly passed and was followed by a short retreat, but the glacier is once again on the move and Russell Fjord is headed for another spell as an inland body of water.
Juneau, Alaska - You can't get to Juneau easily without a sprint by air or by sea. But once you arrive you'll find majestic views and rich culture in every corner. With its snowcapped mountains, misty rainforests, massive glaciers and bounty of wildlife, Alaska's remote state capital is the perfect place to dive into nature. Framed by Mount Juneau and Mount Roberts, the city's picturesque downtown area offers centuries-old bars, boutique shops and historic landmarks. For a taste of the local culture, visit the historic district and the Alaska State Museum. And for outdoor thrills, you can take your pick of activities ranging from whale watching in Auke Bay Harbor to tundra trekking over Mendenhall Glacier, and even try your hand at gold panning in Last Chance Basin.
Ketchikan, Alaska - Ketchikan sits at the southern end of Alaska's Inside Passage— a gateway to the wild landscapes and seascapes of Misty Fjords National Monument. The canned salmon capital of the world, it's a hub for fishing and outdoor sports. It's also home to three tribes of Northwest Coast Indians, making it a great place to get a taste for the local culture. You'll see it in the colorful, hand-carved totems that line the city's streets and parks, and in the unique stilted homes that cling to Deer Mountain's slopes. If you want to get up close and personal with nature, venture into the Tongass National Forest, the largest in the United States. Or head to Ketchikan Creek Waterfall for amazing views of downtown Ketchikan and a glimpse at the yearly salmon runs.
Vancouver, British Columbia - Sophisticated. Culturally diverse, this beautiful port city brims with attractions. From Vancouver's cosmopolitan downtown to the historically renovated Gastown district and exotic Chinatown, Vancouver displays varied urban scenes. Nestled near the city center is Stanley Park, resplendent with its deep forest, totem poles, and scenic promenades.

Non-US/Canadian individuals, please Click here to determine if you will need a visa to board this cruise which visits Canada.
Our staff can assist you with all your travel arrangements.
Questions? Call us at 800-422-0711.
We can assist you with all your travel arrangements. We'd be happy to help you plan your flights, hotels or tours before and/or after your cruise conference.
EXCLUSIVE SHORE EXCURSIONS
Please note that our shore excursions are operated separately and
independently of those offered by the cruise line.
Questions? Call us at 800-926-3775.
We can assist you with all your travel arrangements. We'd be happy to help you plan your flights, hotels or tours before and/or after your cruise conference.

Cruise Itinerary
DATE
PORT OF CALL
ARRIVE
DEPART
Mon May 29
Alaska Inside Passage
(Crusing)
-
-
Tue May 30
Icy Strait Point, Alaska

1:30 pm
10:00 pm
Wed May 31
Hubbard Glacier
(Cruising)
9:30 am
2:30 pm
Thu Jun 01
Juneau, Alaska

7:30 am
8:00 pm
Fri Jun 02
Ketchikan, Alaska

2:00 pm
8:30 pm
Sat Jun 03
Alaska Inside Passage
(Cruising)
-
-
Sun Jun 04
Vancouver, British Columbia

6:00 am
-
Sun May 28
Vancouver, British Columbia

-
4:30 pm
*
Tentative course schedule, actual class times may differ.

©2021 - University at Sea®