University at Sea®
5700 4th Street North
St. Petersburg, FL 33703
E-Mail Us
Office Hours
Monday - Friday
9:00am - 5:00pm EST
Saturday
10:00am - 2:00pm EST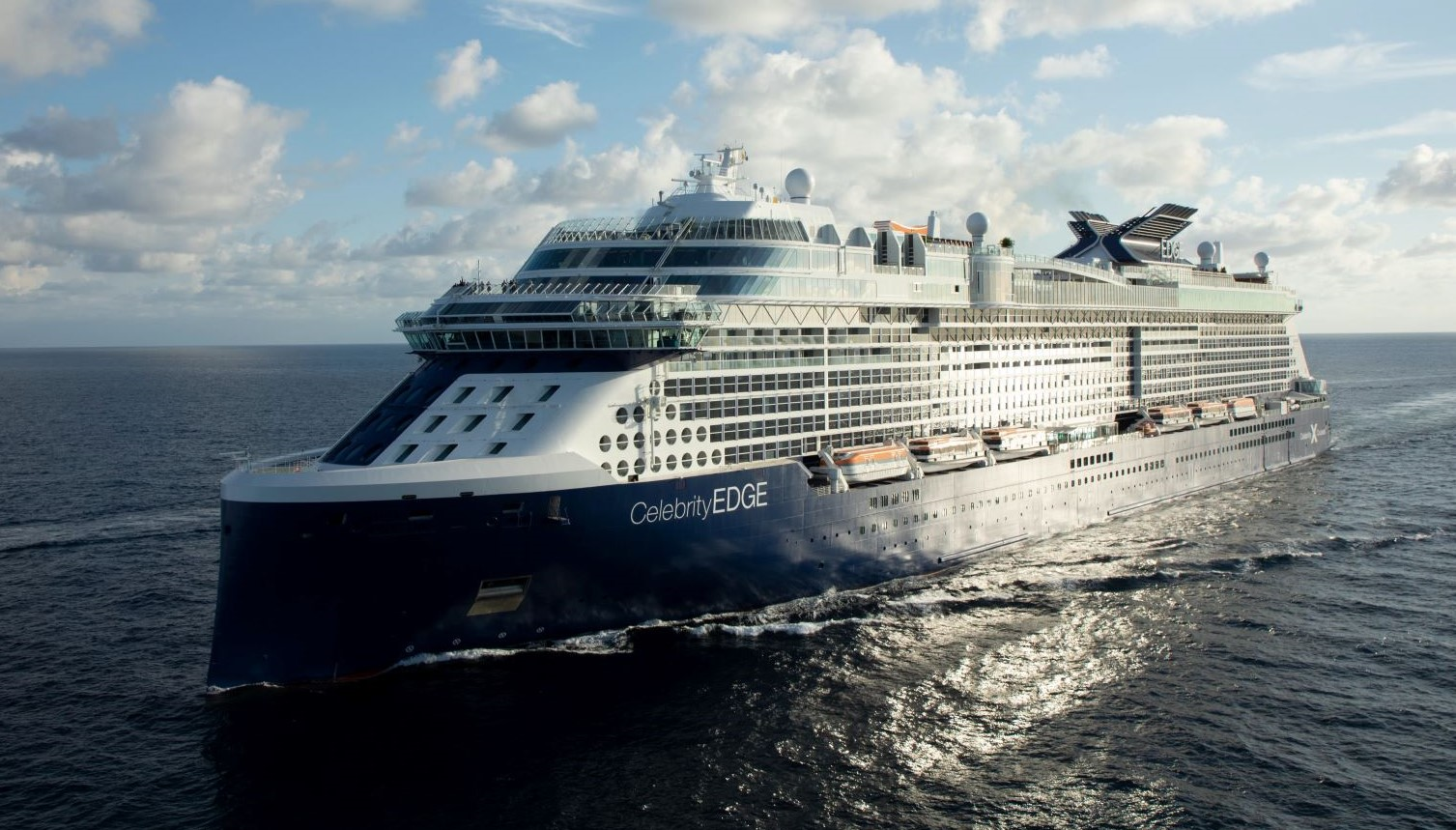 16.0 AMA PRA Category 1 Credits™
16 ACPE Credits
16.0 Contact Hours

Prices below are for the full cruise including meals and evening entertainment
STATEROOM DETAILS
PRICING/PERSON
Balcony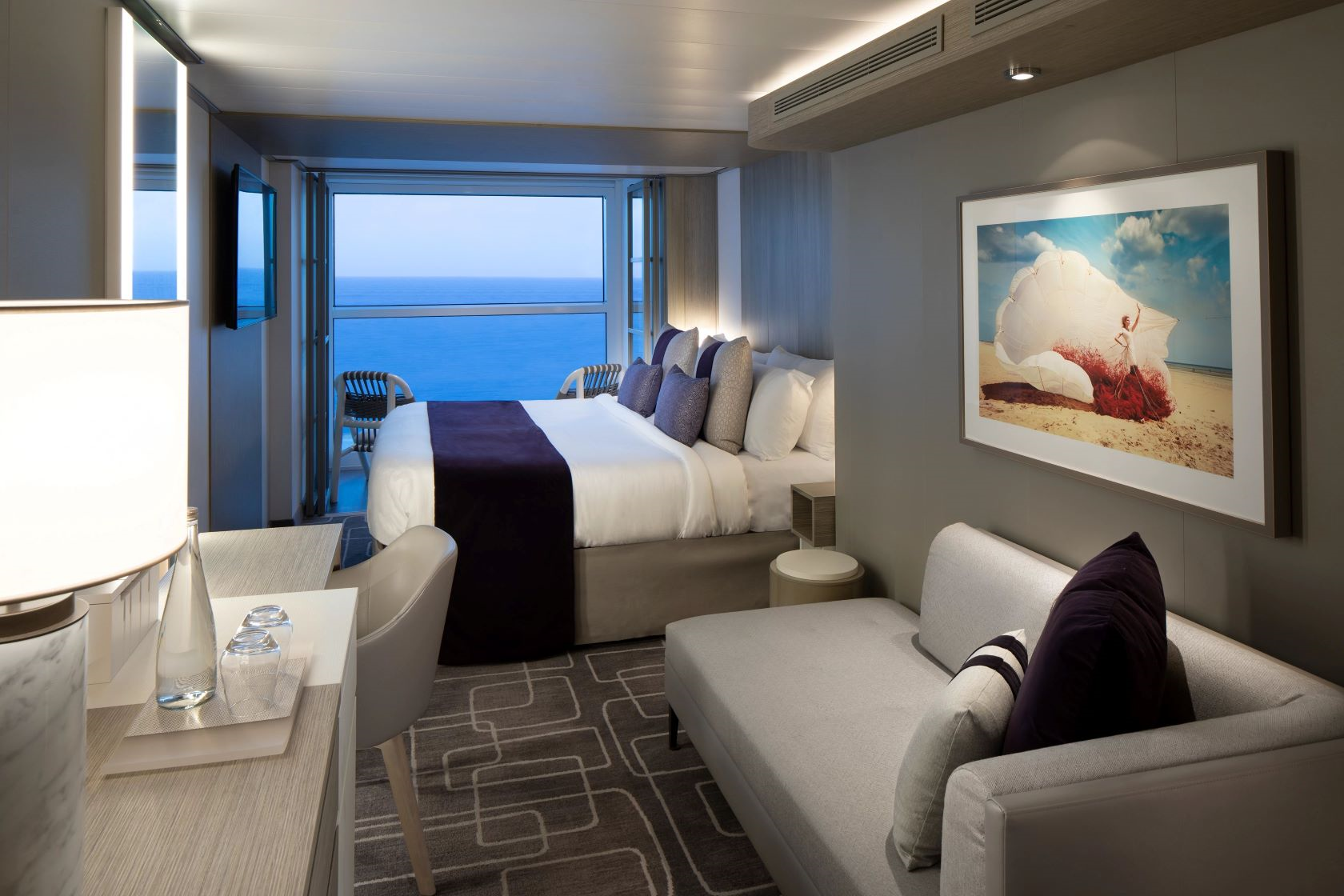 AquaClass (A2)
Celebrity's AquaClass veranda staterooms are perfectly suited for those with a focus on wellness and pure relaxation. Enjoy luxurious spa elements infused into the stateroom experience, savor clean cuisine with priority seating at Blu restaurant, and escape to the Relaxation Room and Persian garden for stunning sea views. Relax with AquaSpa treatments arranged by your personal spa concierge and feel rejuvenated with wellness classes such as meditation and yoga. Stateroom: 201 sq. ft. Veranda: 42 sq. ft.
.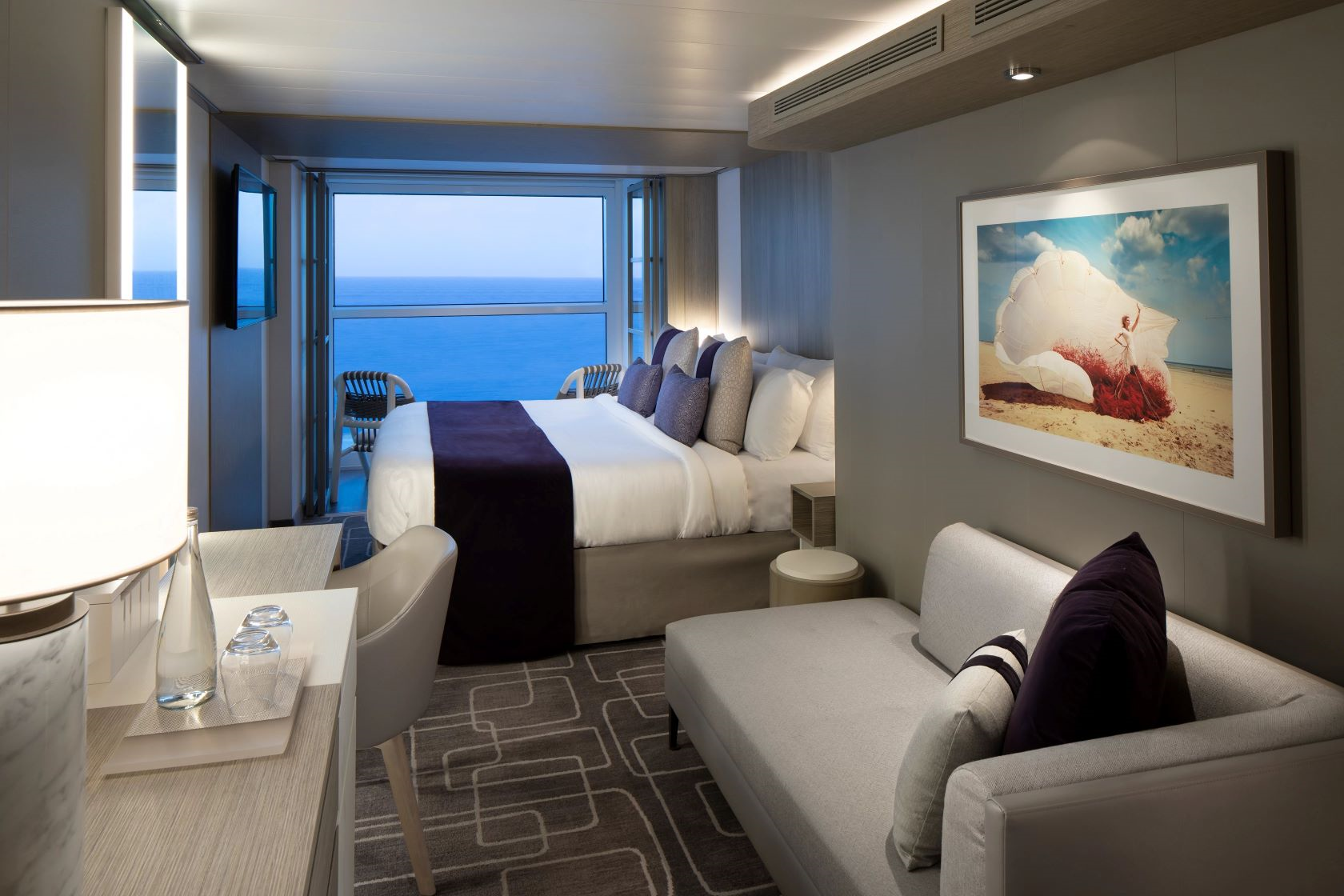 Concierge Class (C2)
Concierge Class staterooms are well-appointed, personal retreats located in some of the most-desirable locations on the ship. As a Concierge Class guest, your team of dedicated professionals will take care of all your vacation needs. From Priority Check-In - when you're greeted by your Concierge - to the moment you head back home, we're there to assist you.
Stateroom: 201 sq. ft. Veranda: 42 sq. ft.
.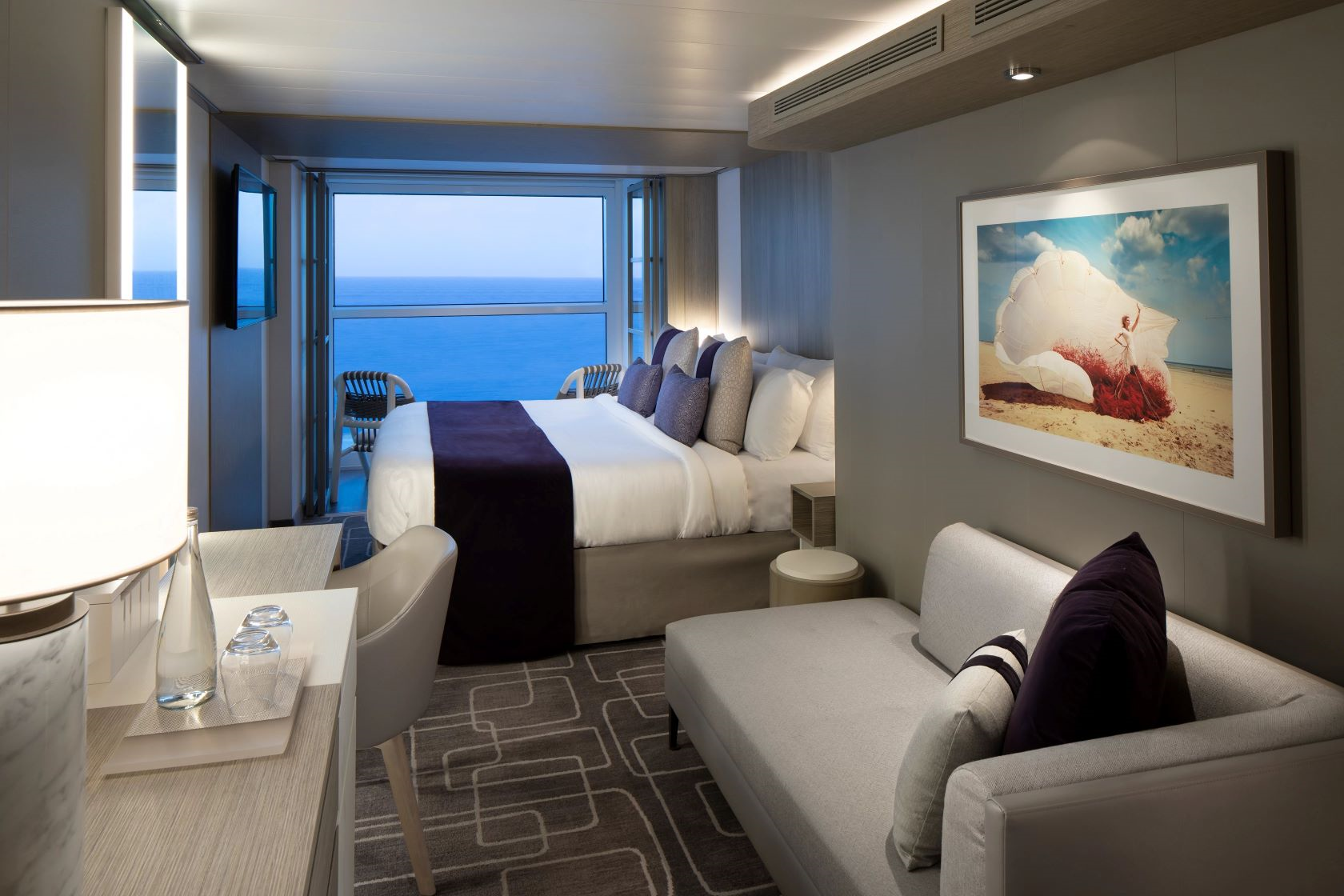 Edge Stateroom with Infinite Veranda (E2)
Edge Staterooms offer the latest technology that allows you to precisely adjust nearly every comfort feature in your stateroom. The in-room automation allows you to control everything from lighting, to shades, to temperature, and service with a simple touch screen. These staterooms are 23% larger than the award-winning Celebrity Solstice® Class veranda staterooms. The added space includes a luxurious king-sized bed from our new Cashmere Bedding Collection. Bigger rooms called for larger bathrooms. Celebrity expanded them almost 20% and included even larger modern showers. Stateroom: 201 sq. ft. Veranda: 42 sq. ft.
.
Outside
Inside
Prices are Per Person, Double Occupancy, Subject to change.
3rd/4th in Stateroom - Call for Pricing
Port Charges, Taxes & Fees $557.48 per person.
Deposit $250.00 per person
Cancellation Policies vary by cruise line, destination and sailing date. Please check with one of our cruise consultant for policies applicable to this cruise.
* COMPETITIVE PRICING PROMISE: While we are not a 'cruise discounter,'
we will match
any price offered
by the cruise line, directly to the general public, at the time of booking
. This offers includes many short-term, promotional rates. All cruise line rates
can be withdrawn
by the cruise line
at any time
and are capacity controlled.
PRICING SUBJECT TO CHANGE: Although subject to change at any time, the listed prices are generally available up to about 90 days before sailing; at that time they convert to typically higher, market rates. Rates offered directly by the cruise line and quoted by our agents are also subject to change at any time, can be withdrawn at any time and are capacity controlled.
CANCELLATION PENALTY POLICY WILL APPLY: Cancellation policies vary by cruise line, itinerary and length of cruise. When reserving your stateroom, please review the policy applicable to this cruise with our staff. We strongly recommend Travel Insurance to cover the unexpected.
FUEL SUPPLEMENT: Cruiselines may implement a fuel surcharge depending on the price of crude oil.
Questions? Call us at 800-422-0711.
We can assist you with all your travel arrangements. We'd be happy to help you plan your flights, hotels or tours before and/or after your cruise conference.

IMPORTANT NOTE: All conferees, their families, and guests must book their cruise within the CME meeting group through Continuing Education, Inc./University at Sea® at
800-926-3775
or by
registering online
. This ensures our company can provide conference services and
complimentary social amenities
to all meeting participants
and their guests
. Thank you for your cooperation.
Want to Extend Your Cruise Vacation?
Call us at 1-800-926-3775 (US)
We'll be happy to help with all your travel plans.
Ports of Call
Seattle, Washington - Sailing out on a cruise from Seattle? Make sure you spend a few a days in the beautiful Emerald City. If you're a nature lover, this jewel in the Pacific Northwest is the perfect place for you to explore ahead of your cruise vacation. Though it offers plenty of metropolitan delights — think great restaurants, bars, a ton of shopping and lots (and lots) of hip coffee shops — Seattle is a big city with a wild, great-outdoors soul. It's surrounded by ancient forests, sprawling public parks and, of course, the misty Puget Sound, where you can slow-moving tugboats, sleek kayaks and the occasional pod of whales. Head to Discovery Park for beautiful views of the Olympic and Cascade mountain ranges or visit the Olympic Sculpture Park near Elliott Bay. And if you're craving a drink and a tasty bite to eat, head to one of Seattle's many rooftop bars and take advantage of those extra-long northern summer days while you sip local brews and expertly crafted cocktails.
At Sea - Cruising - Cruising
Ketchikan, Alaska - Ketchikan sits at the southern end of Alaska's Inside Passage— a gateway to the wild landscapes and seascapes of Misty Fjords National Monument. The canned salmon capital of the world, it's a hub for fishing and outdoor sports. It's also home to three tribes of Northwest Coast Indians, making it a great place to get a taste for the local culture. You'll see it in the colorful, hand-carved totems that line the city's streets and parks, and in the unique stilted homes that cling to Deer Mountain's slopes. If you want to get up close and personal with nature, venture into the Tongass National Forest, the largest in the United States. Or head to Ketchikan Creek Waterfall for amazing views of downtown Ketchikan and a glimpse at the yearly salmon runs.
Endicott Arm & Dawes Glacier - One of Alaska's lesser-known gems, Endicott Arm Fjord marks the southern edge of Fords Terror Wilderness area. As you drift through its 30 -mile-long stretch, you can't help but be awed by the sorrounding granite cliffs, mountain valleys and dozens of gushing waterfalls. Drifting icebergs, deep blue waters and a spectacular tidewater glacier only add to this natural spectacle's appeal.
Skagway, Alaska - The tiny town of Skagway still looks like it did during the Klondike Gold Rush over 100 years ago— and today it remains an outpost for thrilling Alaskan adventure. An old-time street car ride along bustling Broadway Street reveals well-preserved buildings, including the state's oldest hotel. You can see engraved walrus tusks at the Corrington Museum, or get lost in riveting historical reenactments around town. If outdoor adventure is more your thing, there are plenty of ways to amp up the adrenaline, from sledding with Alaskan Huskies on Laughton Glacier to rafting Lynn Canal, the longest fjord in North America.
Victoria, British Columbia - Though Toronto and Vancouver are the more famous Canadian destinations, it's high time for the sophisticated and beautiful city of Victoria, British Columbia (BC) to have its big moment. The quaint charm and English manners of Victoria will take you back in time to the days of British occupation in the 19th century. Victoria is known as "the garden city" for its lushness and its commitment to keeping the city beautiful. Head to Butchart Garden or Beacon Hill Park to enjoy nature during your time in port.

Of course, a little history lesson is another must while on a cruise to Victoria, BC. Tour the expertly maintained Craigdarroch Castle and the Parliament Buildings, or stop in the Royal BC Museum, a natural history museum dedicated to the history of human settlement in the region. There's also the Emily Carr House, a museum dedicated to the life and works of the famous painter, Emily Carr. Victoria exudes an intellectualism where art galleries and afternoon tea await you, but so do long bicycle rides along the seafront. Stylish cafes and restaurants are modernizing the city, all while maintaining its signature look: something straight out of a postcard.

Non-Americans/Canadians, please Click Here to determine if you'll need a visa to board this cruise, which visits Canada
Our staff can assist you with all your travel arrangements.
Questions? Call us at 800-422-0711.
We can assist you with all your travel arrangements. We'd be happy to help you plan your flights, hotels or tours before and/or after your cruise conference.
EXCLUSIVE SHORE EXCURSIONS
Please note that our shore excursions are operated separately and
independently of those offered by the cruise line.
Questions? Call us at 800-926-3775.
We can assist you with all your travel arrangements. We'd be happy to help you plan your flights, hotels or tours before and/or after your cruise conference.

Cruise Itinerary
DATE
PORT OF CALL
ARRIVE
DEPART
Fri Aug 16
Seattle, Washington

-
4:00 pm
Sat Aug 17

*

At Sea - Cruising

-
-
Sun Aug 18
Ketchikan, Alaska

7:00 am
4:00 pm
Mon Aug 19
Endicott Arm & Dawes Glacier

5:30 am
10:00 am
Mon Aug 19
Juneau, Alaska

1:30 pm
10:00 pm
Tue Aug 20
Skagway, Alaska

7:00 am
6:00 pm
Tue Aug 20
Alaska Inside Passage

6:30 pm
10:30 pm
Wed Aug 21

*

At Sea - Cruising

-
-
Thu Aug 22
Victoria, British Columbia

5:30 pm
11:59 pm
Fri Aug 23
Seattle, Washington

6:00 am
-
*
Tentative course schedule, actual class times may differ.

©2021 - University at Sea®