University at Sea®
5700 4th Street North
St. Petersburg, FL 33703
E-Mail Us
Office Hours
Monday - Friday
9:00am - 5:00pm EST
Saturday
10:00am - 2:00pm EST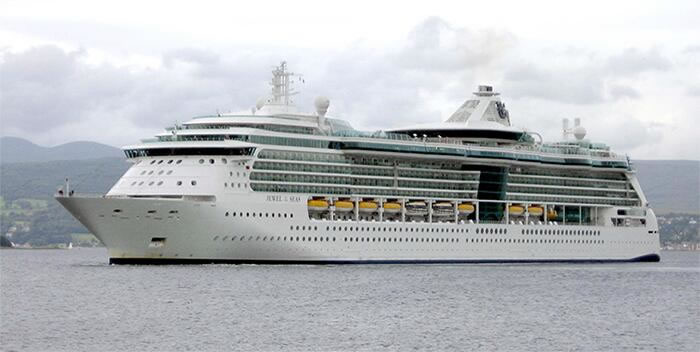 16.0 AMA PRA Category 1 Credits™
16 ACPE Credits
16.0 Contact Hours

Prices below are for the full cruise including meals and evening entertainment
STATEROOM DETAILS
PRICING/PERSON
Suite/Deluxe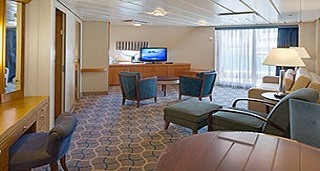 Suite/Deluxe
Owner's Suite - 2 Bedroom (OT)
All staterooms and suites come complete with private bathroom, vanity area, hair-dryer, closed-circuit TV, radio and phone.
These large suites offer two bedrooms, two bathrooms and a living area with a sofa bed.
Two sets of two twin beds that convert to a Royal King bed
One double sofa bed
Two Pullman beds
Stateroom: 584 sq. ft.
Balcony: 191 sq. ft.
Balcony
Outside
$2,828.00
Third/Fourth $1,397.00
Inside
$2,498.00
Third/Fourth $1,189.00
Prices are Per Person, Double Occupancy, Subject to change.
3rd/4th in Stateroom - Call for Pricing
Port Charges, Taxes & Fees $501.48 per person.
Deposit $450.00 per person
Cancellation Policies vary by cruise line, destination and sailing date. Please check with one of our cruise consultant for policies applicable to this cruise.
* COMPETITIVE PRICING PROMISE: While we are not a 'cruise discounter,'
we will match
any price offered
by the cruise line, directly to the general public, at the time of booking
. This offers includes many short-term, promotional rates. All cruise line rates
can be withdrawn
by the cruise line
at any time
and are capacity controlled.
PRICING SUBJECT TO CHANGE: Although subject to change at any time, the listed prices are generally available up to about 90 days before sailing; at that time they convert to typically higher, market rates. Rates offered directly by the cruise line and quoted by our agents are also subject to change at any time, can be withdrawn at any time and are capacity controlled.
CANCELLATION PENALTY POLICY WILL APPLY: Cancellation policies vary by cruise line, itinerary and length of cruise. When reserving your stateroom, please review the policy applicable to this cruise with our staff. We strongly recommend Travel Insurance to cover the unexpected.
FUEL SUPPLEMENT: Cruiselines may implement a fuel surcharge depending on the price of crude oil.
Questions? Call us at 800-422-0711.
We can assist you with all your travel arrangements. We'd be happy to help you plan your flights, hotels or tours before and/or after your cruise conference.

IMPORTANT NOTE: All conferees, their families, and guests must book their cruise within the CME meeting group through Continuing Education, Inc./University at Sea® at
800-926-3775
or by
registering online
. This ensures our company can provide conference services and
complimentary social amenities
to all meeting participants
and their guests
. Thank you for your cooperation.
Want to Extend Your Cruise Vacation?
Call us at 1-800-926-3775 (US)
We'll be happy to help with all your travel plans.
Ports of Call
Amsterdam, The Netherlands - Amsterdam is a great city to discover the charms of northern Europe. The graceful canals of its central district are lined with beautiful gabled houses. It's many, grand art museums display masterpieces of Rembrandt and Vermeer and the largest collection of Van Gogh's work is found here. Fine food is also easy to find along with ample opportunities for shopping (including excellent vintage finds). This great city is well worth a day or two's stay before your cruise.
At Sea - Cruising - Cruising
Geiranger, Norway - Welcome to the Jewel in the Crown of Norway's fjords. Geiranger Fjord was made a UNESCO World Heritage Site in 2005, but the area has been luring tourists since the turn of the 19th century. Take the Waterfall Walk to the heart of the cascades. Climb the Skywalk for Europe's highest fjord view with Norway cruises. Explore Geiranger by bike or on foot, or hop in a raft or kayak for a view from the water. Once you've taken in your fill of mountain air, stroll the quaint village center. Indulge your sweet tooth at the local artisan chocolate shop, or sit back at a cafe with a coffee and a krumkake — a rolled cake with whipped cream in the center — and enjoy the view.
Molde, Norway - All of the stunning beauty you associate with Norway is on display in Molde, a city roughly 400 kilometers (240 miles) north of Bergen with white clapboard houses sitting alongside a sparkling fjord. On a clear day, more than 200 peaks are visible from this part of the Romsdal Peninsula. (The Varden Viewpoint, 10 minutes by car from the center of town, is the best place to take in the breathtaking panorama.) Even when the weather is less cooperative, there is plenty to do, with cozy cafés, boutiques selling woolen sweaters and the Romsdal Museum, an open-air folk museum where you can literally stroll through the region's history and traditional homes. Molde is also one end of one of Norway's most beautiful coastal drives, the Atlantic Ocean Road (in Norwegian, the Atlanterhavsvegen), which crosses spectacular bridges and a number of islands.
Honningsvag, Norway - Situated above the Arctic Circle, Honningsvag is surrounded by fjords and waterfalls, offering views across the sea to the Svalbard Islands and the North Pole. First settled more than 10 thousand years ago, today you'll find a modern downtown area around the harbor. Shops sell local crafts, including traditional Sami jewelry, as well as sleek Scandinavian home decor. Watch the indigenous Sami people herd reindeer through the area, and explore the history of the area at the Nordkappmuseet. Then, head to one of the restaurants in the harbor area for king crab risotto.
Tromso, Norway - Tromso, Norway's gateway to the Arctic, is surrounded by deep blue fjords and snow-capped mountain peaks. Explore this lively city, linked to the mainland by a gracefully arched bridge. Visit the fascinating Polar Museum or the arctic aquarium Polaria. Be blown away by panoramic views on a cable car ride up to Storstein Mountain, or hike up one of the trails that run through the Lyngen Alps. Stop into a cafe and refuel with carrot and cardamom marmalade on toast. If you visit between September and April, you might be lucky enough to spot the Northern Lights.
Arctic Circle (Cruising) - Looking for adventure in an out-of-the-ordinary destination with immense, raw beauty? Welcome to the Arctic Circle, the most northern of the five major circles of latitude. At the very top of Europe, you'll find broad horizons, dense forests, snow-capped mountains and the sound of thousands of seabirds. Dress warmly and explore the remote region around the North Pole. Marvel at the Northern Lights, filling the sky with green, yellow, red and violet above the horizon. Jump onboard an Arctic cruise and admire the colorful wooden houses, meet interesting peoples, experience the Midnight Sun or the Polar Night, and take a peek at the Arctic wildlife.
Flam, Norway - Arriving in Flam feels like stepping into a fairy tale. Home to only 350 inhabitants, the village is situated at the inner end of the Aurlandsfjorden, the world's deepest fjord reaching a staggering 1,308 meters. From the harbor, take a brief stroll to the Flam Railway and take the 20-kilometer ride through the Myrdal Mountains and along the fjord. Head to Otternes Farm Village, made up of 27 different buildings that date back to the 17th century. Then, let the waterfall at Stalheimsfossen take your breath away, or drive to Stegastein viewpoint to take in the beauty of the fjord.
Stavanger, Norway - Perched on Norway's dramatic western coast, Stavenger is a city full of historic architecture, quaint cafes and ocean views. Check out Gamle Stavanger, the picturesque old town, where you'll find well-preserved wooden buildings dating back to the 18th century painted in unique pastel hues. Learn more about the Vikings at the Museum of Archaeology, or visit 12th-century Stavanger Cathedral — thanks to a series of rebuilding efforts over the years, it features architectural elements from Romanesque to ornate Baroque. Then, take the short trip to Prekestol, the "Preacher's Pulpit," a rocky natural viewing point overlooking Lyse Fjord.
Kristiansand, Norway - Kristiansand, named after its founding king, is the lively capital of Southern Norway. Stroll through the old town of Posebyen, known for its neat grid design with wooden white and pastel-colored houses. Explore the area around the quayside and fish market, and relax in an outdoor cafe. In summer, the Bystranda Beach is filled with cheerful Norwegians catching a spot of sunshine. Take a boat trip to visit the quaint fishing villages nearby. Bring your little ones to the large Dyrepark, which includes a zoo, a fantasy village, and a water park.
Our staff can assist you with all your travel arrangements.
Questions? Call us at 800-422-0711.
We can assist you with all your travel arrangements. We'd be happy to help you plan your flights, hotels or tours before and/or after your cruise conference.
EXCLUSIVE SHORE EXCURSIONS
Please note that our shore excursions are operated separately and
independently of those offered by the cruise line.
Questions? Call us at 800-926-3775.
We can assist you with all your travel arrangements. We'd be happy to help you plan your flights, hotels or tours before and/or after your cruise conference.

Cruise Itinerary
DATE
PORT OF CALL
ARRIVE
DEPART
Tue Jul 11
Amsterdam, The Netherlands

-
5:00 pm
Wed Jul 12

*

At Sea - Cruising

-
-
Thu Jul 13
Geiranger, Norway

10:00 am
7:00 pm
Fri Jul 14
Molde, Norway

7:00 am
4:00 pm
Sat Jul 15

*

At Sea - Cruising

-
-
Sun Jul 16
Honningsvag, Norway

8:00 am
6:00 pm
Mon Jul 17
Tromso, Norway

7:00 am
5:00 pm
Tue Jul 18
Arctic Circle (Cruising)

-
-
Wed Jul 19
Flam, Norway

8:00 am
6:00 pm
Thu Jul 20
Stavanger, Norway

8:00 am
7:00 pm
Fri Jul 21
Kristiansand, Norway

7:00 am
6:00 pm
Sat Jul 22

*

At Sea - Cruising

-
-
Sun Jul 23
Amsterdam, The Netherlands

6:00 am
-
*
Tentative course schedule, actual class times may differ.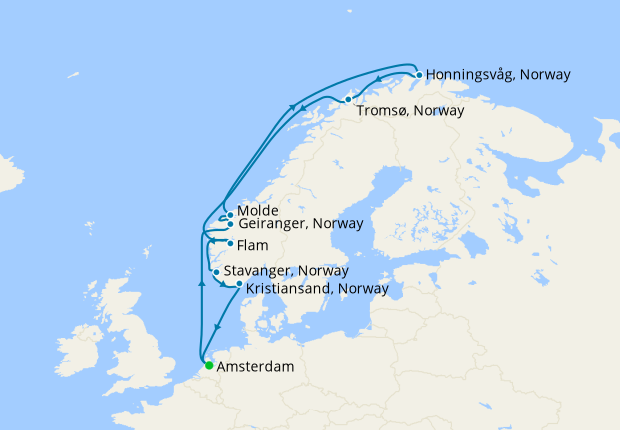 ©2021 - University at Sea®